Slip and Fall at The Fresh Market Supermarket in Gainesville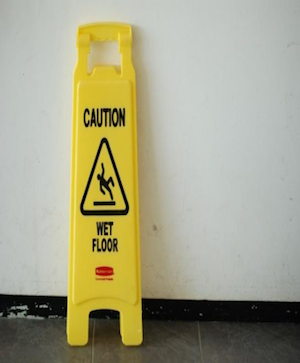 A sudden slip and fall can possibly change your life instantly. What starts out as a Saturday morning grocery excursion can potentially become a horrific nightmare that no customer should ever have to experience. If you have suffered catastrophic injuries due to an unfortunate slip and fall accident at a business establishment like The Fresh Market supermarket in Gainesville you may be entitled to compensation for your injuries. The premises liability lawyers at Frankl Kominsky will assess your case for free and determine the best possible legal strategy to pursue in order to help you move on with your life.
Our slip and fall attorneys serving Gainesville understand the physical and emotional suffering that can come with an unexpected slip, trip and fall. This is why we try and go to great lengths to help you avoid any expensive mistake that might be potentially detrimental to your injury claim. We will also try and negotiate with any possible insurance companies so that you can focus on your wellbeing and loved ones without the potential burden of possible phone calls from the business establishment's representative.
Our office is available 24 hours a day, 7 days a week. If you have suffered a slip and fall call our talented legal team to arrange your free consultation and begin pursuing any possible damages that you might be able to recover.
Keep reading to learn more about some common slip and fall injuries and important steps you can take following an accident at a supermarket like The Fresh Market supermarket in Gainesville.
Types of Slip and Fall Injuries
A slip and fall injury can have long and short-term consequences for a wounded victim. In some cases, slip and fall accidents can cause sudden death causing potential hardship for the victims loved ones.
The expenses that come with any accident can exceed millions, let alone a slip and fall injury. For instance, the cost of a spinal cord injury can total over $1 million dollars in just one year. Needless to say, no one deserves to pay for damages incurred by another person's negligence.
Some of the common injuries you may have experienced because of a slip and fall incident include but are not limited to the following:
Cuts and Grazes: A cut or a graze caused by a slip and fall can be considered a minor injury. However, if left untreated, what appeared to be a small injury could become infected, and lead to greater health concerns. Also, a simple cut could be covering up a more serious injury – see a medical professional always.
Soft Tissue Damage: Soft tissue injuries are not always visible to the eye, which might make them hard to prove in an injury claim. Also, if ignored they can lead to more serious injuries in the future. Have a doctor determine any soft tissue damage following a slip and fall accident.
Head Injuries: Did you know that slip and falls are the leading cause of brain injuries in the USA? In extreme cases, head injuries can lead to permanent brain damage. If you have experienced dizziness, unconsciousness, and disorientation because of a slip and fall incident, see a doctor immediately.
Broken Bones and Fractures: Broken bones and fractures are painfully debilitating, and can involve months, even years of rehabilitation. A victim who has broken bones may also experience extensive bleeding so it is important that they seek medical attention as a matter of urgency.
Spinal Cord Injuries: A spinal cord injury is the result of a severed, or compressed spine. Unfortunately, injuries that involve the spine are considered life-threatening and urgent care can be mandatory.
No matter what type of injury you have suffered because of a slip and fall accident, the first step a victim must take is to seek medical attention. Doing so will will greatly benefit your health and well-being. From a minor scratched knee to a broken leg, the sooner you seek medical attention, the sooner you can contact a slip and fall attorney and try and move on with your life.
Once you have received a medical evaluation and your health is stabilized, the next step a slip and fall victim should always take is to seek legal advice as a matter of urgency.
Why it is Important to Seek Legal Advice From a Slip and Fall Attorney ASAP
Under Florida law, the 2018 Florida Statutes states that an injured slip and fall victim must file their injury lawsuit within two years of the incident taking place at a business location like The Fresh Market supermarket in Gainesville. Two years may seem like a sufficient amount of time to pursue slip and fall damages but, the sooner you file your claim with a personal injury lawyer, the sooner you can try and pursue justice and put your case to rest.
It is also important to note that some business establishments and insurance companies might try to avoid liability. A storeowner might potentially tamper or destroy key evidence that could be used to support your claim, alternatively an insurance representative might employ a strategy that might minimize an injury compensation. At Frankl Kominsky we strive to have the legal negotiating skills to take on the most aggressive insurance company, and can try to quickly conduct a diligent investigation so that we can do our best to gather crucial evidence that might help you receive the compensation you deserve. The faster you call us, the less likely any proof supporting your case might potentially be destroyed.
Our slip and fall attorneys strive to make sure you are always one step ahead of any potentially challenging insurance representatives and the business establishment that might have caused your accident. Our goal at all times is to help navigate your injury claim to the best of our ability so to help you to start enjoying your life once more. We strive to maintain prompt communication with all Frankl Kominsky slip and fall clients, and will try to recover any possible slip and fall damages hassle free.
Call the Slip and Fall Lawyers Today at Frankl Kominsky, serving the Gainesville area!
If you were injured in a slip and fall accident at a business location like The Fresh Market Supermarket in Gainesville turn to Frankl Kominsky for comprehensive legal guidance. Call 352-800-8000 or use our Contact Form to set up a free consultation.