West Palm Beach Truck Accident Lawyer
Attorneys Serving Injured Victims in West Palm Beach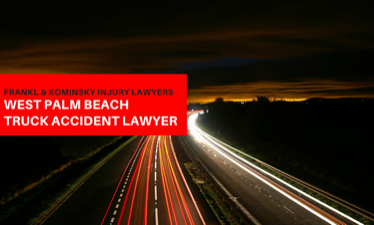 Truck crashes are some of the most serious collisions motorists can get into on the road. A victim can suffer life-threatening injuries that may take years to heal. Based in West Palm Beach, the truck accident lawyers at Frankl Kominsky know the devastating consequences that a collision with an 18 wheeler can have on you and your family. We can aggressively pursue your right to compensation if you were hit by a careless commercial driver.
Federal and State Regulations Govern Truck Drivers and Companies
Tractor-trailers dwarf most other vehicles on Florida roads and highways. They can weigh up to 80,000 pounds under federal law, and more with the proper state permit. They often transport cargo over long distances, which can add to their weight and also increase the risk of an accident.
Truck accidents often leave victims with serious or fatal injuries. In 2011, large semis were involved in eight percent of fatal crashes nationwide, according to the National Highway Traffic Safety Administration. The figure was slightly lower in Florida, but still over 200 trucks were involved in fatal Florida crashes that year.
Federal and state laws govern key players in the trucking industry, including commercial drivers and the companies that employ them. Any truck that crosses state lines must comply with federal trucking laws. Tractor-trailers that operate within Florida must comply with state trucking laws, which are largely adopted from the federal regulations.
Both federal and state laws regulate a number of industry activities, including:
Qualifications and licensing requirements for commercial drivers
Limits on the hours a truck driver can work and mandatory rest breaks
Specific braking system requirements
Regular drug and alcohol testing for drivers
Filing a Negligence Claim After a West Palm Beach Truck Crash
A truck accident may have one or several causes. The cause of the accident will determine which person or entity you can potentially hold liable in your personal injury lawsuit. The truck driver is almost always a defendant, but you may also have a claim against his or her employer, such as a trucking company. To hold the defendant in your claim liable, you will usually have to prove negligence.
Negligence is the failure to exercise the care that a reasonable person would use under the circumstances. You can show a defendant's negligence by proving:
Duty of care
Breach
Causation of injuries
Damages
For example, a commercial driver may be found negligent if he failed to check the vehicle's blind spots before making a turn and struck your car as a result. A trucking company may be negligent if it failed to check that a truck driver's hours of service complied with federal and state regulations, and a collision was caused by excessive fatigue.
You may also potentially hold a commercial driver's employer vicariously liable for the driver's negligence. An employer can be liable for the negligent acts of an employee if the employee's actions fell within the scope of employment.
If you succeed in a negligence claim, you may be able to recover damages for your injuries, including compensation for medical care, lost income, loss of earning capacity, property damage, and pain and suffering. Florida requires that you file a personal injury claim within two years from the date of the crash, or you may lose your right to file a suit.
Truck accidents are high-stakes situations for everyone involved, including the company that owns the vehicle. Critical evidence can disappear, including a driver's records, drug test results, or even the tractor-trailer itself. Intentionally destroying, altering, or losing evidence is known as spoliation of evidence. A Florida court may sanction a party if it tampers with evidence. For example, it may allow a jury to infer that the lost evidence would have adversely affected the spoliator's position.
West Palm Beach Accident Lawyers Protecting Your Rights
Serving clients in West Palm Beach and beyond, the personal injury attorneys at Frankl Kominsky understand the complexity and severity of big rig accidents. We will investigate your case quickly to preserve evidence and develop a strong claim against the appropriate parties. We represent clients throughout Palm Beach County, including in Palm Beach and Boca Raton. Our past experience working for insurance companies has allowed us to serve individuals more effectively by using our knowledge of the other side's tactics. Call us today at (855) 800-8000 or contact us online to schedule an initial consultation at no cost to you. We speak Spanish and Creole.