Boca Raton Car Accident Lawyers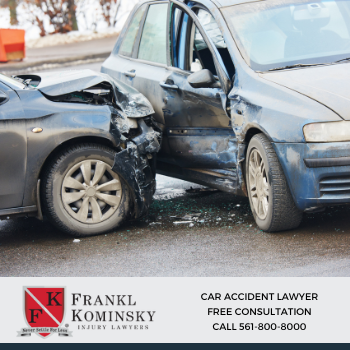 The injury lawyers at Frankl Kominsky offer experienced and aggressive representation in car accident cases in and around Boca Raton and throughout Palm Beach County. We are seasoned litigators who will stand up for your right to fair compensation for your injuries.
We can negotiate with insurers for a fair settlement on your behalf, and we will not hesitate to advocate for your rights at trial. Having worked for insurers in the past, we have gained insights that allow us to anticipate and counter the other side's strategies. We serve clients throughout Palm Beach County, including in Lake Worth and Palm Beach Gardens.
The City of Boca Raton is located in Palm Beach County and is about 50 miles north of Miami. The city is home to many affluent communities with a population reaching over 80,000 residents. Boca Raton was incorporated in 1925 and has steadily grown as a major industrial base in South Florida. Did you know that IBM moved its facilities to the city in the 1960s?
While the city's residents and visitors can enjoy the many local attractions, the potential for accidents remains significant. Every year, a number of people suffer injuries in this region because of another's negligence or careless conduct. If you were hurt in an accident near Boca Raton, the seasoned car accident attorneys at Frankl Kominsky can help you seek the justice you deserve.
Most Common Injuries Car Accident Victims Sustain
Spinal Cord Injuries are common after a car accident. An injury to the spine can range from mild to severe, the worst type of injury could leave one paralyzed or permanently disabled. Some car accident victims may need expensive corrective surgeries, heavy medication, and time to heal.
Neck Injuries could take extensive physical therapy to correct and are quite painful to deal with.
Burns are usually caused by an airbag or if a car crash causes the vehicle to catch fire, or in a gas cylinder explosion. Burns, no matter the severity, are extremely painful and can leave people permanently scarred and traumatized.
Amputations - car accidents can cause injuries so severe that there is no option but to amputate a limb to stop further damage from occurring.
Internal Organs Damage - serious car accidents can often result in internal organ damage, which are extremely dangerous and may require serious surgeries. The injuries could lead to a ruptured spleens, blunt force trauma to the ribs, internal bleeding or punctured organs.
A car crash can change your life in an instant, leaving you with injuries that require extensive medical care and limit your ability to earn a living. At Frankl Kominsky, our Boca Raton car accident attorneys provide meticulous legal representation to victims of these collisions in Palm Beach County. We will fight to seek the compensation you deserve for your injuries. Our attorneys never settle for less than what our clients need to move forward after a catastrophic accident.
Boca Raton Crash Statistics
Thousands of Florida residents are injured each year in car accidents. In 2011, over 334,000 car drivers were involved in traffic crashes here, according to data from the Department of Highway Safety and Motor Vehicles. These incidents led to over 181,600 injuries and 2,400 deaths. Alcohol was a suspected or confirmed factor in at least 17,000 crashes.
All Florida drivers must have no-fault car insurance to cover expenses related to crash injuries. The state, however, only requires drivers to purchase $10,000 in coverage. This amount hardly covers the medical expenses and lost wages of an accident victim with devastating injuries. A victim can, however, initiate a personal injury claim against the driver responsible for the accident.
What Types of Accidents Happen In Boca Raton
What To Do After A Car Accident in Boca Raton
Our local auto accident lawyers have assisted over 8,000 clients who have been injured through no fault of their own. Our injury firm recommends doing the following to protect yourself after a car crash:
Scene of the Car Accident
After the Car Accident

When you have been in a crash, you should never leave the scene of the accident.
If you were involved in a car accident, call 911 or the local police immediately. Wait until they arrive at the scene of the accident.
If you were injured, have emergency services or the medics examine you for injuries and if necessary, be transported to a local hospital.
Take both photos and videos of the property damage to all vehicles involved and the scene of the crash including traffic signals and signs.
Collect witness information such as a phone number, address and email before taking witness statements.

Gather your medical bills and records including your discharge papers from the emergency room, hospital or urgent care.
Get a copy of the drivers exchange and crash report.
Find a local personal injury lawyer is experienced in handling car and auto accident claims. If you hire our Boca Raton personal injury lawyers, we can open a claim for property damage and personal injury.
After the crash, an insurance agent may contact you on behalf of the at-fault party. This representative may ask for a recorded statement. We do not recommend giving a recorded statement without consulting a local injury lawyer.
Helpful Information:
Local Law Enforcement in Boca Raton
Boca Raton Police Department | Call 561-338-1234
Palm Beach County Sheriff's Department | Call 561-417-3633
Hospitals in Boca Raton
Boca Raton Regional Hospital | Call 561-955-7100
West Boca Medical Center | Call 561-488-8000
Who Is Responsible for Your Boca Raton Car Accident
If you are a victim in a car crash, you can file a personal injury claim against whoever caused the crash. In most cases, that is another driver. You can hold the driver accountable if you can successfully prove that the driver is liable under a theory of negligence or negligence per se.
Negligence is a person's failure to exercise reasonable care under the circumstances. To prove that a driver is negligent, you must show:
Duty of care – All Florida drivers are required to exercise care. They must follow traffic regulations, have the proper license, and refrain from dangerous activities while driving.
Breach of the duty of care – This occurs when a person fails to conform to the applicable standard of care. For example, a driver may violate the duty of care by failing to yield the right of way or breaking another traffic rule or law.
Causation – You must show that the driver's breach resulted in your injuries.
Damages – You must have incurred actual damages as a result of your injuries.
In some cases, you may use negligence per se as a smoother route to getting compensation. This theory is available when a person violates a statute intended to protect a certain class of persons from a particular type of harm.
The most common example of when you may use negligence per se is in a drunk-driving or drugged-driving accident. Florida law makes it a crime to drive under the influence of drugs or alcohol. If the driver in your case is convicted of a DUI, the driver is negligent as a matter of law, or negligence per se. This means that you can proceed directly to the causation element of your claim.
Boca Raton Car Accidents: Pursuing Compensation
You can recover damages for your injuries, including compensation for medical expenses, property damage, lost wages and any loss of earning capacity, pain and suffering, and more. If you lost a family member in a fatal car accident, you might be able to recover damages by filing a wrongful death claim. Florida requires that you file a personal injury claim within two years from the accident, or two years for a wrongful death claim.
How Long Do You Have To File An Injury Claim After A Car Accident
Florida Statute of Limitations: Car Accidents in Boca Raton
Florida's Statute of Limitation claims that the victim of a car accident has only 2 years from the time of the accident to file a lawsuit against the at-fault party to hold them accountable and retrieve compensation from them. If this time limit is exceeded, the Statute of Limitations expires, after which the courts may refuse to hear your case except in very exceptional cases.
Boca Raton Car Accidents & Florida's 14-Day PIP Rule
In Florida, an injured person may be reimbursed for up to 80% of their treatment, and up to $10,000, if they treat with a qualified medical provider in the first 14 Days of the accident.
Death Benefits under Personal Injury Protection: PIP will provide up to $5,000 in death benefits for each individual, in addition to, any medical and disability benefits.
Building a Strong Injury Claim - Our car accident lawyers have experience handling a broad range of types of car and auto-related accidents and have specialized knowledge to build the most compelling auto accident legal claim. We review the accident report, investigate the scene of the accident along with the responsible persons driving record and background.
What Damages Can You Recover From A Car Accident Claim
Past and future medical bills
Lost wages and/or benefits and reduced earning potential
Pain and suffering
Funeral and burial expenses
Vehicle or property damage
Start Your Free Consultation with Local Car Accident Lawyers
For a free initial consultation, call us at 561-701-9992 or contact us online today. We speak Spanish and Creole.
Ask Attorney Steven Frankl: Most Common Questions After A Boca Raton Car Accident