Cruise Ship Accidents
Dedicated Attorneys Serving Injured West Palm Beach Residents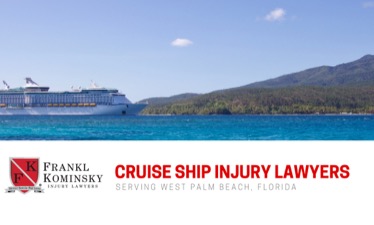 Thousands of travelers depart from Florida ports on cruise ships each day. Unfortunately, passengers often suffer serious injuries while on these voyages. The accident attorneys at Frankl Kominsky are prepared to try to help West Palm Beach individuals with their cruise ship accident claim and navigate through these complex cases. We can help assert your rights if you were hurt on a vessel.
Cruise Ship Accidents
Cruise ship accidents are governed by maritime law. This is the body of law that applies, both substantively and procedurally, to activity on the high seas or navigable waters. It includes federal statutes, international treaties, and relevant case law. When a tort occurs on navigable waters, it is governed by maritime law. Cruise ship accidents are considered maritime torts. Examples of these events include:
Full or partial ship sinking
Fires and loss of power
Food-borne illnesses
Slips and falls
Crimes, such as sexual assaults
General principles of negligence apply in maritime tort lawsuits. A victim must show that the defendant had a duty of care to avoid creating an unnecessary risk of harm, but breached the duty with careless behavior and caused the plaintiff's injuries and damages. A cruise ship operator has a duty to exercise reasonable care when interacting with anyone lawfully on the vessel. If it breaches this duty and causes an injury, it may be held liable.
For example, a passenger might suffer a slip and fall on board a cruise ship. The vessel and its crew have a duty to its passengers to act with reasonable care. They must take measures to protect passengers against dangerous conditions in areas where passengers are invited to or reasonably expected to visit. This duty includes warning passengers about any hazardous areas and taking steps to fix the hazards.
Maritime Crimes
If a crew member assaults or commits a crime against a passenger, the victim may hold the cruise ship operator liable. These vessels are considered common carriers, and common carriers may be strictly liable for the willful misconduct of their employees, even if the action falls outside the scope of employment. Victims of sexual assault, for example, have been able to hold cruise ship operators accountable if a crew member committed the assault.
Medical Negligence on a Cruise Ship
A cruise ship operator may be liable for the negligent hiring of its medical staff, but these companies are generally not liable for malpractice by their physicians. A passenger injured by a ship's doctor would have to bring a medical negligence claim against the doctor. However, a passenger also may bring a claim against the cruise operator for its failure to exercise care in hiring a competent doctor.
Statute of Limitations and Damages
The Uniform Statute of Limitations for Maritime Torts will apply in a cruise ship accident case. This rule provides a three-year time window for personal injury or wrongful death claims that arise from these events. However, cruise line operators sometimes can shorten the amount of time in which an injured passenger can bring a claim. The company can include a provision in the contract with the passenger, such as language on the ticket, that limits the time to file a claim to as little as one year.
If you assert your claim in time and prove your case, you can seek damages for your cruise ship injuries. You may be able to recover for your lost wages, current and future medical expenses, and pain and suffering caused by the accident.
Fighting for West Palm Beach Accident Victims
If you were harmed on a cruise ship, the accident lawyers at Frankl Kominsky are committed to trying to help you hold the responsible parties accountable for your injuries. Based in West Palm Beach, we have represented victims in many complex accident cases, and we can try to provide knowledgeable representation and aggressive advocacy for you as well. We serve clients throughout Delray Beach, Palm Beach Gardens, and Boca Raton, as well as other Palm Beach County locations. For a no-obligation consultation, call us today at (561) 354-6184 or complete our online form. We speak Spanish and Creole.