DUI Accidents
Legal Guidance for Injured Victims in West Palm Beach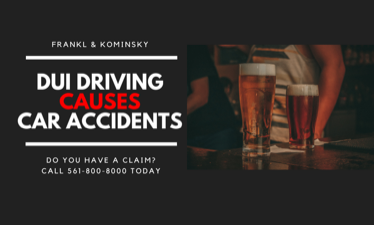 It is illegal to drive drunk or drugged in the state of Florida, but intoxicated drivers still get behind the wheel. These motorists often cause catastrophic, or even fatal, crashes. At Frankl Kominsky, we are committed to aggressively representing the rights of people injured by drunk drivers. Our auto accident attorneys have helped countless victims and their families within and beyond West Palm Beach hold those who hurt them accountable. We can assert your right to compensation if you suffered injuries in a DUI crash.
Drunk Driving Causes Serious Harm
Alcohol and drugs play a role in thousands of Florida traffic accidents. In 2012, the Florida Department of Highway Safety and Motor Vehicles reported that alcohol was confirmed or suspected in over 17,200 crashes, which caused more than 12,000 injuries. Alcohol was also a confirmed or suspected factor contributing to 805 fatal car accidents, in which 877 people lost their lives. Drugs played a role in 1,798 Florida collisions.
Driving under the influence of drugs or alcohol is a crime in Florida. A motorist drives under the influence if his or her blood alcohol content (BAC) is .08 or more, or whenever drugs or alcohol impair his or her faculties. An underage driver can be charged with a DUI if he or she has a BAC of .02 or more.
Negligence as a Matter of Law
Drunk or drugged drivers can seriously harm other people on the road. You can file a personal injury claim against the motorist responsible if you were hurt in a DUI accident. In most car crash cases, the victim has to show that the defendant was negligent. In other words, you would need to prove that the defendant had a duty to exercise reasonable care, breached this duty through his or her actions, and caused injuries from which you incurred damages.
In DUI accident cases, however, the victim does not necessarily need to show all of these elements. Instead, the injury claim may be based on negligence per se. This rule applies when someone violates a statute intended to protect a certain group of people from a specific type of harm. If a person is negligent per se, he or she is negligent as a matter of law. This means that the victim does not need to establish that the drunk driver had a duty of care and breached the duty. Instead, the victim can point to Florida's DUI law and hold the defendant liable if the violation of that statute resulted in injuries and damages.
Florida Dram Shop Law
A DUI accident victim may also have a negligence claim against the establishment that served or provided alcohol to the driver. Establishments, such as bars, and individuals are generally not responsible for a drunk or drugged driver's actions. Florida law, however, provides two instances in which an establishment may be liable for a DUI accident. These are if the person who furnished the alcohol to the driver knew that he or she was a habitual drinker, or if the motorist is younger than 21.
Damages Available After a Crash
DUI accident victims can recover a wide range of economic and non-economic damages. An injured person can seek compensation for medical expenses, property damage, lost wages, and pain and suffering. You must file a claim within two years from when the crash occurred, or Florida law may bar you from filing your claim.
Protect Your Rights Against West Palm Beach Drunk Drivers
The car crash lawyers at Frankl Kominsky provide diligent representation to victims of DUI accidents and their families throughout Palm Beach County. Our attorneys are passionate about standing up for the rights of our clients. If a drugged or drunk driver harmed you, we have the legal acumen and skills to help you hold that person accountable. We serve clients in Delray Beach, Boca Raton, and Lake Worth, among other nearby communities. Call us at (855) 800-8000 for a free consultation, or complete our online form. We speak Spanish and Creole.