Paralysis Injury Lawyer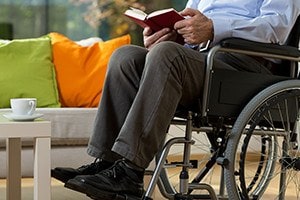 If a person suffers from irreparable damage to their spinal cord in an accident, it may result in paralysis. Not being able to use certain parts of your body may leave a person dependent on others and disable them from living a quality life. Paralysis can occur for several different reasons, including catastrophic accidents. Some recover in some time, while others may not be so fortunate.
If you or your loved one has sustained a paralysis injury in an accident due to the carelessness and negligence of another, you may be eligible to pursue compensation and damages. Contact the experienced legal team at Frankl Kominsky Injury Lawyers. We are dedicated to providing tenacious advocacy for victims of severe and catastrophic accidents. Let us help you get the compensation you deserve.
What Is Considered a Paralysis Injury?
Paralysis is described as a loss of muscle function in certain parts of the body. Paralysis renders muscles across your body unable to perform and thus limits your mobility and bodily functions. It essentially makes a person disabled, either temporarily or permanently.
Paralysis occurs when damage to the spinal cord prevents sensory and motor signals from traveling between the muscles below the point of injury and the brain. The muscles and the brain are blocked from communicating with each other, which can result in partial or complete paralysis, depending on the level of harm. Paralysis can take the form of quadriplegia, which is the loss of function in all four extremities, or paraplegia, which is the loss of function in the lower limbs. Because of the severity of their condition, paralyzed individuals often need extensive medical treatment and care, specialized equipment, and adjustments to their home and workplace in order to deal with the limitations and changes caused by their injuries.
Causes of Paralysis Injuries
Most paralysis attacks are caused by cerebral palsy, especially monoplegia. People who suffer from cerebral palsy often have one or more limbs paralyzed because of the unfortunate and cruel disease, and there is not much that can be done for them. However, victims can suffer from paralysis resulting from accidents such as a motor vehicle accident, slip and fall, workplace injury, or medical malpractice.
If you have suffered an injury to your spinal cord get medical help immediately.
Some other causes of paralysis are stated below.
Strokes: Some strokes can be severe enough to leave a person paralyzed, either permanently or temporarily.
Nerve damage due to injuries or diseases: This is one of the most common reasons for paralysis. When in an accident or through a severe blunt force, there might be some nerve damage, which can result in paralysis in one or multiple parts of your body.
Nerve impingement: Nerve impingement occurs when the nerve has a lot of pressure being applied to it by surrounding tissues, tendons, and muscles. If the pressure is excessive and continues for a long time, the impinged nerve can cause paralysis.
Motor neuron damage: Since the paralysis is due to the brain and muscle not being able to communicate, it is a given that in case of a motor neuron damage, a paralysis will follow.
Brain injuries: brain injuries and brain damage are common during an accident. If you sustain damage to the brain, the brain may lose the ability to send messages to your muscles, either partially or completely, temporarily or permanently. Paralysis is just one of the side effects of brain damage. Brain damage may very well be life-threatening and timely treatment is mandatory.
Impacted or severed nerves at the affected location: if the receptive nerves at a certain location or limb are damaged and lose the ability to interact with the brain, it will surely result in that part of the body being paralyzed. Nerves at specialized locations can become damaged due to being pinned under heavy objects, being caught in machinery, or through significant impact.
Types of Paralysis Injuries
As mentioned before, paralysis can be partial or complete. A patient may lose function in just one limb or the entire body, depending on the injury or the cause of the paralysis. In partial paralysis, you may lose control over one or multiple parts of your body, but retain function in other parts. In a complete paralysis, the patient has no control over any part of his body.
The four most common types of paralysis injuries include:
Monoplegia: Monoplegia is the type of paralysis that affects just one of the limbs. In other words, it refers to the paralysis of just a single arm or a leg.
Hemiplegia: Hemiplegia, like the words suggests, affects one half of the body. For example, both the arms and the legs on the left side of your body or the right side.
Paraplegia: Paraplegia is when both of the legs are paralyzed. This generally happens due to a spinal cord injury.
Quadriplegia, or Tetraplegia: This type of paralysis affects the most muscles in the body. It is when a person loses all control over their limbs. In other words, both their legs and arms are paralyzed.
The type of paralysis is determined by what part of your brain or spinal cord is injured, and what parts are affected.
Treatment for Paralytic Injuries
Paralysis can be temporary or permanent. While some recover, some remain paralyzed for life and have to depend on supporting devices such as crutches, wheelchairs, and assistance for everyday activities.
Treatment for paralysis may include surgery, medication and extensive physical therapy and rehabilitation. Unfortunately, some patients may never recover from the paralysis as the damage may be permanent, requiring lifelong assistance. In such cases, treatment options are mostly to assist them in daily life activities, such as occupational therapy to help them with chores, assistive and supportive devices such as wheelchairs, braces, and voice-activated devices.
Along with that, paralysis requires months and months of care and rehabilitation. Physical therapy is essential for paralytic patients, and it has to be continued for a long time before the patient can start to recover. It could take months and years for the patient to get back to normal functions such as walking independently. Meanwhile, they require support. Devices such as braces, wheelchairs, and canes are also part of the cost of the injury. If the paralysis is permanent, some house and vehicle modifications may also be in order to ensure a smooth and comfortable life ahead for the victim.
Can You Pursue a Claim for Paralysis Injuries Following An Accident In Florida?
These types of accidents are generally the result of negligence. You can pursue a claim or file a lawsuit against the party you believe is responsible for your injuries and paralysis. If you can prove the defendant's liability, you can seek compensation and damages for your injuries.
Current and projected medical treatment bills

Your medical expenses can include everything from the immediate hospital visit, diagnostic testing, physical therapy, prescription medication and the surgical operations costs to long term care facilities. Depending on the nature of the paralysis injury you have sustained, the costs will vary. The medical bills, along with the arrangement of the supporting devices, and other long-term care items, as well as rehabilitation and therapy, can be substantial. You can also pursue a claim for future medical treatment and expenses.

Loss of job and future earning capacity

Due to the severity of injuries, the victim might not be able to return to work for a period of time. The loss of movement, even in one limb, can affect the capability of the person to work to their full potential. Besides, the recovery time for paralyzed patients is so long that it might be months before the victim can even return to work. Employers may have no option but to replace the worker.

Some might be unable to work in the same capacity due to the permanent paralysis. They might never be able to work at all, the way they used to and may never make the same salary that they used to. You can pursue damages for lost wages, lost future income and the loss of future earning capacity against the at-fault party.

Pain and Suffering

The pain and suffering may include the loss of the quality of life, the inability to do basic chores and daily life activities yourself, mental anguish and the helplessness and frustration that can cause depression and other mental issues.

Home and Vehicle Accommodations and Renovations

Paralysis victims may home alterations and renovations to make it more accessible and comfortable. This can include the construction of ramps, grab bars, sliding doors, and easier knobs on doors. The victim may also require vehicle accommodation to get on and off their own transport.
How Long Do You have to file a Paralysis Injury Lawsuit in Florida
For personal injury cases involving negligence, according to Florida's Statute of Limitations, you'll have a maximum of 2 years (from the date of the accident) to file your lawsuit. For accidents that have resulted in a fatality, you have just a maximum of 2 years (from the time of the death) to file a lawsuit. If you fail to file your lawsuit within the Statute of Limitations, your lawsuit will likely be dismissed and you may be barred from pursuing your claim. See: Florida Statute section 95.11(3)(a). An experienced personal injury lawyer can help you understand the time limitations for your specific accident claim.
Should You Hire a Personal Injury Attorney?
If you suffered paralysis injuries in an accident through no fault of your own, contact the legal team at Frankl Kominsky Injury Lawyers. Our attorneys are available to provide guidance as to your legal options, investigate your claim, establish negligence, obtain documentation of your injuries and lost wages. We are available to handle all communications and negotiations with the at fault party, their insurance company and their attorneys. We are dedicated to protecting your rights and pursuing the compensation you deserve.
Frankl Kominsky traumatic injury attorneys have over 40 years of combined legal experience. We have served over 6000 clients successfully, and have helped them recover financial compensation to make up for the losses and damages, financial and otherwise, that they had to go through as a direct consequence of the negligence of the other parties.
If you or your loved one have been injured in an accident and were paralyzed as a consequence, contact us for a free consultation and case review. Our legal team strives to keep you informed and involved. We are dedicated to getting you the compensation and justice you deserve.
Start Your Free Consultation with Frankl Kominsky Injury Lawyers
Frankl Kominsky Injury Lawyers offers a free initial consultation and case review. Reach out to Frankl Kominsky Injury Lawyers, we are ready to answer your questions or to schedule an appointment. You may also fill out our case evaluation form.