Florida Personal Injury Protection Lawyer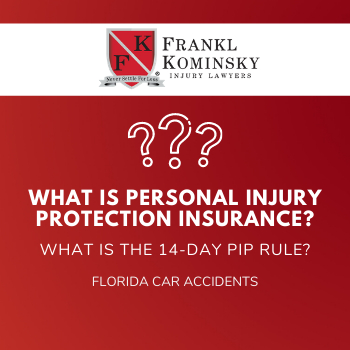 What is Florida PIP Personal Injury Insurance?
In the state of Florida, owners of registered vehicles are required to have Personal Injury Protection, or PIP. Florida is one of only ten states with this No Fault auto insurance coverage. Having personal injury protection insurance means that if you are injured in a car crash, you will receive immediate medical coverage, no matter who was liable for the accident.
As you can imagine, there are a lot of nuances to Personal Injury Protection insurance in the state of Florida, including some limits and restrictions. If you find yourself the victim of a car accident, and are confused about your PIP coverage, contact a personal injury lawyer to help you through the process.
The injury lawyers at Frankl Kominsky will work with you to establish what your coverage is and get you the money you need to cover your medical costs. If your bills exceed the PIP limits, your lawyer will work to get a financial settlement from the other driver who was at fault for the accident.
Why PIP Is Required in Florida
Florida institutes a Personal Injury Protection law in order to reduce the amount of people who sue each other over damages after an accident. In states that have PIP laws, including Florida, drivers are only allowed to sue when the injuries they sustain are considered severely disfiguring or permanent, or if they resulted in death.
The only other way you can sue another driver after a car accident is if your injuries and damages exceed the $10,000 PIP coverage maximum. Therefore, if you are injured in a car accident and have a total of $25,000 in medical bills, you are legally allowed to sue the other driver for the remaining $15,000 that is not covered by your PIP insurance. Also, if applicable, you can sue the other driver for inflicting emotional pain or suffering.
If your injuries exceed the limit of PIP insurance and you are interested in pursuing a claim against the other driver in the accident for the remaining cost of your medical bills, call the lawyers at Frankl Kominsky. We are very familiar with Personal Injury Protection laws and will speak with you about the best course of action for your individual case.
PIP 14-Day Rule
Another law in the state of Florida is the PIP 14-day rule. This rule requires anyone injured in a car accident to seek medical attention within 14 days of the accident. If you do not seek medical care within this 14-day time frame, your claim will most likely be denied. Typically, when the injuries are severe, a person is taken to the hospital from the scene of the accident. However, in cases where injuries are more minor, it is up to the individual to seek their own medical attention in the days after the car crash. Either way, make sure to keep track of your medical records and documentation for your hospital or doctor's visits. You will need proof to file a claim.
If you are involved in an accident that is minor in nature and you do not believe to have sustained any injuries, it may still be a good idea to get checked out by a doctor. There are many minor injuries that do not show symptoms for a few days. If you do not recognize these signs or symptoms, you could miss your chance to receive compensation for your medical bills or any lost wages that ensue.
For example, if you are in a car accident and sustain a blow to the stomach, you may not feel any symptoms or pain immediately after the accident. A bruise may appear in the next day or two, and you may begin to feel slightly nauseous at times. By the time symptoms get worse, you may have passed the time frame for the 14-day rule. However, when you finally see a doctor, you find out that you have sustained a serious injury, like internal bleeding. By this time, it is too late to pursue a financial settlement for your injuries, and you will have to pay for your medical bills on your own.
If there is even a slight chance that you were injured in your Florida car accident, contact the lawyers at Frankl Kominsky. We can help get you the compensation you deserve.
Types of Medical Treatment
In general, PIP covers medical expenses and lost wages. In the state of Florida specifically, PIP benefits cover 80% of your medical costs. While it is not ideal that it is not the full amount of your bills, 80% is a great deal of your bills, and will take away much of your expense. PIP can be applied towards the following expenses:
Medical services: This category includes a visit to your primary care physician, any emergency medical care, or a visit to a specialist. If you have a bill from seeing any type of medical professional because of an injury you sustained during a car accident, PIP should cover the expenses.
Medication: If you are prescribed any type of medication for your injury, you can pursue PIP coverage. While this includes prescription medication, it can also include over-the-counter medications as well. Ask your personal injury lawyer the specifics about medication and personal injury protection laws.
Surgery and hospital costs: If the injury you sustain during a car accident requires you to receive surgery, your medical and hospital bills will be covered by PIP. Also, if your injury requires a hospital stay, your bills will be covered by PIP as well.
Rehabilitation: Any type of rehabilitation needed because of your injury is covered with your PIP insurance in Florida. This includes things like physical therapy, respiratory therapy, and occupational therapy. These therapies may take place in a hospital, or they may take place in a stand-alone building that specializes in physical therapy, for example.
Diagnostics: Diagnostics are medical tests that determine if something is wrong with you. They are also able to tell you what exactly is wrong with you in many cases. If you require diagnostic testing due to a car accident, your bills will be covered by PIP.
Ambulatory services: if it is necessary for you to be removed from the accident scene via ambulance and brought to a hospital, your PIP insurance will cover the cost of the ambulance services. Typically, these services are not covered by insurance. If an ambulance arrives on the scene of the accident and they treat you there without having to take you to the hospital, your bills will be less.
60% of lost wages (up to $10,000): PIP insurance will cover 60% of your lost wages due to your injury. This category also includes costs for services like child care or house cleaning that you are no longer able to complete yourself because of your injury.
Death benefits ($5,000): If the car accident results in a death, the surviving family members of the policyholder will receive death benefits in the amount of $5,000 to pay for funeral and burial expenses.
Remember, in order to claim a PIP benefit, you must have consulted with a qualified medical professional within 14 days of the accident. This can be from your primary care physician, urgent care clinic, the hospital, or even emergency medical technicians who arrive at the scene of the accident. Just make sure to keep any records or documentation of your visit so that you can provide it to your PIP insurance.
Qualified Medical Providers under PIP
In order for the medical provider that you visit to be accepted under PIP insurance, they have to meet a few requirements. The initial physician that you see must be a licensed physician or an advanced practice registered nurse. If this initial assessment with a medical professional requires you to seek further medical attention from a specialist or a health care clinic, the following medical specialties are covered through your PIP insurance.
General medicine: General medicine is the prevention, diagnosis, and treatment of internal diseases. Your primary care physician is in general medicine, or internal medicine, as they treat your whole body. If there is something that they cannot treat themselves, they will refer you to a doctor or group who specializes in a more particular type of medicine.
Radiography: Radiography is the science of using radiation to provide images of tissues, organs, bones, and vessels that make up the human body. Radiologists are physicians who have had specialized training in reading and interpreting diagnostic images and creating a diagnosis from those images. If you are referred to a radiologist for your injury, your medical costs will be covered by your PIP.
Orthopedic Medicine: Orthopedics is a medical specialty that deals with the treatment of both bones and muscles. If you sustain an injury to a muscle or bone in your body due to your accident, you will most likely be referred to an orthopedic doctor. If your injury requires surgery, it will be performed by an orthopedic surgeon. Orthopedic surgeons have the education and experience to deal with diseases, injuries, and other conditions related to the muscles, bones, joints, ligaments, tendons, and nerves.
Physical Medicine: The goal of physical medicine is to enhance and/or restore the functional ability and quality of life to those with physical ailments or disabilities affecting the brain, spinal cord, nerves, bones, joints, ligaments, muscles, and tendons. Physical medicine focuses on treatment that can be given without surgery or medicine, but with heat, manipulation, or radiation.
Physical Therapy: Physical therapy relates to physical medicine in that it works with treatment methods that do not involve surgery or medications. Physical therapy treats ailments, diseases, or disabilities by physical methods like massage, heat treatments, and exercises.
Physical Rehabilitation: Physical rehabilitation is very similar to physical therapy, but has a slightly broader scope. Physical rehabilitation restores and enhances the abilities of people with physical impairments. The goal of this type of treatment is to improve the independence of a person so that they can continue on with their regular life as best as possible. Many times, this includes re-learning skills or learning alternative ways of performing tasks.
Prescribing or dispensing outpatient prescription medication: If you are working towards treatment in any of the above areas and you are prescribed medication, your medication costs will be covered under your PIP.
Laboratory Services: Laboratory services are typically tests on blood or urine that are used to diagnose and treat patients. If you are required to get any type of laboratory services because of your injury, your PIP will cover the expenses.
It is important to note that medical benefits do not include massage or acupuncture, even if you are receiving them because of your injury.
PIP Policy Limits
While all of this may seem "too good to be true" there are some limits on your PIP policy in the state of Florida. First, as previously mentioned, only 80% of your medical costs are covered with your PIP policy. For example, if your medical bills total $10,000, your PIP will only cover $8,000 of them. The rest of the money, $2,000 in this example, you will have to pay on your own.
Another limit on your PIP policy is for non-emergency treatment. PIP caps payment at $2,500 for non-emergency treatment. This means that if your injury is classified as a "non-emergency" you will not receive more than $2,500 from your PIP insurance.
In order to understand this limit on your PIP policy, it is necessary to understand what qualifies as an emergency medical condition. An emergency medical condition involves serious symptoms that would result in any of the following if not treated immediately:
Serious jeopardy to your health
Serious dysfunction of a body part or organ
Serious impairment of any bodily function
It is important that, when receiving treatment for something that qualifies as an emergency medical condition, your doctor notes that it is an EMC on your chart.
What to Do When PIP Has Been Exhausted
If you are involved in a car accident in the state of Florida and sustain serious injuries, your PIP will cover your medical costs. As previously stated, PIP has a limit of $10,000, which is lowered to $2,500 if your injuries are classified as non-emergency injuries. As an individual, the law allows you to seek additional compensation for your medical costs from the driver who is at fault. Typically, in this case, your injuries would be quite severe. For example, the injuries below all qualify as serious injuries:
Traumatic Brain Injuries, or TBI
Loss of a limb
Broken bones
Severe burns
Permanent disfigurement
Paralysis
Spinal cord injuries or neck and back injuries
If you suffer any one of these terrible injuries listed above due to your car accident, you may be able to pursue a claim against the at fault driver for additional compensation to cover your extensive medical bills. In some of these cases, you can also pursue a claim for pain and suffering, as many of the injuries listed above can cause a permanent change in your quality of life.
The insurance company of the driver who is at fault could potentially try to prove that the injuries you sustained are not serious in nature, or that they are only temporary. This is in an attempt to deny, underpay, or disqualify you from filing a lawsuit. This is why it is important that if applicable, your doctor should label your medical chart as an Emergency Medical Condition, or EMC.
If you find yourself in this situation, and the insurance company of the driver at fault is trying to pay you less than you deserve, it would be in your best interest to seek legal advice from a personal injury lawyer. Lawyers with experience in car accident cases will likely understand the nuances of the PIP insurance and be able to assist you with your situation. They are familiar with working with insurance companies.
Choosing the Right Personal Injury Attorney for a Car Accident Claim
When it comes to choosing a personal injury attorney for your car accident claim in Florida, it is important to go with someone who has years of experience and knowledge of Personal Injury Protection laws in the state.
The lawyers at Frankl Kominsky will work hard to represent you in your case and are dedicated to get you the financial settlement you deserve on top of your PIP payout. Call 855-800-8000 for a free consultation. We can answer any questions you may have and get you started on your way to the compensation you are entitled to. If you are seriously injured and confined to a hospital or your home, we are available to meet with you in person so that you do not have to travel.