Work Injury Lawyers Serving Hialeah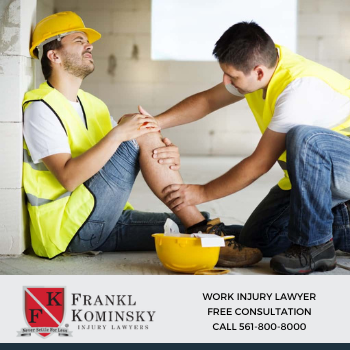 There is always a possibility that a work-related injury can occur. Certain industries and fields have the possibility of employers facing severe injuries from machines to public service responsibilities and more.
If you are ever injured at work, the HR rep at your company should have the documents ready for workers' compensation. Not every injury has to be physical, but even physical injuries sustained on the job can have complicated claims that don't always go through as they should.
If you or a loved one have recently been injured on the job in Hialeah, Florida, and have been denied a claim or offered an unfair settlement, it's time to consult with an experienced work injury lawyer.
These types of lawyers have the competence and resources to help fight against workplace negligence when employees are not being treated as they should. Here's everything you need to know about hiring a work injury lawyer to help you fight against big corporations and organizations for workplace injuries.
What Is a Work Injury?
A work-related injury is an injury that is exactly how it sounds: an injury or harm that is experienced at someone's place of employment.
There are several different causes of an employee succumbing to a workplace injury, but it's the business's responsibility to offer their employees the right package or program to assist them with medical bills and benefits for their pain and suffering when merited.
The issue with suffering from a work-related injury is that you must meet certain requirements to be able to have access to workers' compensation benefits. In order to qualify for workers' compensation, a person must meet the following requirements:
The person must be an employee, not a volunteer or freelancer
There must be an official report filed in the state's allotted timeframe
The physical or mental injury must be work-related
The company must carry workers' compensation assistance
The timeline in Florida for employees to file a workers' compensation claim is one year from the injury. This can be tricky for those that are battling an illness from an internal injury that has developed over time due to chemicals and substances they come in contact with at their place of employment.
Volunteers and freelancers do not qualify for workers' comp since they are not official employees of the company. If you are a volunteer or freelancer, you will need to seek other avenues for your injury either through insurance or another type of claim.
The best way to go about assistance after a work injury is to file a report as soon as possible, ideally on the same day or day after the injury was sustained if you can. Employees will not need to seek the assistance of a work injury lawyer until they've gone through the process with their employer to see how it's handled.
Common Types of Work Injuries
Work injuries can vary depending on the line of work you are in. The most common type of work injury is physical through slip and fall since work surfaces are oftentimes slick and slippery.
Here are other common types of work injuries that can be either mental, physical, or internal.
Slip & Falls
It's not uncommon for anyone to slip and fall from time to time. Certain workplaces see these injuries more than others because of:
Slippery or oily surfaces
Poor lighting or holes on the ground
Employees falling from heights while working with ladders, buildings, construction areas, and more
It is the employer's responsibility to train all employees on how to use certain equipment and be safe in certain situations to prevent the possibility of injury. If you have not been trained or trained properly and experienced an injury from a slip and fall, you could have the right to file a lawsuit, especially if the company doesn't handle your claim appropriately.
Chemicals & Other Substances
If you work around pesticides, herbicides, or other harmful chemicals, consistent exposure can lead to detrimental internal illnesses. These substances can get on your skin and in your eyes, or you can breathe them in causing respiratory issues or other health concerns such as burns.
It's essential not only to receive proper training but also for the right gear to be given to employees who work in fields that are around these harsh chemicals every day. These injuries can be difficult to detect instantly since some issues can develop over time and are only later identified as work-related.
Being Struck by Objects or Machines
Certain machines and objects on the job can lead to severe injuries due to the force, weight, and sharpness of what you may be required to use. Heavy and sharp machines have the force and ability to sever limbs, create deep cuts, or cause life-altering injuries.
These injuries can be caused by:
Improper training of machine usage
Unguarded machinery
Getting trapped in the machines
Being struck by a vehicle or other object
Falling heavy-duty items
The key to preventing injury when working around dangerous equipment is to always know what's in your surroundings and how to use equipment properly. Wear protective gear and move cautiously to be safe.
Overexertion of Muscle Strains
Physical labor jobs can be very exhausting. A worker can experience muscle strain, or overexertion of their body if they constantly work with heavy materials, are on their feet for a prolonged period of time, or do not take breaks as often as they should. If a physical labor employee is not careful when working with heavy equipment or taking needed breaks, they can experience awful pain and repercussions.
Here's how you might develop overexertion or muscle strains on the job:
Constantly lifting heavy objects or lifting them improperly
Employers not providing necessary breaks
Typing on a keyboard without wrist support
If you feel that your body is starting to wear out from your daily job, it's important to take breaks and implement proper interventions to protect your body. If your workplace is responsible for not caring for your needs as they should, then it's important to consult with an attorney about their actions.
Vehicle Collisions
If you are around work vehicles or objects such as forklifts, it is possible to experience a crash on the job. Depending on where you're working, these collisions can be in the workplace, with a civilian, or from other causes.
Public roads can also be very dangerous to work on, especially if you are in construction, where civilians on the road can drive erratically and hit construction workers if they are not careful.
Workplace Violence
It is not uncommon in today's world for workplace violence to occur, whether it's with you and another employee or an animal. People working together have the potential to disagree and cause fights, and if you work at a company that deals with animals, you can encounter wild or aggressive animals that bite. If you work somewhere where you experience violence that occurs on workplace property or work time, it could constitute a workers' compensation claim for assistance.
The Effects of Work Injuries
The type of work injury you experience can be very impactful on your daily life and overall health. Not only is there stress that comes with the loss of income due to time off work, but there's suffering and trying to heal from your work-related injury.
Some injuries that are extreme can cause a person to alter their way of life. They might have to make specific modifications and relearn movements that can be a challenge and additional stress on a family. It could also be possible that the hospital bills associated with the injury are not able to be fully covered, which puts another burden on top of a family.
It's possible for workers to experience all kinds of injuries associated with work, including death. Other possible injuries a worker may sustain on the job include:
Hearing and memory loss
Dismemberment or amputation of limbs
Internal injuries
Disabilities (mental and physical)
Loss of mobility or pain with movement
Illness or diseases
More
There are some injuries that will require extensive time in physical therapy or life-long medical interventions of medications and other health practices. All of this can be expensive but doesn't add up to the cost of losing enjoyment in life or the ability to provide for a family.
What to Do After a Work Injury
The first thing you should always do after a work injury is to report the incident to the head of HR at your company. You might have to seek medical treatment beforehand to control bleeds or rule out other possibilities, so after you are cleared to go home, you need to start filing for workers' compensation.
Your HR rep will give you paperwork to fill out, and it's important you bring it back the next day if possible. The process of filing for workers' compensation is lengthy since it works similarly to an insurance claim. There will be an investigation on your employer's end to validate your claim and injuries and to approve benefits or compensation. Since there's a timeline of one year to file your claim from the date of the incident, you will need to return all documents immediately so the investigation can begin.
During the investigation, you may be asked to visit a doctor suggested by your workplace. Because of this, you need to write down notes of exactly what happened during the incident and the injuries you sustained. Sometimes the medical staff that works alongside a business can try to minimize your injuries to reduce compensation or have your claim denied, so be as thorough as possible and cautious of what you say.
It is also not a bad idea to be seen by your own provider. The medical records filled out by them can be used by an attorney, later on, should you need their services, and it can contradict your workplace's provider if they try to minimize your earnings.
Do You Need a Work Injury Lawyer?
Not every person who suffers from an injury at work will need the help of an attorney. Only in certain cases will a lawyer's assistance be beneficial, including situations such as if:
The initial claim is denied by your employer
Settlement or benefits are less than what you should receive
Your employer offers one lump sum instead of other benefits
Workplace claims that are not handled properly will require the assistance of a lawyer. Claims that are denied or not taken seriously can go against legal matters that the business should operate by. Your attorney can read through your employee handbook and employer's workers' comp program to find information that could help your claim.
Sometimes workplaces try to offer one large lump sum of money instead of compensation and other benefits such as medical coverage and paid programs. While the number might look good on paper, accepting lump sums means you are giving up your rights to other benefits that you might need more of.
If your company tries to offer you a lump sum, always consult with an attorney to see if it's the right option to accept it.
What Does a Work Injury Lawyer Do?
A work injury lawyer is responsible for helping you negotiate or file a claim against your place of employment for them to give you the compensation and benefits you need for your injuries. They will help you review all documents and records associated with your injuries to find the fine print in their workers' comp policy, so they know what leverage they have against your employer.
If you are nervous about having to speak to your employer to receive a higher settlement, you can rest in the fact that this is the job of a work injury lawyer. They will speak on your behalf and become your advocate throughout the process and be the communicator.
To find the right attorney, it is crucial you look for experienced work injury lawyers in your area who have demonstrated competence in handling these sensitive cases successfully.
Benefits You Can Seek for Work Injuries in Hialeah, Florida
Workers' comp cases work differently than other personal injury incidents since these injuries occurred on business property during the workday and have the potential to place you out of work. Instead of filing for disability or other SSA benefits, some workers' comp benefits you could seek on top of compensation to assist you during this time include:
If you are facing a partial disability, wage benefits up to 104 weeks
A settlement due to a permanent injury
Disability benefits through your company if you are unable to go back to work
What Is a Third-Party Work Injury Claim?
Though it is rare, there is a possibility that your work-related injury is a result of someone coming into your work and causing the injury rather than something going wrong with the machines or being slippery. This is known as a third-party work injury.
You can file a claim for injuries sustained in this manner, but you will have to go straight to a legal attorney instead of the HR department. You will file for personal injury either against the person who committed the act, or your place of work for not providing the right security measures.
You can still file for benefits relating to loss of income, disability, and much more if the injury was severe enough to fit those categories.
Discuss Your Negligence Claim with an Attorney
If you have been harmed because of someone else's carelessness, there is no substitute for having dedicated legal representation on your side. At Frankl Kominsky Injury Lawyers, we are committed to helping injured victims. Our firm has over 40 years of combined experience handling accident and injury cases, and we know what it takes to try and prove a negligence claim. You can expect the utmost respect and professionalism from our licensed attorneys and legal staff.
Our Injury Lawyers offer a Free Consultation by calling 855-800-8000 or contact us online. Let us help you through this stressful time, our office is available 24/7 and we speak Spanish and Creole.