Personal Injury Lawyer Serving Jupiter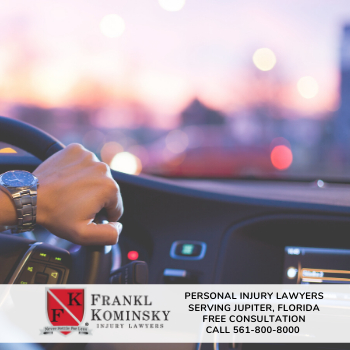 Jupiter is a town located in Palm Beach County, Florida with a population of over 50,000 residents. It was rated among the 10 Happiest Seaside Towns in the United States by Coastal Living Magazine in 2012. Jupiter is home to the Miami Marlins, a Major League Baseball team, and also hosts the St. Louis Cardinals' spring training facilities.
People there can attend races at the Palm Beach International Raceway, while another point of interest is the Jupiter Inlet Lighthouse and Museum , which was completed in 1860. Every year, a number of residents and visitors in this community suffer unexpected injuries.
People who have fallen victim to an accident in Jupiter should consult with the experienced injury lawyers at Frankl Kominsky. We are available to handle all types of personal injury cases, including car wrecks, motorcycle accidents, truck crashes, on-the-job injuries, medical malpractice, product defects, slip and falls, and more.
Palm Beach County Emergency Room Visit Statistics
Throughout all of Palm Beach County, the number of emergency room visits can give us an idea of the toll that personal injuries can take. Here, for example, we see that in 2018:
Motor Vehicle Total: 4,013
Motorcycle Accident: 189
Cyclist: 171
Pedestrian: 82
Motor Vehicle (Unspecified): 1,081
Motor Vehicle Passengers: 2,490
What Injuries Could You Sustain or Claim For After an Accident?
The types of injuries that are usually seen by injury lawyers serving Jupiter may result in many different mental and physical issues. Some of these include:
Head and Traumatic Brain Injuries
Dislocated Hip, Knee, or Shoulder
Neck, Back and Spinal Injuries
Broken Bones or Fraction Ribs
Whiplash
Herniated Discs
The Types of Personal Injury Claims That We Are Available to Handle in Jupiter
Motorcycle and Scooter Injury Claims : motorcyclists who are injured by automobile drivers who speed, drive drunk, or are distracted by texting
Boat, Cruise, or Jet Ski Injury Claims: when passengers are injured due to lack of medical supplies, excessive speed, boat or watercraft malfunctions, striking another boat or watercraft
Bicycle and Pedestrian Accident Claims : victims who have been seriously injured by reckless or distracted drivers
Car and Auto Accidents Claims : accidents involving a negligent or reckless driver, or accidents while you are a passenger in a vehicle
Bus Injury Claims: passengers who are injured because the owner or operator fails to maintain the bus, is distracted, is driving while tired or driving while under the influence of drugs or alcohol
Slip, Trip and Fall and Premises Liability Claims : if you were injured in a slip and fall at a grocery or department store, private property or home, a parking lot, you may have a claim for your injuries
Should You File An Injury Claim After An Accident?
People who are harmed by the negligence of another person or entity often can take legal action. These cases arise when someone has failed to take reasonable care in performing an action.
Reasonable care is generally defined as the proper level of care that the typical individual would have used in the same or in similar circumstances.
There are countless ways to violate the duty of care. For example, a driver speeding on a state highway likely is breaching his or her obligation to drive safely.
If someone violates the duty of care and causes harm as a result, that individual or company may be liable for damages. A victim can hold a defendant accountable by establishing the following elements:
The defendant owed the victim a duty of care;
The defendant breached the duty of care;
The victim was injured in an accident caused by the breach; and
The injuries resulted in actual damages.
Once an accident victim establishes liability, he or she may be entitled to compensation for their damages. Depending on the gravity of the injury, an injured person may be able to recover past, present, and future medical bills, lost income and subsequent benefits, pain and suffering, rehabilitation expenses, their property damage, and any other expenses associated with the accident.
What Should You Do After an Injury?
Report the accident and injury to the authorities and property owner
Jupiter Police Department | (561)-799-4445
If possible, document the scene of the accident with videos, photos, and witness statements
Seek Immediate Medical Care from a qualified medical professional. You can go to your own doctor or to a local hospital.

Example: Jupiter Medical Center | (561)-263-2234
Keep a journal or record of your injuries, medical treatment, and how the injury has impacted your life. Also, make sure to keep a copy of all medical expenses.

Find an experienced personal injury lawyer in Palm Beach County for a Free Consultation
DO NOT give a recorded statement to the insurance company without first speaking to an experienced personal injury attorney
DO NOT try to negotiate a settlement offer without speaking to an injury lawyer
DO NOT neglect your injuries or fail to seek medical treatment by a qualified doctor or medical professional
Avoid posting any information about the accident or your injury on Social Media
If you've lost a loved one due to the negligence of someone else, you may be able to pursue a wrongful death lawsuit against whoever was responsible. These cases are highly complex and must be filed within strict timelines. If you think you may have a wrongful death claim, you should consult a Florida attorney immediately.
Florida Statute of Limitations For Personal Injury Claims
Florida Statute of Limitations section 95.11(3)(a) applies to injured parties suing in Florida on a civil action founded in negligence. The statute of limitations for personal injury and wrongful death lawsuits differ. In Florida, you must file a personal injury lawsuit within two years from the date of the accident. In wrongful death cases, the time frame to file is two years from the date of the death. If you fail to file the lawsuit within the applicable statute of limitations, you may lose your legal right to be heard by a court. Contact an experienced personal injury attorney for further guidance.
Types of Damages You Can Pursue After An Accident in Jupiter
Lost Wages and Loss of Future Income
Past and Future Medical Care and Treatment
Pain and Suffering
Property Damage for your Car
Pursuing a Personal Injury Claim in Palm Beach County
People who were hurt because of the carelessness of another person or entity often can file a negligence lawsuit against the responsible party. Negligence is generally defined as the failure to take reasonable care to minimize the risk of foreseeable harm to others.
These types of claims require an injured person to show that the defendant had a duty of care, which means acting as a reasonably prudent person would have acted in a similar situation. For example, in the context of driving a vehicle, the duty of care typically consists of obeying traffic laws and not jeopardizing the safety of others on the road.
Unfortunately, negligent behavior causes many accidents in Jupiter because people and entities often fail to meet this standard of reasonable care. Beyond drivers, the duty also extends to owners of property, including stores, restaurants, and hotels. These businesses are legally obligated to ensure that their premises are generally in safe condition for guests, customers, or patrons.
In the medical malpractice context, physicians, nurses, and other healthcare professionals are held to a more specific standard of care when they are treating patients. This is defined as what the ordinary medical professional in the relevant specialty would do in a similar situation.
To prove that a defendant acted negligently, a victim must not only establish that the defendant failed to act in a reasonable manner, but also that this breach caused injuries and damages. It should also be noted that Florida follows a comparative negligence system ( Florida Statute 768.81 ). This means that if the victim was partially at fault for the accident, the compensation award will be reduced by the percentage of his or her fault. For example, if the victim is deemed to be 30 percent at fault, he or she may be able to recover 70 percent of the total damages.
How Can a Personal Injury Lawyer try to Help?
In a situation in which you or a loved one have been injured, your first priority should be to seek immediate medical care and to then focus on your treatment and recovery. However, the claims process can be frustrating and complicated. and could cause the added stress of dealing with items such as: insurance companies, property damage, the gathering of your medical records, and calculating lost work income.
At Frankl Kominsky, our legal team can try to assist you in relieving your stress by dealing with the insurance companies, pursuing a claim for injuries, damaged property, setting up a car rental if needed, collecting medical records and bills, and requesting the appropriate police reports.
If you are injured in an accident due to someone else's reckless and careless behavior, you may be eligible to pursue a negligence claim to seek compensation for your damages. You will be required to establish that the defendant breached the duty of care owed to the victim, which ultimately caused the accident and the resulting injuries or damages.
A duty of care is an implicit obligation to others in society to exercise reasonable care in one's conduct and avoid foreseeable risks of harm. Reasonable care is defined as how a prudent person would behave in a similar situation.
For example, the typical car driver would not run a red light because this is a dangerous and irresponsible thing to do. Therefore, a driver who does this likely would have breached the duty of care owed to other people on the road.
Someone who files a negligence claim must show not only that the defendant violated a duty of care but that the violation was the direct and proximate cause of the victim's injuries. In other words, the defendant's careless actions must be the reason for the accident, and it must have been foreseeable that the accident would result from the defendant's behavior.
Start Your Free Personal Injury Consultation Today
If you have been hurt because of someone else's carelessness, it is important to have dedicated legal representation on your side. At Frankl Kominsky, our tenacious accident attorneys are committed to helping injured individuals in Jupiter and other areas of South Florida. Our firm has extensive experience in pursuing negligence claims, which we will take to trial if necessary. We take pride in getting to know our clients and the facts of their cases. You can expect the utmost respect and compassion from our entire staff.
At Frankl Kominsky Injury Lawyers, we strive to provide diligent legal representation and superior client services.
Over 600 Verified Client Reviews
Over $100 Million in Accident & Injury Settlements
Over 40 Years of Combined Legal Experience
Stay Informed with Fast Response Times - Routine Calls and Emails
No Fee Unless We Recover
To learn more about your options, you can contact us online or call us toll-free at (561) 567-0214. Spanish and Creole are spoken fluently here.