Motorcycle Accident Lawyer Serving Daytona Beach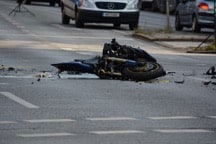 Daytona Beach is home to some of the most passionate motorcycle enthusiasts in the world. But with more riders on the streets comes a higher risk of motorcycle crashes. Unfortunately, even if you follow all the rules of the road, you cannot expect other drivers to do the same.
If you were injured or lost a family member in a motorcycle collision, turn to Frankl Kominsky for legal guidance. We are available to try to help you understand the laws that relate to your case and recommend how to proceed with your claim.
Our attorneys will try to gather evidence, handle correspondence with the insurance company, and try to help you avoid costly mistakes that may jeopardize your Daytona Beach Motorcycle Accident claim. Call us today at 386-227-5219 to schedule a free initial consultation.
Do I Need to Contact a Motorcycle Accident Attorney Immediately?
It's easy to overlook the fact that the claims process begins immediately after a motorcycle accident. Your statements and actions at the scene and over the days and weeks that follow will have a huge impact on the outcome of your case. One seemingly benign oversight, such as saying the wrong thing to an insurance adjuster, discussing your crash on social media, or missing a doctor's appointment, could possibly wind up hurting your case.
The motorcycle accident lawyers at Frankl Kominsky are prepared to try and help you avoid the common pitfalls that could lead to a liability dispute. Our attorneys will treat you as if you are our only client-helping you navigate every step, answering your questions promptly, and providing compassionate yet aggressive legal representation.
You should schedule your initial consultation as soon as possible so your attorney can begin investigating your case while essential evidence is still available. You should come prepared to your consultation with:
A written description of your motorcycle wreck;
The contact details of any eyewitnesses;
The accident report;
Medical documentation;
Receipts and invoices of expenses related to your injury;
Videos and photos of your injuries;
Income tax returns, paystubs, and other proof of lost income;
Any letters, emails, and other correspondence between you and the other party or insurance company; and
A list of any questions you have.
What Will Happen During My Initial Consultation with a Motorcycle Accident Attorney?
During your initial consultation, your attorney will evaluate your case to determine if you have grounds for a claim and how to proceed. Your lawyer will ask you a series of questions including:
How did your accident occur?
What injuries did you sustain?
Have you already undergone a medical evaluation?
Have you spoken with any insurance adjusters?
After asking questions, evaluating the evidence you have gathered, and reviewing the medical treatments you have received, your attorney will provide legal advice. This advice might include:
How you should be documenting your expenses;
The importance of following your doctor's treatment instructions;
Why you should stay off social media websites until your case has been resolved; and
Any steps you should take and mistakes to avoid during the claims process.
Your attorney may then discuss possible outcomes of your case and will also explain the differences between going to trial and settling out of court.
Schedule a Free Consultation with a Motorcycle Accident Lawyer serving Daytona Beach!
With many years of experience handling injury claims in Florida, the attorneys at Frankl Kominsky have the knowledge and resources to guide you and your family though this difficult time. We know how stressful it can be to cope with serious injuries after an unexpected accident. We will represent your interests and will aggressively try to help you fight for the compensation you may need to pay for medical bills, lost wages, and other damages you have incurred.
Our lawyers are ready to provide tenacious and effective representation. We are not afraid to take your case to trial.
We have recovered more than $100 million in combined settlements for our clients. To set up a free initial consultation, call us today at 386-227-5219 or Contact Us Online.