Motorcycle Accident Lawyer Serving Ocala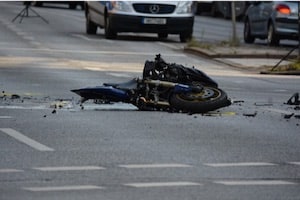 Florida has some of the highest rates of fatal motorcycle wrecks in the country. Riders who are fortunate enough to survive often face an uphill climb to recovery. If you were injured or lost a loved one in an Ocala motorcycle crash, the injury attorneys at Frankl Kominsky will try to help you pursue justice and the compensation you need to pay for medical bills, lost wages, and other damages you and your family have incurred.
To discuss your case in a free initial consultation, call our office today at (352) 269-5979.
Types of Motorcycle Accident Cases we Handle
The injury attorneys at Frankl Kominsky are available to handle all types of personal injury and wrongful death claims arising from Ocala motorcycle accidents including:
Why You Should Consult an Accident Attorney Serving Ocala Immediately
The aftermath of a motorcycle crash is rife with emotion. Confusion, anger, depression, stress—it can seem impossible to remain calm and think clearly. But your actions and statements at the scene and over the weeks that follow will have a profound impact on the outcome of your case. Contact the injury lawyers at Frankl Kominsky for an evaluation of your Ocala motorcycle claim.
If you speak to the insurance adjuster before you contact our office, you may be coerced into making a recorded statement that can potentially be used against you.
Our personal injury lawyers will handle correspondence with the insurance company on your behalf.
We are available to try to help you avoid costly mistakes that could potentially derail your case such as:
Accepting a low settlement that doesn't include future damages or non-economic damages;
Accepting a settlement before you know the total value of your future medical bills and other damages;
Publishing photos and text posts on Facebook and other social media sites that the insurance company could use against you;
Missing your medical appointments;
Ignoring your doctor's treatment instructions;
Overlooking key evidence; or
Missing deadlines.
Important Evidence to try to Prove Your Ocala Motorcycle Accident Claim
Our legal team is prepared to work immediately to gather the evidence needed to try to prove negligence, liability, and the value of your damages. Much of this evidence may become unavailable if you wait too long to seek legal counsel.
Depending on the circumstances of your collision, the following evidence may be used to prove negligence and liability:
The accident report;
Dashcam footage;
Surveillance camera footage;
Toxicology reports;
Photos of the crash scene, skid marks, and property damage;
Accident reconstruction expert testimony;
Testimony from eyewitnesses;
Timelines and illustrations;
Black box data; and
Relevant insurance policies.
Of course, there are countless factors that can contribute to motorcycle wrecks, so many other types of evidence may be used to prove your claim. If a defective motorcycle part caused your crash, for example, the injury lawyers at Frankl Kominsky will try to investigate similar accidents and the cause of the defect to try to determine which parties may be liable for your damages.
Even if it seems clear who is liable for your accident, proving the value of your damages can be complicated. Claimants who represent themselves often leave non-economic damages, future damages, and exemplary damages out of their claims, which may account for a sizeable sum after a serious motorcycle crash.
The motorcycle accident lawyers at Frankl Kominsky will conduct an exhaustive investigation into your case to try and identify all damages to which you may be entitled. We will then gather evidence to try to prove the value of your damages, which may involve:
Diagnostic imaging, prescription records, medical invoices, and other medical documents;
Tax returns, paystubs, and proof of lost benefits;
Invoices for home care and home modifications;
The accident report;
Photos of property damage and injuries;
Financial expert witness testimony;
Medical expert witness testimony;
Invoices for vehicle repairs;
Your journal about your injuries and recovery; and
Toxicology reports to prove the at-fault motorist was drunk.
There are many other types of evidence your personal injury lawyer may use to prove damages. The accident attorneys at Frankl Kominsky will aggressively fight for the compensation you need to move on with life.
Discuss Your Case with Motorcycle Accident Lawyer Serving Ocala Today!
If you or someone you love was hurt in a motorcycle wreck, turn to the injury attorneys at Frankl Kominsky. Call (352) 269-5979 or use our Contact Form to arrange a free consultation.