Motorcycle Accident Lawyer Serving Parkland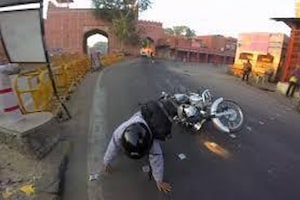 For those who enjoy motorcycle riding, Parkland, Florida provides some of the best weather that can be found in the United States for that type of activity. Indeed, Parkland's exceptional weather offers the local population and tourists the opportunity to engage in all forms of outdoor entertainment. For example, if swimming and other water-related activities interests you, there is the popular Quiet Waters Park, which covers 400 acres. For Golf enthusiasts, there is the Parkland Golf Club. However, there are also a number of motorcycle accidents that occur, as well.
Most of us may rarely consider just how often a motorcycle accident will occur on our roadways. If asked, a Parkland resident may express complete ignorance regarding the actual number. But if you wish to get a better understanding of just how often these accidents occur, then you may wish to ask a motorcycle accident lawyer. That person might be able to give you a better idea of just how frequently these occur. The number is usually a bit larger than the average Parkland resident imagines.
And there's a good reason why these numbers are so high. For example, just consider the weather in Parkland. Like many parts of Florida, Parkland experiences some of the best weather in the country, overall. This makes it a perfect place to enjoy motorcycle riding for enjoyment or even as a source of regular transportation. The excellent weather in Parkland also makes it a great spot for tourism, as well. And this is where some problematic issues can be found.
If you've ever lived in an area that attracts a lot of tourism, then you'll know what some of these "problems" are. For example, it can be quite common to see an out-of-towner who appears to be lost. This can become a serious issue if that tourist happens to be driving a car while they're distracted. This can easily lead to a road accident involving a car and a motorcycle.
In 2015, the National Highway Traffic Safety Administration listed Florida as the number one state in the U.S. when it came to motorcycle accident fatalities. This startling observation indicated that Florida motorcycle accidents for that year actually accounted for nearly 20% of road accident fatalities. This is something that most residents in Parkland are surely not aware of.
Considering the resulting financial and other issues involved with motorcycle accidents, it's no wonder that so many accident victims have sought the guidance and advice of an experienced motorcycle accident lawyer. Should you become involved in a motorcycle accident in Parkland, then you too may wish to consider speaking with a personal injury attorney who is available to serve Parkland. As such, you may discuss your options when it comes pursuing a claim for your motorcycle accident.
Common Causes for Motorcycle Accidents in Parkland
Of course, there are many reasons why a motorcycle accident may occur. However, here are a few of the most common:
Swerving in front of another cyclist
Cutting off motorcyclists at an intersection
Failing to leave enough room between vehicles
Failure to see a motorcyclist entering or changing lanes
Misjudge the motorcyclist's speed/distance
Failure to see the motorcyclist
Failing to follow posted speed limits
Failing to yield when appropriate
Neglecting to pay appropriate attention to other drivers
Driving under the influence of drugs or alcohol
Panicking and stopping in the motorcyclist's path
Relying on the judgment of another driver, who also fails to see the motorcyclist
Types of Injuries Sustained in a Motorcycle Crash
While there are many different types of injuries that could be sustained in a motorcycle crash, some of the most common are:
Neck injuries and back injuries that can limit mobility
Bone fractures of all types
Severe head trauma that may fracture the skull
Spinal cord injuries that may eventually lead to paralysis
Brain damage
Disfigurement requiring plastic surgery
Loss of limbs
Paralysis (partial and total)
Parkland, Florida: Laws for Riding A Motorcycle
In light of the fact that Parkland (and the rest of the state) suffers from such a high number of motorcycle accidents, it's no wonder that here you can find some of the strictest laws regarding motorcycles. Not only are the standard laws considered strict, there are even laws that are unique to the state. When considering some of Parkland's motorcycle riding statutes, we can observe:
While you can easily find motorcyclists who like to "show off" when riding their bikes, there is a state law that forbids certain dangerous stunts. One of these stunts is known as a "wheelie". This is where the motorcyclist attempts to ride their cycle on just one wheel, with the other wheel up in the air. This statute is Florida Statute 316.2085 (2), Of course, this statute doesn't apply to emergency maneuver situations in which a motorcyclist is attempting to avoid a road-related hazard.
In order to legally ride a motorcycle in Parkland and throughout Florida, one needs to have the proper state certification. This will involve the possession of a state driver's license as well as a "motorcycle endorsement" on that license. The endorsement will, of course, be obtained after completing certain qualification guidelines.
Also, in order to legally ride a motorcycle in Parkland, you need to be at least 16 years old. If the rider is over 16, but under 18 years of age, they are required to have a clean driving with no traffic violations for the year previous to applying for a motorcycle operation certification. They will also need to complete a motorcycle safety course that is state approved.
Without a state motorcycle rider endorsement on their regular license or a motorcycle-only license, an operator is limited to motorcycles that possess an engine no larger than 50cc while riding on a public road.
If the rider is under 21 years of age, they must wear a state-approved motorcycle helmet. If the rider is over 21 years of age, then they must have a medical insurance policy in the amount of at least $10,000 if they refuse to wear a helmet. The reason for this has to do with the fact that without a proper helmet there is a much greater chance of a head injury should the rider become involved in an accident. Of course, $10,000 is rarely enough to cover the expenses of a head injury. In addition, it's been shown that about 10% of those riders who don't wear a helmet also don't possess the required insurance policy.
All motorcycle riders are required to wear state-approved eye protection, as well.
Establishing Fault in a Motorcycle Crash
Unfortunately, there seems to be some form of stigma when it comes to those who ride motorcycles. In many cases, the media has portrayed motorcyclists as some sort of "rebel" who may be wearing a black leather jacket and sporting a beard and no helmet. If this is the case, then the motorcyclist must usually be the one responsible for an accident involving a motorcycle. Right?
But, upon closer inspection, this is not really the norm. If you ask a motorcycle accident lawyer serving Parkland, then you may get a very different picture. In fact, statistics show that the opposite is actually true. This means that it is usually the other driver, not the motorcyclist, who is usually responsible for the accident involving a motorcycle. These accidents typically involve negligence, which is a "breach of a duty of care". Here, we see that someone has neglected to do what has been legally mandated in order to keep the roadways safe for all drivers.
Damages that have resulted from a motorcycle accident may include; property damage, medical expenses, prescriptions, lost wages, future lost wages and other related accident financial and non-financial losses. Contact a motorcycle accident lawyer for assistance in recovering your motorcycle accident–related expenses.
See Video: How is it determined who is responsible for causing a Florida motorcycle accident?
Florida Helmet Laws
It's already been said that Parkland has a number of (sometimes one-of-a-kind) motorcycle riding laws. These laws can include:
No individual shall operate a motorcycle with a helmet that is equipped with a headphone, headset or other form of listening device other than a hearing aid. section 316.304(1)
According to section 316.304(2), this does not apply to;
Any person operating a motorcycle who is using a headset that is installed in a helmet and worn so as to prevent the speakers from making direct contact with the user's ears so that the user can hear surrounding sounds.
 Any person using a headset in conjunction with a cellular telephone that only provides sound through one ear and allows surrounding sounds to be heard with the other ear. 
Any person using a headset in conjunction with communicating with the central base operation that only provides sound through one ear and allows surrounding sounds to be heard with the other ear.

Every motorcycle shall be equipped with at least one stop lamp. section 316.420
Every motorcycle shall be equipped with multiple-beam road lighting equipment. section 316.430(1)
Such equipment shall:
Reveal persons and vehicles at a distance of at least 300 feet ahead when the uppermost distribution of light is selected; section 316.430(2)(a)
Reveal persons and vehicles at a distance of at least 150 feet ahead when the lowermost distribution of light is selected. section 316.430(2)(b)
All motorcycles are entitled to full use of a lane and no motor vehicle shall be driven in such manner as to deprive any motorcycle of the full use of a lane. This subsection shall not apply to motorcycles operated two abreast in a single lane. section 316.209(1)
A person may not operate or ride upon a motorcycle unless the person is properly wearing protective headgear securely fastened upon his or her head which complies with Federal Motorcycle Vehicle Safety Standard 218 promulgated by the United States Department of Transportation. The Department of Highway Safety and Motor Vehicles shall adopt this standard by agency rule. section 316.211(1)
What Damages Can I Pursue After a Motorcycle Accident?
When filing a lawsuit, these are the damages that you can try to recover in your motorcycle accident claim:
Vehicle or home modifications to accommodate a disability
Current and future lost wages
Loss of earning capacity
Mental anguish
Loss of Consortium - losing a spouse, parent or child in the case of wrongful death
Pain and Suffering
Repair or replacement of your vehicle
Other accident-related expenses
Medical expenses
Therapy and rehabilitation
What to Do After a Motorcycle Crash in Parkland
If you've become involved in a motorcycle accident, there are a few recommended steps that you may choose to take. These are, as follows.
Right after the accident, you will want to address whether you have been seriously injured or not. This also holds true for those around you. If you see someone who has been seriously hurt, or is asking for help, then you should render that aid and call for assistance.
Then, you'll want to contact the Parkland Police Department to report the accident. While waiting for the police to arrive, you can exchange pertinent information with the other driver (driver's license number, contact information, insurance information, etc.) Just make sure to do this without assigning blame or getting into an argument. You'll also want to get the contact information of any available witnesses.
If possible, may also want to take photos of the accident scene including photos of any vehicles involved as well as any injuries. Just be sure not to get in the way of investigating officers.
Now, you want to head straight over to the local hospital or your own doctor and get a complete medical examination to determine if you have any injuries. You will also want to make a follow-up appointment as well to see if any new injuries have manifested or if current injuries have become worse. Keep copies of all medical records and medical bills in your home, in a single location. You should also contact your insurance company.
You also need to remember to never accept any settlement offers or sign any documents that are given to you by the other party's legal representation or their insurance company without first speaking to an experienced motorcycle accident attorney. No matter how "generous" they may make it seem, they may try to offer you as little as possible for your expenses and lost wages.
As soon as you can, get in touch with a motorcycle accident attorney and find out what immediate options are available. They can try to assist when it comes to pursuing compensation in order to pay for your accident-related financial expenses. There is no charge for the first appointment – so you have nothing to lose!
Click Here to See Video: How is it Determined Who is Responsible for a Motorcycle Accident?
Statute of Limitations
It should be noted that Florida has a Statute of Limitations that pertains to motorcycle accident injury claims. For personal injuries, you have 2 years, from the time of the accident, in order to file your lawsuit. In the case of a fatality, the deceased's estate has just 2 years, from the time of death, in order to file a lawsuit for wrongful death. Failure to adhere to these time restrictions will result in the court dismissing your lawsuit. Contact an experienced motorcycle accident attorney for further guidance.
The Benefits of Hiring a Florida Motorcycle Accident Lawyer
When it comes to being involved in a motorcycle accident there are a number of items that need to be handled as you are trying to recover. These items may involve speaking with the insurance company, setting up your claim, dealing with property damage or gathering up medical records. This can easily become an overwhelming situation for someone dealing with severe injuries or possibly a fatality.
At Frankl Kominsky, our legal team is dedicated to helping you through this stressful time and pursuing the compensation you deserve.
Start Your Free Consultation with Our Personal Injury Lawyers
At Frankl Kominsky, we pride ourselves on offering our clients excellent legal representation along with superior client support. Our motorcycle accident attorneys are available to serve Parkland and are committed to helping you get the compensation that you deserve.
Over 600 Verified Client Reviews
Stay Informed with Fast Response Times - Routine Calls and Emails
No Fee Unless We Win
Over $100 Million in Accident & Injury Settlements
Over 40 Years of Combined Legal Experience
Turn to Frankl Kominsky for comprehensive legal guidance. Call 561-800-8000 or use our Contact Form to set up a free consultation.