Car Accident Lawyer Serving Tamarac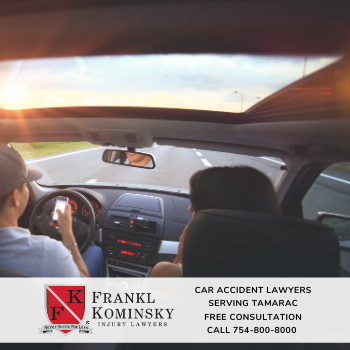 Tamarac, Florida is a part of the Miami/Fort Lauderdale area. It is home to several beautiful parks including the Caporella Park and Aquatic Center and to the Colony West Golf Course. More specifically, Tamarac is located in Broward County. This county, composed of almost 2 million residents, is more densely populated than its surrounding counties. In a densely populated area such as Broward County, many traffic accidents are likely to occur.
Every year in the city of Tamarac, there are many people involved in car, truck, motorcycle, or pedestrian accidents. While many of these accidents are minor in nature and involve minor injuries, or no injuries at all, others are much more serious and may result in fatalities for one or more people involved. According to City-Data.com, in 2017, the most recent year with up-to-date statistics, there were a total of 7 fatal accidents that took place in Tamarac alone. Of these seven fatal accidents, there were nine recorded fatalities.
Those involved in accidents in Tamarac are taken to local hospitals, such as the University Hospital and Medical Center, located on North University Drive in the heart of Tamarac. No matter how minor your injury, it is important to seek medical care as soon as possible after the accident.
While traffic statistics are on a downward trend in Florida from year to year, these reported numbers for Tamarac specifically are higher than those from 2016.
If you or a loved one are involved in an accident in Tamarac, Florida, contact the experienced legal team at Frankl Kominsky Injury Lawyers for a free case evaluation.
Top Causes of Car Accidents in Tamarac
There are many different reasons that car accidents occur. While these reasons are all different, many of them stem from similar acts of distraction, negligence or carelessness while driving. Below is a list of the most common causes of car accidents in Tamarac, Florida.
Accidents Involving Drunk or DUI Drivers
Many accidents in Tamarac, Florida are caused by drivers who drive under the influence of drugs or alcohol. It's never easy to hear about an accident involving drunk or DUI drivers. Nowadays, it is increasingly easier to avoid driving while under the influence by using a service such as Lyft or Uber to bring you home. This easy decision could be the difference between life and death.
One of the most frequent types of accidents is a rear-end collision. This type of collision is where a car, truck, SUV, or motorcycle is struck from behind by another vehicle. Many of these types of accidents are minor fender-benders where no parties involved are injured. However, there are more serious rear-end collisions that can result in more serious injuries. Rear-end collisions happen most frequently during the rush hour times of day. The majority of rear-end collisions occur when the leading vehicle is stopped or moving at a very slow speed.
In 2018, a total of 2,841 people were killed by distracted driving in the United States. This statistic includes drivers, passengers, pedestrians and bikers as well. Distracted driving includes any activity that diverts attention from driving. Common examples of distracted driving are texting, eating, drinking, adjusting the stereo and more. No matter the cause, distracted driving can be eliminated by simply paying attention to the road at all times.
While the legal driving age is 16 in the United States, these new drivers are extremely inexperienced. Getting your driver's license only means that a person has completed their state's required practice hours and passed the on-road test. While basic knowledge has been demonstrated, there is much more involved in real-life driving.
Crashes Involving Motorcycles, Bikes, Pedestrians, or Commercial Vehicles
Crashes involving motorcycles, bikes, pedestrians or commercial vehicles make up a large portion of the total amount of accidents in an area. These accidents tend to be even more devastating than those involving cars, trucks or SUVs because these drivers or pedestrians have much less protection surrounding them.
Tamarac: Types of Injuries Sustained in a Car Crash
No matter the type of accident you are involved in, there are a myriad of injuries that are possible for you to sustain. The list of injuries below are the most common injuries that can result from a car, SUV, truck, motorcycle, bicycle, or pedestrian accident. If you or someone you know is suffering from one of the injuries below due to a car accident, let Frankl Kominsky Injury Lawyers help you navigate your way through the claims process so you can pursue the compensation you deserve.
Whiplash
Whiplash is a neck injury due to forceful and/or quick back-and-forth movement of the neck. This is the most common injury that results from rear-end collisions. Whiplash can be treated with ice, painkillers, and a neck brace for a certain period of time if prescribed by your doctor.
Back Injuries
Back injuries are quite common when it comes to car accident injuries. Back injuries can be very serious and require victims to undergo extensive and very expensive medical treatment and physical therapy to treat. If you suffer a back injury during a car accident, call the attorneys at Frankl Kominsky Injury Lawyers.
Neck Injuries
Neck injuries are another common injury that can occur due to a car accident. Symptoms of neck injury include pain that radiates into extremities, headaches, dizziness, severe neck pain, stiffness of the neck or shoulders, and more.
Car, truck or SUV accidents can result in broken or fractured bones. Even minor accidents can cause broken bones for the driver, passengers, or pedestrians involved.
Traumatic brain injuries, called TBI for short, occurs when a sudden trauma causes damage to the brain. TBI can be caused from the head hitting an object violently and suddenly, or from an object piercing the skull and entering the brain tissue. These types of injuries can happen in some of the most serious car accidents.
Spine injuries are another extremely serious injury that can occur during a vehicle accident. A spinal cord injury is damage to the spinal cord that can result in the loss of function or feeling to parts of your body.
Soft Tissue Injuries
Soft tissue injuries are injuries that are caused to the muscles, ligaments, or tendons of your body. Examples of soft tissue injuries are strains or sprains. Typically, healing from a soft tissue injury involves rest and some pain medications, but in more severe accidents, healing can involve much more.
Cuts and Bruises
Lastly, individuals involved in an accident can sustain injuries such as cuts or bruises. While these injuries seem like minor injuries compared to some of the others on this list, in reality, they are not. Yes, some cuts and bruises are minor, but both of these injuries have the potential to be serious and life-threatening, others can leave permanent scarring.
What Damages Can I Pursue After A Car Accident?
If you are involved in an accident in the Tamarac, Florida area, there are steps you may choose to take after the accident occurs. There are typically two main types of claims that follow a car accident. You can make a claim for either property damage or personal injury or both. If you are interested in pursuing damages after your car accident, the lawyers at Frankl Kominsky can try to help you get the compensation you deserve.
Past and Future Medical Bills
If you have been physically injured in a car accident, you should seek medical attention from a qualified medical professional. If you receive some type of medical care, you are entitled to payment for both past and future medical bills that pertain to the injury you sustained in the accident.
Lost Wages and/or Benefits
Being involved in a car accident can leave you injured to the point of not being able to perform your job correctly and for a long period of time. If this is the case, and your car accident injury affects your job performance, you can claim for lost wages and/or benefits. This claim will help to get you money you lost due to your injury.
Reduced Earning Potential
This category of damages is similar to that of lost wages and/or benefits. Reduced earning potential is a more difficult claim to prove, but is legitimate. An example of a reduced earning potential claim is if you missed an important sales meeting or interview that took away chances of earning money due to the accident.
Pain and Suffering
Quality of life refers to the general health and well-being of a person that allows them to live and enjoy their everyday life. If a car accident leaves you permanently injured and your quality of life is affected, you can pursue damages.
Loss of Consortium
Loss of consortium is a claim that is not filed by the injured party, but by their family members or spouse instead. Loss of consortium means that the person who was injured in the accident is so injured that they are no longer able to provide their normal amount of love, services or support.
Temporary or Permanent Disability
Temporary or permanent disability claims can be filed if your injuries leave you disabled for a short period of time (temporary) or for life (permanent).
Disfigurement
Disfigurement is defined as something that permanently alters your physical appearance. If a car accident that you are involved in causes disfigurement for you or someone you know, you can file a claim for reparations.
Vehicle or Property Damage
Even if your accident is minor, there is still a high chance that damage was done to your vehicle or even your property inside of your vehicle. If this is the case, you can file a claim to repair or replace the damage that was done.
Funeral and Burial Expenses
The last major category of damages is for funeral and burial expenses. This claim can be filed in the event that the car accident is fatal.
Steps to Take After a Tamarac Car Accident
Being involved in a car accident is a very jarring experience. Even minor car accidents have the ability to leave you shaky and anxious for days. When you are shaken and confused, it is difficult to know exactly what to do after an accident. Contact the lawyers at Frankl Kominsky Injury Lawyers and they will be able to guide you through the steps below:
Obtain accident reports from police
Immediately after the accident, make sure to contact the local police and if necessary, Emergency Medical Services, no matter how minor the accident is or seems to be. Wait for them to arrive. They will create an accident report. Be sure to get a copy of the Driver's Exchange of Information and the Traffic Crash Report.
Eyewitness statements
If there are any witnesses to your accident, get their contact information including their name, phone number, address and email.
Video & Pictures from the scene of the accident
Pictures should be taken of the scene of the accident, as well as all vehicles involved in the accident as well. You may also take photos of your injuries.
Seek immediate medical care and gather your medical records
If you are injured in the car accident, you must seek immediate medical care for your injuries. There is a certain window that you have to seek medical care, so make sure you see a doctor as quickly as possible after the accident. You may go to your own doctor, a local hospital such as University Hospital & Medical Center in Tamarac, or to any qualified medical professional.
Other documentation of your injuries - If necessary, the lawyers of Frankl Kominsky will help you gather any other documentation of the accident, your injuries, lost wage claim, etc... necessary to file a claim.
Personal Injury Protection After a Car Accident in Pembroke Pines
Florida's No Fault Statute is a specific rule for the state of Florida. This rule requires individuals to carry Personal Injury Protection coverage as part of their insurance policy. Regardless of who is at fault for the accident, this coverage will pay a percentage of your medical bills and loss wages. If you are injured in a car crash you must seek medical attention within 14-days, or two weeks, of the accident. Even if you believe your injuries to be minor, it is imperative that you be examined by a qualified medical professional. Some injuries are not immediately noticeable and appear a day or two after the accident.
Hiring an Experienced Injury Lawyer for Your Tamarac Car Crash
Contact the legal team at Frankl Kominsky Injury Lawyers for a free consultation and case evaluation. Once you contact Frankl Kominsky, the first step will be establishing a claim with the at-fault party's insurance company. We will gather all necessary evidence for your injury claim including the accident report, medical records and bills, doctor reports, evidence of lost wages and any other evidence necessary for documentation.
After filing your claim, the investigation process will occur, and the insurance company will begin to investigate the events leading to the accident and the accident itself. We will handle all communications and negotiations on your behalf. If we are unable to successfully settle your claim, we will proceed with litigation.
Free Consultation with Local Injury Lawyers
If you live in or near Tamarac, Florida, and have been involved in an automobile accident, contact the attorneys at Frankl Kominsky Injury Lawyers. With over 40 years of combined legal experience, let us fight for the compensation you need and deserve. We will come to your home or to the hospital to meet with you if your injuries prohibit you from traveling. Call 1-855-800-8000 24 hours a day, 7 days a week for a free consultation.