Fort Lauderdale Personal Injury Lawyer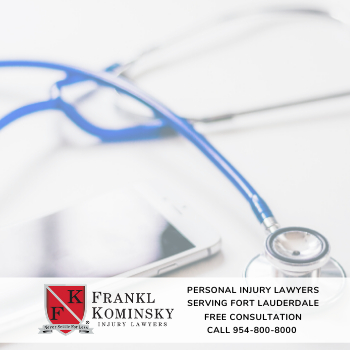 If you or a loved one have been injured, your first priority should be to immediately seek medical care and continue to focus on your recovery. But, the claims process can be frustrating and could lead to the added stress of dealing with property damage, the gathering of your medical records, and considerable lost wages.
At Frankl Kominsky, our legal team may help to relieve your stress gathering all necessary documentation for your injury claim. We can set up a claim for the property damage, car rental, gathering up medical records and medical bills, and requesting the necessary police reports to build a claim against the at-fault party.
If you have been harmed because someone in Fort Lauderdale was careless or reckless, the injury lawyers at Frankl Kominsky can try to help you hold that person or entity accountable. Our firm provides skilled representation to ordinary people who have been hurt in car accidents, tractor-trailer wrecks, motorcycle crashes, medical malpractice, slip and falls, and many other situations as well.
Personal Injury Claims: Types of Damages You Can Recover
Cost of Past and Future Medical Care, Medical Bills and Expenses, Future Treatment
Including: Physical Therapy, Surgery, Prescriptions, Home health care, wheelchairs, walkers, lifts, and long-term care facilities
Property Damage
Home Renovation for Accessibility
Lost Wages and Loss of Future Income
Pain and Suffering
Filing a Personal Injury Lawsuit in Fort Lauderdale
When someone else has caused your injuries, you may be able to seek compensation through a negligence claim. This type of lawsuit is based on a breach of duty to use reasonable care. Some examples of these breaches may include:
A driver who causes an accident because of carelessly texting and driving.
A store that fails to clean up spilled food or liquid on its floor.
In every negligence case, an injured person must prove that the defendant owed him or her a duty of care and that the defendant breached this duty. Other essential elements of a claim include showing that the defendant's breach caused the accident and that the victim suffered compensable damages as a result.
Florida follows a comparative negligence system (Florida Statute 768.81). This means that if the victim was partially at fault for the accident, the compensation award will be reduced by the percentage of his or her fault. For example, if the victim is deemed to be 30 percent at fault, he or she may be able to recover 70 percent of the total damages.
If you've lost a loved one through someone else's negligence, you may be eligible to pursue a wrongful death claim against that party. While no amount of money can ever replace your loved one, monetary compensation can help ease the financial burdens that are often associated with such a loss. Under Florida law, family members may receive compensation for damages such as mental anguish, loss of society and companionship, medical bills, funeral expenses, and more.
Florida has reported the following vehicle accident statistics :
Total hit-and-run fatalities: 215
Total hit-and-run accidents: 102,756
Total pedestrian fatalities: 702
For all crashes: 402,592
Injuries for all crashes: 254,873
Total bicycle crashes: 6,575
Total motorcycle crashes: 9,122
Total motorcycle fatalities: 502
Fatalities for all crashes: 3,174
Broward County Emergency Room Visit Statistics
In Broward County, the number of emergency room visits can present an indication of the injury-related toll that personal injuries may take. Here, for example, we see in 2018:
Motor Vehicle Traffic: 4,013
MVT-Motorcyclist: 189
MVT-Occupant: 2,490
MVT-Other/Unspecified: 1,081
MVT-Pedalcyclist: 171
MVT-Pedestrian: 82
Motor Vehicle Non-Traffic: 181
Florida Statute of Limitations for Personal Injury Claims
Florida Statute of Limitations section 95.11(3)(a) applies to a plaintiff filing a lawsuit in Florida on a civil action founded in negligence (which typically includes nearly all individuals with a personal injury claim based on a car accident). The statute of limitations for personal injury and wrongful death lawsuits differ. In Florida, you must file a personal injury lawsuit within two years from the date of the accident. In wrongful death cases, the time frame to file is two years from the date of the death. If you fail to file your lawsuit within the applicable statute of limitations, your lawsuit will likely be dismissed and you will be barred from pursuing your claim. Of course, there are exceptions to these limitations, however, they are quite rare and should be discussed with an experienced personal injury lawyer.
What Are Some of the Most Common Injuries Following an Accident?
The types of injuries that are usually seen by injury lawyers serving Fort Lauderdale may result in many different mental and physical issues. Some of these include:
Cuts, Scrapes, and Bruising
Whiplash
Broken or Fractured Bones
Internal Bleeding
Herniated Discs
Injuries to the Hip, Knee or Elbow
Injuries to the Spine
Head and Brain Injuries
If you've lost a loved one due to the negligence of someone else, you may be able to pursue a wrongful death lawsuit against whoever was responsible. These cases are highly complex and must be filed within strict timelines. If you think you may have a wrongful death claim, you should consult a Florida attorney immediately.
The Types of Personal Injury Claims That We Are Available to Handle in Fort Lauderdale
Motorcycle and Scooter Injury Claims : motorcyclists who suffered injuries because operators or drivers of larger vehicles (passenger cars and trucks) who speed, drive while intoxicated, or who were distracted by texting
Bus Injury Claims: passengers who suffered injuries because the owner or operator failed to routinely maintain the bus, were distracted, driving while fatigued or driving while under the influence of intoxicating substances
Boat, Cruise, or Jet Ski Injury Claims: when passengers are injured due to lack of needed injury-related medical supplies, excessive speed, boat malfunctions or hitting another boat or watercraft
Bicycle and Pedestrian Accident Claims : those who have been seriously injured by a reckless or distracted driver
Slip, Trip and Fall and Premises Liability Claims : if you suffered injuries in a slip and fall at a grocery store or department store, in a private home, on a parking lot, then you may have a claim for your injuries
Car and Auto Accidents Claims : accidents involving a negligent or careless driver or while you are a passenger who was riding in a vehicle
What Should You Do After an Injury?
If you've been injured, these are some things that you should remember:
Report the accident and injury to the authorities and (if applicable) the property owner. Be sure to get a copy of the incident report or the accident report.
Fort Lauderdale Police Department | (954) 828-5700
If possible, document the scene of the accident with videos, photos, and witness statements. Collect the contact information of any witnesses.
Seek Immediate Medical Care from a qualified medical professional. You can go to your own doctor or to a local hospital.
Example: Holy Cross Hospital | (954) 771-8000
Keep a journal or record of your injuries, medical treatment, and how the injury has had an impact on your life. Also, make sure to keep a copy of all medical expenses. All of your medical information should be kept in a separate location in your home in order to have easy access when needed.
Find an experienced personal injury lawyer nearby for a Free Consultation
What NOT to Do After a Personal Injury
DO NOT neglect your injuries or fail to seek medical treatment by a qualified doctor or medical professional
DO NOT try to negotiate a settlement offer without speaking to an injury lawyer
DO NOT post the information about the accident or your injury on Social Media
DO NOT give a recorded statement to the insurance company without first consulting with an experienced personal injury attorney.
Fort Lauderdale When Filing a Personal Injury Claim in Order to Pursue Compensation
If you have sustained an injury through the negligence of another party, it's possible that you may decide to take a legal course of action in order to obtain compensation for your injuries. When someone violates the duty of care and causes harm as a result, that individual or company may be liable for damages. A victim can hold a defendant accountable by establishing the following elements:
The defendant owed the victim a duty of care;
The defendant breached the duty of care;
The victim was injured in an accident caused by the breach; and
The injuries resulted in actual damages.
This routinely happens in a number of different venues such as: grocery stores, shopping malls, parking lots, senior citizen homes, hospitals and commercial establishments.
Start your Free Personal Injury Consultation Today
If you've been hurt in an accident that was not your fault, you deserve compensation. Recovering from injuries can be stressful enough without the financial burdens that they often impose. At Frankl Kominsky, our accident attorneys have proudly represented many clients across South Florida. Our professionalism and legal knowledge have earned the trust of many clients over the years. We are passionate about our role as your legal advocate and treat our clients with the utmost respect and compassion. To learn more, contact us online or call us toll-free at (561) 354-6184. We speak Spanish and Creole.
Over 600 Verified Client Reviews
Over 40 Years of Combined Legal Experience
Stay Informed with Fast Response Times - Routine Calls and Emails
No Fee Unless We Recover
Over $100 Million in Accident & Injury Settlements