Pompano Beach Medical Malpractice Lawyer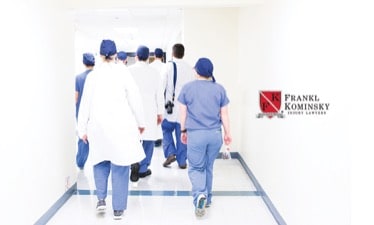 Medical malpractice involves harm to patients due to negligence by a medical professional. In Pompano Beach as well as other areas of South Florida, these practitioners can include doctors, nurses, therapists, anesthesiologists, nurses, dentists, paramedics, laboratory personnel and others. Medical malpractice can occur in offices, labs, nursing homes, rehabilitation facilities, outpatient facilities or hospitals, such as Pompano's Broward Health North Hospital.
Victims of medical malpractice can face mounting medical bills, loss of wages, pain and suffering, and other damages from the negligence of their practitioner. The Pompano Beach lawyers at Frankl Kominsky can help victims of medical malpractice understand their rights and options, and help you recoup losses from medical negligence.
The Statistics of Medical Malpractice
In Florida, there were 1,187,863 licensed medical providers at the end of 2016, according to the Florida Department of Health. These practitioners are involved in all phases of medical care, from doctors to surgeons to physical and mental health therapists to nurses. Pompano residents and visitors visit these professionals with the expectation of getting healed, but sometimes, the medical professionals actually cause harm.
And new evidence suggests medical negligence is more prevalent than ever.
A study by the Johns Hopkins University School of Medicine and published in the BMJ in 2016 shows that "medical errors" are now the third-leading cause of death in the United States. That puts errors in hospitals, outpatient facilities, and doctor's offices behind only heart disease and cancer as the main cause of death in America. The study shows that medical negligence is responsible for more deaths every year than respiratory disease, accidents, stroke and Alzheimer's.
In Florida, approximately one out of every hundred practitioners has paid out some type of medical malpractice claim.
About Pompano Medical Malpractice
Medical malpractice is generally considered when a health care provider does not meet the accepted standard for medical care, and when negligence by that provider causes an injury or illness. In Florida, the plaintiff must show that the actions of the provider "represented a breach of the prevailing professional standard of care for that health care provider."
Florida statute specifically notes:
"Health care provider" means any hospital, ambulatory surgical center, or mobile surgical facility as defined and licensed under chapter 395; a birth center licensed under chapter 383; any person licensed under chapter 458, chapter 459, chapter 460, chapter 461, chapter 462, chapter 463, part I of chapter 464, chapter 466, chapter 467, part XIV of chapter 468, or chapter 486; a clinical lab licensed under chapter 483; a health maintenance organization certificated under part I of chapter 641; a blood bank; a plasma center; an industrial clinic; a renal dialysis facility; or a professional association partnership, corporation, joint venture, or other association for professional activity by health care providers.
Medical malpractice can occur at any stage of care for Pompano Beach patients. Negligence includes misdiagnosis, failure to treat a condition properly, errors during surgery, improper hospital procedures, anesthesia errors, medication errors, inadequate monitoring of patients, or laboratory error.
Legal Help for Medical Malpractice
Victims of medical malpractice in Pompano Beach should call Frankl Kominsky immediately to discuss the case. In Florida, victims of medical malpractice must file their claim within two years of discovering their injury or illness. Victims must file within two years of the time the malpractice occurred. There are numerous legal actions an individual must take before filing a suit, including serving a notice of intent. The process then involves a complicated settlement system, additional required filings and investigations, which can be difficult to pursue without an experienced medical malpractice attorney. If you or a loved one has experienced an injury or illness due to the negligence of a medical professional, call Frankl Kominsky at (855) 800-8000 or contact us online to discuss your case. We speak Spanish and Creole.