Slip and Fall at Walgreens Pharmacy in Ocala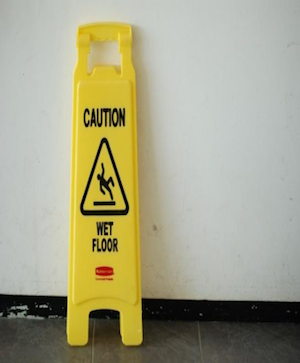 Nobody expects to be the victim of a disastrous slip and fall accident, but it may come as a surprise just how common slip and fall incidents are in Florida business establishments. Make no mistake the devastating results caused by a slip, trip and fall can leave you unemployed and immobile with potentially fatal injuries.
If you have been the victim of a slip and fall accident at a pharmacy such as a Walgreens Pharmacy in Ocala and wondering if you can file a lawsuit against the business establishment, then do not hesitate to contact the Florida injury attorneys at Frankl Kominsky who serve the Ocala area, for your free consultation today.
Continue reading to learn more about how you should approach the claims process in order to try and receive the compensation you deserve.
Did you know that under the 2018 Florida Statutes the slip and fall victim must prove that the business establishment had "actual" or "constructive knowledge" of the dangerous condition that caused the incident and should have taken the necessary steps to resolve it?
Proving this can be a difficult task when your time is consumed by ill health, medical debt, and emotional trauma. But, with the help of the experienced Florida premises liability lawyers at Frankl Kominsky you can recover peacefully while we try to pursue your claim successfully and hopefully provide you with a fair payout.
Recovering fair compensation for a slip and fall victim may involve comprehensive investigation to establish your case and negotiation skills to try to secure compensation for damages suffered by the unfortunate victim of a slip and fall at a business establishment like the Walgreens Pharmacy in Ocala.
Slip and Fall Victims in Florida can Potentially Recover the Following Damages:
Past, current, and ongoing medical expenses;
Lost wages;
Physical pain and suffering;
Emotional stress;
Loss of quality of life;
Physically impaired movement;
Home modifications due to immobility;
Loss of future wages; and
Loss of partnership.
Durable evidence is required to try to prove the damages you and your loved ones have encountered because of a slip and fall incident. The types of evidence that can help your claim include but are not limited to the following:
Payslips;
Income records;
Medical documents;
Prescription records;
Surveillance footage of the incident;
Witness testimonies;
Incident reports; and
Any notes by the victim about the injuries.
Common Injuries Caused by Slip and Fall Accidents
Brain injuries: Unfortunately many falls can lead to catastrophic brain injuries. In some cases brain injuries can lead to severe neurological and physical disabilities. Slurred speech, unconsciousness, and dizziness are all symptoms of possible brain damage.
Broken and fractured bones: Breaks and fractures are common injuries among slip and fall victims.
Soft tissue damage: Sprains, torn ligaments, and other incapacitating soft tissue damage can be the cause of great discomfort.
Spinal injuries: Spinal cord damages can be physically, emotionally, and financially crippling.
Many slip and fall injuries may not be physically noticeable. This is why it is crucial for all slip and fall victims to seek medical attention immediately following their slip and fall accident and insist that all necessary tests are conducted in order to determine any resulting injuries. Such action may be fundamental when filing a successful slip and fall case.
As soon as you have seen a medical practitioner and your health is stabilized make it a priority to contact an experienced Florida injury attorney at Frankl Kominsky to commence your slip and fall case.
Will the Insurance Company and Business Establishment Dispute my Case?
It is not uncommon for insurance companies and business establishments to dispute slip and fall claims. Contact the highly skilled legal team at Frankl Kominsky injury lawyers for your Ocala slip and fall case.
Some of the tactics insurance companies and business establishments may try to use to dispute your claim include:
Social media research: They may examine your social media for proof that your injuries are less severe than outlined in your case;
Coercion: Insurance companies may try to coerce you to admit fault when logging your incident report;
Evidence: Insurance companies and business establishments may be looking for evidence that could work against you and that depicts the incident as entirely your fault.
At Frankl Kominsky our injury attorneys will always be prepared to help you try to combat any dispute that may surface throughout the duration of your slip and fall claim. We will negotiate with insurance companies to try and settle your claim and if warranted, we will file a lawsuit and present your slip and fall case in court. Our Florida premises liability lawyers will not only alleviate the burden of communication with insurance companies and other parties that may dispute your case we will also try to minimize the physical, emotional and mental anguish slip and fall victims suffer. Our compassionate Frankl Kominsky attorney's serve the Ocala area and are available 24 hours a day, 7 days a week to answer any questions you may have about your case and Florida law.
While seeking compensation for an unexpected slip and fall injury may seem like a long journey, with the help of knowledgeable injury lawyers who serve the Ocala area, it may not have to be. We understand how important it is for you to be updated about the status of your claim and make it our priority to communicate with you every single step of the way.
If you or a loved one were severely injured because of a slip and fall incident at Walgreens Pharmacy in Ocala, or any other business establishment, contact Frankl Kominsky today. We are dedicated to providing you with premier legal representation to try to pursue the compensation you deserve. Our dedication to our clients has allowed us to recover over Fifty (50) million dollars in combined settlements and verdicts. Do not hesitate and call us today at 352-800-8000 for your free consultation or get in touch with us via our contact form to schedule you call.