Slip and Fall at Winn Dixie Supermarket in Ocala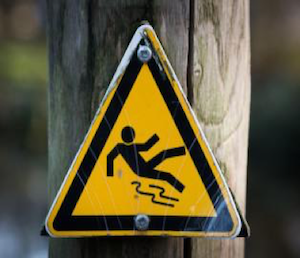 The Winn Dixie Supermarket in Ocala along with any other business establishments in Florida are required to maintain their premises in a safe condition to avoid situations where their customers can slip and fall and injure themselves. But, it is certainly no secret that even the smallest act of negligence can lead to a disastrous set of consequences for the victims of a slip and fall incident.
If you have suffered catastrophic injuries due to a slip and fall accident at a supermarket like the Winn Dixie Supermarket in Ocala Florida, you may be eligible for compensation for your injuries. Depending on the circumstances surrounding your slip and fall accident, the Florida premises liability lawyers at Frankl Kominsky serve the Ocala area, and can try to pursue compensation for damages including, lost wages, medical bills, emotional and physical suffering.
Call our slip and fall attorneys serving Ocala today to arrange your initial consultation for free!
Did you know our expert injury attorneys are available 7 days a week, 24 hours a day to attend to your needs? We work tirelessly to try to help our clients achieve the results they deserve. Call us now on 352-800-8000 to discuss your slip and fall incident at Winn Dixie Supermarket or any other commercial establishment in Ocala.
Keep reading to learn how the experienced Florida personal injury lawyers at Frankl Kominsky can try to help you receive the highest possible compensation for your slip and fall damages.
How to Prove Winn Dixie Supermarket or any Other Business Establishments are Liable for Your Slip and Fall Injuries?
Unfortunately if you have been the victim of slip and fall accident you are definitely not alone. In fact, according to the Occupational Safety and Health Administration (OSHA) slip and fall incidents equate to 15% of ALL accidental deaths. This alarming statistic is second only to car accidents. If these numbers cause you distress, rest assured that the experienced legal team at Frankl Kominsky will put your mind at ease by tackling even the most challenging slip and fall cases with the utmost professionalism and care.
According to the 2018 Florida Statutes if a Supermarket customer unexpectedly slips on a transitory substance, resulting in injury, the victim must be able to prove that the Ocala business establishment did not take the necessary precautions to rectify or avoid the hazardous condition. This means that the victim of a slip and fall accident will need to prove that the business establishment had "actual" or "constructive knowledge" of the dangerous condition before the accident even took place, and furthermore failed to action an appropriate solution to prevent the incident. The success of your slip and fall claim may rely on your ability to gather key evidence that will verify that the store manager or staff members inability to uphold their mandatory duty of care was the cause of your sudden trip, slip and fall.
While you are recovering from your debilitating slip and fall injury, we at Frankl Kominsky do not want you to worry about any legal proceedings. This is why we will go to great lengths to try to pursue evidence that may show that the business establishment like the Winn Dixie Supermarket in Ocala was indeed liable for your unfortunate slip and fall accident.
Common types of evidence our expert premises liability lawyers will accumulate to try to prove that a business establishment such as a Winn Dixie Supermarket breached their duty of care include but are not limited to the following:
Witness testimonies;
Video and surveillance footage;
Photographic evidence of the hazardous area;
Incident reports;
Police reports;
Any repeat occurrences happening at the same location; and,
Medical examinations.
It is the business establishment's responsibility to warn customers of any on-site hazard. For instance, a store manager may utilize a "wet floor" sign, or even rope the area off from customers in order to warn patrons about a leaked liquid substance in the milk section of a supermarket like a Winn Dixie Supermarket. Regrettably, not all store managers will adhere to their duty of care, and failure to implement the required steps to prevent slip and falls from occurring can cause an unfortunate slip and fall accident..
Make no mistake, the slip and fall injury attorneys at Frankl Kominsky will apply their proficient legal tactics to try to establish that business establishment in question was responsible for your painful slip and fall accident.
What Kind of Damages can an Ocala Slip and Fall Victim can Claim?
When an innocent customer at a business establishment like Winn Dixie Supermarket slips and falls, the damages are not always immediately apparent to the human eye. For instance, broken bones and bruising are both typical injuries in any accident, including a slip and fall. However, damages can also extend to a victims emotional health and financial situation.
When pursuing compensation for your slip and fall injuries, examples of damages that may not be evident to the naked eye include:
Unforeseen medical bills: Physical injuries can extend beyond the obvious broken bones and bruising. Things like nerve damage can go unseen to the naked eye but cause infinite pain and suffering to the victim.
Wage loss: Slip and fall accidents can cause victims to be out of work for days, weeks, and even years. In extreme circumstances a slip and fall victim may never be able to return back to work.
Emotional stress: The impact a slip and fall case can have on an individual's emotional well-being is immense. All injured victims can experience a period of grief that's relative to their circumstances. Furthermore, slip and fall accidents can affect the loved ones of a victim, adding to their already unwarranted suffering.
The Florida personal injury attorneys at Frankl Kominsky will assist you in pursuing the compensation you deserve for damages from your slip and fall case.
Call the Lawyers Frankl Kominsky for your Ocala Slip and Fall Claim Today!
If you or a family member have been injured due to an unfortunate slip and fall accident at a commercial establishment such as a Winn Dixie Supermarket in Ocala, please do not hesitate to contact us. Our legal team is ready and waiting to take your call so that you can attend to the health of you and your loved ones. Use our contact form or call 352-800-8000 to speak with a compassionate personal injury attorney.