Personal Injury Claims: Who Pays For Medical Bills After An Accident?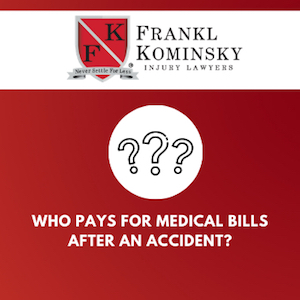 Car accidents can result in horrifying injuries that may require extensive medical care and rehabilitation. If you have been involved in an accident, you can imagine how traumatic the experience can be. The injuries from a car accident can range from mild to severe. If you are lucky, you might come out with a few scratches, cuts or bruising. However, more serious accidents can result in fractures, neck and back injuries, internal organ damage, paralysis, permanent disabilities, and even death.
In the event of a car accident, the primary concern should be to get the victim the appropriate medical assistance. Local hospitals or 911 must be called, so the injured party can be treated at the scene and taken to a hospital for a thorough medical examination. Getting timely medical intervention may make the difference between life and death for some victims.
However, many find the medical bills associated with an accident the cause of extreme stress. Many ignore small pains and discomfort for fear of more medical bills. While the expenses should never deter anyone from going to a hospital, it is understandable, considering the substantial sum of money that could go towards treating a car accident victim. Not everybody can afford to pay such heavy medical expenses.
Medical expenses post-accident may vary according to the severity of the injuries. They may include ambulance transportation, emergency room treatment, prescription medication, physical therapy, diagnostic testing, follow up doctor appointments or surgery. If you are injured in an accident caused by the carelessness and negligence of another person, you may be able to pursue a claim for damages. Compensation for these damages will include your medical expenses for treatment related to injuries resulting from the accident, Additionally, Florida is a No Fault automobile insurance state. If you suffered injuries in a motor vehicle accident, the Personal Injury Protection (PIP) policy of your auto insurance will cover a percentage of your medical bills, regardless of fault for the accident. Remaining medical bills can also be submitted to your health insurance company, if available.
7 Types of Medical Treatment Covered by Personal Injury Protection Insurance
To make sure that every person has access to quality medical assistance in a car accident, Personal Injury Protection (PIP) is mandated in 16 states across the USA, including Florida. Personal Injury Protection (PIP) typically covers the following medical treatments for injuries stemming from your automobile accident:
General Medicine
General medicine, or internal medicine, deals with diagnosing and non-surgically treating a variety of organs. In car accidents, many internal organs may sustain varying levels of harm. For mild cases, a general medicine practitioner may be able to help or diagnose issues before sending patients for diagnostic testing, physical therapy or to a specialist.
Radiography
All necessary x-rays, MRI scans and CT scans may be covered under Personal Injury Protection if it was treatment for injuries related to the accident. Diagnostic testing can be used to detect broken or fractured bones, herniated discs, bulging discs, internal bleeding, or torn ligaments in order to get the appropriate medical assistance made available to you.
Orthopedic Medicine
Orthopedic medicine focuses on the diagnosis, correction, prevention, and treatment of bone and skeleton deformation. Many accidents result in severe damage to bones, joints, tendons, and muscles. Orthopedic medicine can be essential for car accident victims.
Physical Therapy
Physical therapy, work with the patients to restore necessary bodily movement and function. With the help of medicine and exercise, they help set the patients on the path to recovery by allowing them to regain proper movement and mobility that they may have lost as a result of their car accident injuries. Many victims in accidents have difficulty walking, sitting, and performing other tasks on their own for a while after the accidents, and the physical therapists assist them and work with them to rehabilitate them to their best potential.
Prescribing or dispensing outpatient prescription medication
The medical services might be expensive, but the prescription medicines in themselves can also be shockingly pricey. Your PIP policy should also cover you for the necessary medicines prescribed by your doctors, which are essential to your treatment and rapid recovery.
Laboratory services
You can also get all sorts of laboratory testing done to get a proper diagnosis and treatment. All blood count tests and cultures if there is a threat of infection spreading as a result of the wounds. The PIP should cover all necessary and related laboratory services that the doctors might need for your treatment.
What You Should Bring To A Personal Injury ConsultationRequest a Free Personal Injury Consultation with Frankl Kominsky Injury Lawyers
The lawyers at Frankl Kominsky can help you understand your legal options after a personal injury accident in Florida. Should you choose to file a claim against the at-fault party, our attorneys are available to assist you and offer you appropriate legal guidance. We have over 40 years of combined legal experience. Let us help you pursue the compensation you deserve.
Our legal team will keep you updated and informed of any developments. They will guide you according to the best of their knowledge on how to proceed. We strive to set realistic expectations and do not give false assurances. To facilitate the clients further during the already traumatic incident, we have a contingent fee policy, where you do not pay us anything upfront, we get paid after we recover.
Frankl Kominsky Injury Lawyers offers free consultation and case reviews. Reach out to Frankl Kominsky today for any questions, appointments, or case evaluations by filling out the free case evaluation form. Let us help you recover your medical damages and the just compensation you deserve.