Wrongful Death Lawyers Serving Miami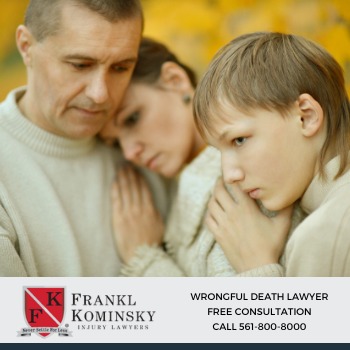 The city of Miami, Florida and its surrounding areas continue to be a major destination for warm weather seekers from all over the world. Known for its tropical environment, beautiful beaches, and lively nightlife, you can easily understand why locals and visitors alike, seem to enjoy the city of Miami like no other.
However, just as with any other fun place on the planet, accidents do happen, and many of them are preventable, if not for the negligence of another party. When an accident leads to a wrongful death, it can have debilitating effects on friends and family. Besides the emotional trauma of losing a loved one in a premature death, surviving family members often struggle with hefty medical bills, funeral and burial costs, loss of income, and expensive property damage.
This is why it is crucial to speak with a licensed wrongful death attorney after experiencing the loss of a loved one in an accident that was the result of negligence. At the law firm of Frankl & Kominsky, our compassionate attorneys understand the difficulties surviving family members must endure after losing a loved one. Our goal is to help you understand your legal rights to seek compensation for any financial losses related to your wrongful death claim. We offer complimentary, initial consultations in Miami (by appointment only) with no obligation to hire our firm.
Read on to learn more about wrongful death claims in Florida and how we may be able to help you hold negligent parties liable for your damages. We also provide some helpful tips to help you understand the full value of your wrongful death claim.
What is Considered a Wrongful Death in Florida?
A wrongful death in Florida is considered as a fatality that was the result of the negligence of another. In a wrongful death claim, surviving family members may have the right to seek monetary damages. Florida law allows eligible relatives to pursue financial compensation for loss of financial and emotional support.
Who Can File a Wrongful Death Claim?
According to Florida's Wrongful Death Act, all surviving family members have the right to seek financial compensation after suffering the death of a loved one that was the result of negligence. Family members could include the deceased's spouse, children, parents, and siblings who depended on the loved one that passed.
In cases where there are no surviving family members directly related to the deceased victim, a guardian, family representative or person appointed by the state, may act as a representative of the estate. Although these relatives may have a right to pursue compensation, it is the responsibility of the representative of the deceased loved one's estate to file a wrongful death claim to have the process started.
Call the law office of Frankl & Kominsky today to learn more: (561) 800-8000.
Common Examples of a Wrongful Death Case in Florida
While most wrongful death suits in Florida are the result of serious car crashes, there are a myriad of ways a wrongful death can occur. Some of the most common examples are attributed to:
Motor vehicle accidents - Speeding, driving while distracted, fatigued, reckless driving, and driving under the influence of drugs or alcohol, are all common reasons why motor vehicle crashes occur in Miami. Fast cars and motorcycles, mixed in with large commercial trucks, all on the road at the same time can lead to devastating consequences when drivers act negligently. Unfortunately, law abiding drivers and pedestrians can sometimes fall victim to negligent driving.
Birth injuries - Sadly, babies can sustain injuries during the birthing process which can sometimes be fatal. However, many of these injuries are the result of negligence on the part of the medical staff responsible for the labor and delivery process. If it is found that the death could have been avoided if the medical professionals on duty used the proper standards of care, it could be classified as a wrongful death, and the staff and/or hospital could be held liable.
Medical malpractice - Failure to diagnose/misdiagnosis, administering incorrect doses of medicine, and misuse of medical devices are all common mistakes often made by doctors and other healthcare practitioners. When a healthcare official fails to uphold his or her duty of care and causes an unexpected fatality, he or she could be held responsible.
Workplace accidents - Lack of safety equipment, inadequate training, and unsafe working conditions can all lead to a serious workplace accident that can result in the loss of a loved one. Every day workers put their lives on the line while trying to make an honest living. Some common workplace deaths are attributed to vehicle accidents, falls from high altitudes, dangerous machinery, electrocutions, and getting buried by falling debris or other materials.
Slip, trip and fall injuries - Unfortunately, one of the more common causes of injuries in Florida is attributed to some type of slip, trip or fall. While many people may not think of this as a serious accident, fatalities have been known to occur as a result. Even if the fall does not cause an immediate fatality, it could still be considered a wrongful death if it is proven that the fall contributed to the death later on. Standing on ladders, balancing on high ledges or roofs, falling into potholes, and slipping or tripping at a construction site are all common ways a slip, trip, or fall can lead to the loss of a loved one.
Boating and jet-ski accidents - As Florida continues to be a great environment for boating, jet-skiing, and other popular water sports, we have had our fair share of maritime accidents that can sometimes be fatal. Since boating laws may differ, especially in international waters, it is crucial to hire an attorney who has experience with maritime injury cases.
Defective drugs/product liability - Sometimes manufacturers try to save money by cutting corners and creating products that may not adhere to safety standards. If it is proven that a product causes someone's death, the manufacturer and/or seller could be held liable.
When Should I File a Wrongful Death Claim?
The Florida Statute of Limitations was designed to prevent people from bringing up old claims from the past. This means you have a limited amount of time to legally file a wrongful death lawsuit or else your case may be barred. While each state varies in the amount of time you are allotted to file a wrongful death claim, in Florida, surviving family members are usually required to do so within two years from the date of the death.
However, there could be some situations where your claim may be due sooner or later, depending on the details. For example, if the wrongful death was caused by the negligence of a government worker or agency, you may need to file much sooner. If you fail to file your claim within the given period, your claim may be dismissed by the court, which means you will not be allowed to pursue compensation for your losses.
This is why it is important to speak with a qualified attorney that has a proven track record of success. If you are unsure about when your wrongful death claim is due, contact the law firm of Frankl & Kominsky to schedule a no-cost, initial evaluation of your claim. If you wait too long, you could miss out on significant amounts of financial support that may be legally available to you and your family.
Dial (561) 800-8000 to get started or you can fill out a free consultation form.
Types of Damages in a Wrongful Death Claim
When a loved one suffers a premature death as a result of negligence, surviving family members may be eligible to recover compensation based on two types of damages:
Quantifiable Damages - These are damages that have a quantifiable monetary value, such as:
Medical costs associated with the deceased person's treatment prior to death.
Pain and suffering the deceased person experienced before passing.
Funeral and burial expenses including, cemetery, grave and cremation services.
Loss of income and benefits the deceased person would have gained had they still been alive.
Replacement or repair of property that may have been damaged in the accident.
Non-Quantifiable Damages - Are damages suffered by surviving family members that do not have a definitive monetary value, including:
Loss of companionship, guidance, and care.
Pain and suffering the family members must endure due to the premature death.
Loss of household services performed by the deceased loved one.
Having an experienced attorney review your claim can help determine the full value of your wrongful death claim. Surviving family members who decide to hire an experienced attorney for legal representation and guidance, usually obtain larger compensation awards, as opposed to those who choose to represent themselves.
Discuss Your Negligence Claim with an Attorney
If your loved one has been harmed because of someone else's carelessness, there is no substitute for having dedicated legal representation on your side. At Frankl Kominsky Injury Lawyers, we are committed to helping victims. Our firm has over 40 years of combined experience handling accident and injury cases, and we know what it takes to try and prove a negligence claim. You can expect the utmost respect and professionalism from our licensed attorneys and legal staff.
Our Injury Lawyers offer a Free Consultation by calling 855-800-8000 or contact us online. Let us help you through this stressful time, our office is available 24/7 and we speak Spanish and Creole.