Nursing Home Negligence Lawyers Serving Boynton Beach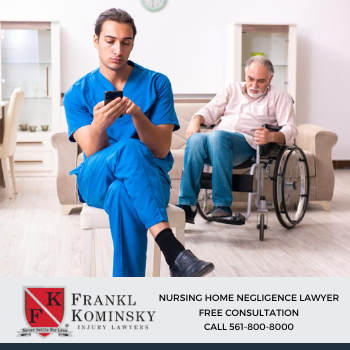 Deciding to place your ill spouse or elderly loved one in a nursing home is not an easy decision. There are many emotions that go into this decision while you relinquish care and responsibility and place trust into medical staff.
No one should have to think of or prepare for possible nursing home negligence. Once you find a facility you feel is best for your loved one, it's up to the staff of the facility to provide a safe environment that meets the needs of every patient. If you suspect your loved one has been a victim of nursing home negligence, it can be devastating to deal with.
The experts at Frankl Kominsky Injury Lawyers are here to help you during this difficult process. You and your loved one that has fallen victim to nursing home negligence have legal rights to take action and potentially file a lawsuit. Our attorneys can answer all your questions, and we are always here to help.
If you are still trying to determine if you have a nursing home claim to file, here's everything you need to know.
Responsible Care of Nursing Homes
Nursing homes are staffed with employees who handle each patient with their individual medical needs. Whether it's medicinal or physical, there's a certain level of care that each facility is legally obligated to provide. If nursing homes breach this standard of care, it can result in nursing home negligence, and victims can take legal action.
In 1987, congress passed the Nursing Home Reform Act, which states that nursing homes must provide services, activities, and care for the well-being of each patient. There are many requirements for services that nursing homes must provide that include:
Sufficient staff that is fully trained and licensed
Created care plans for each patient
Appropriate care and resources based on each patient's unique needs
Treatment services
Respect for each patient
Nursing care at all hours of the day every day
Nutritional meals that also meet dietary restrictions
Responsibility for the patient's quality of life
Proper supervision
Health monitoring of each patient
Educational, stimulating, and enriching activities
More
Nursing home facilities in the Boynton Beach area are required to follow the same set of standards that are laid out in the reform act. Staff at nursing homes vary from those that work in administration, food service, maintenance, and the registered nurses and physicians that stay on-site. If any of them provide care that is abusive or negligent, patients can be at great risk for their safety and lives.
If you have noticed signs of nursing home negligence, you could have a basis for a claim. Reach out to a trusted attorney in your area immediately.
What Is Nursing Home Negligence?
Nursing home negligence occurs when a patient at a nursing home facility experiences physical, emotional, sexual, or financial abuse in some manner. Negligence of any kind to these patients can be very traumatic and preventable, which is why it's important for nursing home staff to always be on alert and watch the patients closely.
Nursing home negligence does not have to only be with staff, but it can also be with other patients at the facility. This is the main difference between nursing home negligence and nursing home abuse.
Patients that have been abused by other residents at the nursing home can still qualify for a nursing home negligence claim since the staff at the facility failed to provide a safe environment. If the negligent act is a result of staff, this could also qualify as nursing home negligence.
When nursing home negligence is broken down, there are three main divisions of the types of neglect.
Medical Neglect
Medical neglect at nursing homes can sometimes be mistaken as medical malpractice. This is where the staff of the facility fails to provide the necessary needs of the patient, such as not giving them medicine, leaving medical needs untreated, or not taking action during medical emergencies.
Neglect of Needs
Neglect of needs is when the staff neglects to provide patients with necessities such as food, water, and bathroom assistance. This kind of neglect can make patients severely malnourished, dehydrated, or suffer mentally and physically. In extreme cases, neglect of basic needs can result in early death for the patients.
Neglect of Hygiene
Some residents in nursing homes require staff to assist them with their hygiene needs, including bathing, changing their clothes, or their bedsheets. If nursing home staff fail to do this, it can result in physical and mental distress for the patients who live in unfit conditions these facilities are required to provide.
Warning Signs of Nursing Home Negligence
Unless your loved one informs you of what has happened to them, there are some warning signs you can look for that can indicate possible nursing home negligence.
Here are some behaviors and signs your loved one may express that can implicate nursing home negligence:
Fluctuation in weight
Sudden behavioral problems that can include anxiety, depression, lack of interest in activities, anger, self-harm, lack of personal hygiene
Medical complications from lack of care
Malnutrition or dehydration
Broken bones
Physical injuries
Can You File for Nursing Home Neglect?
One of the main requirements for filing for nursing home neglect is to have your claim filed within two years of knowing your loved one has suffered their abuse. Nursing home neglect cases can be very complex since you have to prove there was a negligent act that the facility was responsible for.
The two-year timeline can go by quickly. There are many steps to take with your claim that can take the whole two years and forgetting to file in time can hinder your chances of a viable claim. Late filings can result in your case being dismissed, preventing you from seeking justice and compensation.
What Is a Nursing Home Negligence Claim?
A nursing home negligence claim is filed by the victim or their families after suspecting abuse or negligence has gone on at the facility. Victims can file for personal injury to try and recover from the damages they have incurred while under the care of the facility. These types of lawsuits can be filed when an ill spouse or an elderly patient suffers serious injury from care providers.
It's important to remember to seek legal assistance for these claims so that you can have the best chance at seeking an optimal outcome. An attorney will have the experience needed for filing claims against these facilities and will be able to guide you through the legal process.
When to Seek the Help of an Attorney?
It is crucial that you seek the help of an attorney as soon as you suspect there is negligent behavior going on with your loved one. Since the timeframe to file a claim is so short and will pass by quickly, it is optimal to have your attorney begin working on your case as soon as possible.
If you don't have an attorney to call, you will need to search for a nursing home negligence attorney in the Boynton Beach area, which should not be a quick task. You should feel confident in the attorney you ultimately select.
To start looking for the right nursing home negligence attorney, here's what you need to do:
Research firms in your area
Read reviews from past clients
Schedule free consultations with 3-4 different firms
Ask in-depth questions pertaining to your case
Compare all answers from the firms
Choose the attorney that you think will be the best fit
Responsibilities of a Nursing Home Negligence Lawyer
There are several benefits to working with nursing home negligence lawyers. Not only do they have expert knowledge of the rules and regulations regarding these cases, but they also have legal knowledge about state laws that can impact your rights to sue for nursing home negligence.
When you hire an attorney who specializes in this area, they will have responsibilities that can help alleviate pressure on you during this difficult time. These responsibilities include:
Gathering case information
Filing a lawsuit on your behalf
Negotiating for a fair settlement or taking your case to court
Gathering and reviewing all necessary evidence
Informing you of your rights
Giving you sound legal advice
Keeping your best interest in mind
Damages You Can Recover in These Cases
There can be various potential outcomes in nursing home negligence cases. You should discuss what damages you should seek to recover with your attorney to have a better idea of what you can expect. As the case unfolds, your attorney will be able to advise on how to proceed and what is adequate.
Here are some of the damages you can seek in compensation with the help of your attorney:
Past, current, and future medical expenses
Funeral expenses
Lost wages
Monthly facility payments
Therapy expenses
Household expenses
Physical or mental anguish
Pain and suffering
Trauma
Emotional distress
The more complex and severe your case is, the more damages you can seek to recover.
How Are Damages Recovered in These Cases
Most damages and compensation are sought out through settlements. Settlements are between you and the other party with their own attorney during negotiations. You will meet with the defendant to negotiate a fair price in settlement earnings that the nursing home facility will be responsible to pay for if you are successful.
If you and the defendant cannot reach an agreement through a settlement or if the defendant opts out of a settlement, then your case will go to trial. Your court case is where an outcome will be decided by either a judge or jury. They will listen to all the evidence presented by both sides to determine a winner. If the nursing home wins the case, you can decide to appeal.
In these cases, damages have to be proved in court. If your case contains negligence as a fault of the medical staff, it is easier to prove with the use of medical records.
Here's how to prove your damages in these cases:
Have photographs of your loved one's injuries or living conditions
Documentation of previous conversations with medical or nursing home staff
Proof of the emotions and actions of your loved ones
Medical records
There are also other options for evidence that your attorney may collect that further prove damages in your case, such as possible video at the nursing home and witness statements of other patients or workers at the facility.
What to Expect Out of Your Case
Sometimes nursing home negligence cases can take a while since your case is against a medical facility, and you have to gather the information that proves they are responsible for the breach of care.
Here's a timeline your case could follow. Each case is different, so don't be surprised if your case skips a few steps or has even more:
1. Find the Right Attorney
If you don't have a trusted attorney you can call for your case, then you will have to spend some time researching firms in your area to find the right lawyer. This process can take a few weeks or up to a month since you should consult with at least three firms before choosing a firm to work with. If you already have a trust attorney in mind, you can skip this step.
2. Reviewing Information
After hiring your attorney, you will need to have your information relating to your case gathered and reviewed to determine if you have a nursing home negligence case to file. Information that needs to be reviewed will include medical records, nursing home contracts, and more.
3. Filing Your Claim
After the information has been collected and reviewed, this is where your lawyer will file your claim if it's deemed you qualify for a lawsuit. The other side must respond, or they may automatically lose the claim.
4. Case Strengthening
Once the other side acknowledges your lawsuit, you and the nursing home will start working with your attorneys to find information that will strengthen or defend each side's positions. Ultimately, you will try to prove that your loved one was treated negligently, and the other side will defend the opposite.
5. Settlement
Your attorney, at some point, will reach out to the defendant's attorney to negotiate a possible settlement. If the other side agrees, you will meet with them to negotiate further.
6. Trial
If a settlement cannot be agreed upon, you can then take your case to court. The duration of this process depends on how clear-cut the information presented is and how fast the judge or jury reaches a conclusion.
7. Appeal
If you lose your court case, you can choose to go through the appeal process. Your attorney will discuss this with you in greater detail if you run into this situation.
How Frankl Kominsky Injury Lawyers Can Help
Do you have questions about a possible nursing home negligence claim? We can help you assess your situation. Our attorneys are experts at understanding the Florida Statute of Limitations and legal nursing care duties these facilities are supposed to uphold. Any breach of care can be very detrimental to a family.
We understand that these types of claims are not the easiest to file, especially since you are seeking justice for your loved one. If a nursing home worker failed to provide safe, quality care, we can help you seek compensation for your damages. Our forty years in the industry have given us the experience and background we need to provide you with the right resources needed for your claim.
Working with us starts with a free consultation that is of no obligation to you. It involves coming into our office to meet one-on-one with one of our attorneys and going over your situation in detail. Please bring the information regarding your suspected nursing home negligence with you, as well as any medical records or other documents that further prove these acts.
To schedule your free consultation, please call (561) 800-8000 or leave your information on our online form. Someone will reach out to you about scheduling a time that is convenient to you.
We look forward to hearing from you.