Wrongful Death Lawyers Serving Boynton Beach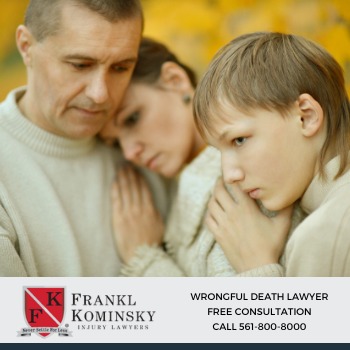 The loss of a loved one is never easy to handle, but there's an added pain and sadness that comes from someone losing their life from a preventable situation. Wrongful death claims exist to help bring families closure and justice for those who died prematurely.
If you or someone in your family is grieving due to a wrongful death situation, you could qualify for a wrongful death claim. Wrongful death cases are a way for victims to seek compensation to help cover damages left behind from loss, such as funeral expenses, medical bills of the deceased, or to financially compensate loved ones who have lost a dependent or provider.
We suggest those in Boynton Beach, Florida, struggling with coping from a wrongful death situation, to contact Frankl Kominsky Injury Lawyers as soon as possible. Our attorneys can help you seek compensation for expenses and incurred damages while helping you find closure during this difficult time.
Here's what you need to know.
What Is Wrongful Death?
The legal definition of wrongful death is when a person passes away as a result of another individual or entity's negligent acts. There are numerous examples of how someone can wrongfully pass away.
Here are some of some examples of wrongful death, though cases are not limited to just these instances:
Criminal, violent acts
Medical malpractice
Car accidents
Bicycle or motorcycle accidents
Defective products
Personal injury
Unfit working conditions
Criminal violence and car accidents can sometimes have additional legal consequences and charges, given the manner of these incidents.
What Is a Wrongful Death Claim & Who May Qualify?
When a person files a wrongful death claim, they are alleging that a loved one or member of their family passed away preventably and prematurely as a result of someone else's known negligence. The keyword in that phrasing is "known" because it shows that the defendant performed a harmful act willingly and knowing that harm could be a result of their action.
In order to qualify for a wrongful death claim, you must file within two years from the date of the accident, per Florida's Statute of Limitations. It is understandable that the sudden loss of a loved one is very upsetting and can be difficult to cope with, but it is important to keep this timeline in mind since the clock starts ticking the day of the loved one's passing.
Wrongful death claims that are filed after two years or close to the end of the deadline can signify that the case is not that serious, which can have detrimental consequences. Late filing can result in a case being easily dismissed or not having the same outcome as you would expect. Additionally, there can be several investigations into these claims that can take time to complete. Lawsuits are not always handled quickly, especially if they are complex, so you want to allow yourself to have the sufficient time that your case needs.
It is important to begin looking for a Boynton Beach Wrongful Death Attorney as soon as possible if you do not already have one in mind.
What Does a Wrongful Death Claim Entail?
The process of a wrongful death claim will vary depending on each unique situation. Not every situation will be handled in the same manner. To have a better understanding of what you can expect, consult with a trusted attorney.
Consult With an Attorney
Before you proceed with your case, it is well-advised to hire the help of an attorney for their legal assistance and guidance about what to do next. Attorneys are experts in negotiating and handling the legal process so you can focus on your family.
Establish Proof
The biggest key in any wrongful death claim is having the proof that death could have been prevented or that it was a negligent act that caused the death. Not every premature death will result in a viable wrongful death claim. For instance, although some medical malpractice situations can be eligible to be filed for wrongful death, these cases can be very complex.
Sometimes people's bodies will react positively to certain treatments, procedures, or medicine, but it can nevertheless cause them to pass away. If the doctor did nothing to harm the patient and a person has complications, this will not suffice as proof of a wrongful death. However, if a doctor failed to treat a patient or made a medical error, this could be sufficient proof, depending on the circumstances.
File Your Claim
The best way to figure out if you have a claim or not is to consult with an attorney. When you go in for your consultation, they will need to see specific documents and evidence to review so they can determine if you have a case to file. If it turns out that you have a case and would like to take legal action, this is the next step. Your attorney or their legal assistant will start drafting legal documents to serve to the defendant if you qualify.
Start Building Your Case
After your claim is filed and the papers are served, it is time to get to work. Your attorney will do most of the case building, but you will need to communicate and collaborate with them throughout the duration. Your attorney may need you to provide statements, documents, or locate witnesses to testify and serve as more evidence. This step of the process is crucial as it is where most of the evidence will be used to build your position.
Possible Settlement
Depending on the complexity of your case and who is involved, it is possible that you could settle without going to court. A settlement for your case is an opportunity for you to seek compensation to recover damages through mediation and agreements with the other side. This does not always happen, however. When a settlement cannot be agreed upon, or the side elects to forego this process, your case may go to court.
Court Trial
If no settlement is reached, your case may then go to trial. The trial period can take a while to reach, and it's also possible for trial to last even longer if the case involves criminal charges.
How Will a Wrongful Death Lawyer Help?
A wrongful death lawyer can assist you during this difficult process in many ways. Firstly, they are compassionate people who understand this is not a typical injury case; you're dealing with the preventable loss of a loved one and need to find the best way to seek compensation and closure for a life-changing wrongdoing.
That stated, a wrongful death lawyer will do all they can to help you seek compensation. They will take care of the majority of the legal process while you can recover.
Here's what your wrongful death attorney at Frankl Kominsky Injury Lawyers will do for you:
Investigate Your Loved One's Death
It's difficult enough having to deal with a sudden loss, let alone having to hear the events leading up to the incident. Your attorney will be responsible in investigating the elements surrounding the wrongful death claim and reading the documents surrounding the case. They will do the digging and reading for medical records, police records, witness statements, and more to have a better sense of how the accident happened and who was responsible.
Informing You of Legal Rights
It can be very confusing to understand what you are capable of doing during this time. Luckily, wrongful death lawyers have extensive knowledge of state legal rights and can inform you with sound legal advice in relation to the deceased and damages you make need to seek for in your case. This information can shape your case's process.
Help You Seek Compensation and Damages
One of the best reasons to hire an attorney is to have their help in assisting you in seeking compensation that you deserve in your case. Florida has specific damages for people to seek in wrongful death claims. Your attorney can review these with you to help you understand what your options are. These damages and compensation can differ based on your relationship to the deceased and preexisting conditions that were established before the accident.
Finding Your Boynton Beach Wrongful Death Lawyer
How do you go about finding the right Boynton Beach Wrongful Death Lawyer if you don't already have one? Here are the steps you should take to find an attorney you feel confident in for your wrongful death claim.
1. Research Firms in Your Area
The first thing you need to do is research firms in your area that practice wrongful death. You can locate each practice area of every firm on their website to see the types of claims they handle. While you are researching various firms, create a list of at least three firms you would like to schedule a consultation with after reading past reviews. Reviews from previous clients will give you a better sense of the work they do and if other people were satisfied with the firm's services.
You will want to choose a firm that has a proven track record of their competency and industry knowledge. Don't allow one or two negative reviews turn you away if most of the reviews are positive.
2. Consult Each Firm
Law firms typically offer free consultations for you to come in and speak to an attorney about your case and how they can help. Schedule free consultations with each firm on your list. This will also help you have a better understanding of the firm and establish confidence in the skills of your selected attorney.
3. Ask the Right Questions
When you are at each consultation, ask questions to each attorney you meet with, so you can compare answers later to help you choose the right one. Here are some questions to ask each attorney at each consultation:
How long have you been in practice?
How many wrongful death cases have you handled that had successful outcomes?
Have you handled any wrongful death cases similar to mine?
How will we communicate throughout the case?
What resources will you use to build my case?
What legal courses of action can I take?
Will you work with anyone else on this case?
How do you prefer to be paid and what is your fee arrangement?
It's imperative that you choose an attorney who has demonstrated knowledge in handling wrongful death cases successfully, especially if you are going up against a large entity or involved with a defendant in a criminal case.
4. Select Your Lawyer
After you have consulted with each attorney and compared all answers, it's time to choose the attorney that feels right for you. You should select the firm that you feel will perform the best and is the one that you trust most.
Possible Damages You Can Recover
You can recover some damages and compensation in wrongful death claims based on a few details, such as your relationship with the deceased, the financial impact of the loss, and a few other pain and anguish variables.
Here are some possible damages your attorney can help you seek recovery for along the way:
Funeral expenses
Medical expenses
Mental pain and suffering
Loss of finances (if you lost a parent or dependent)
The loss of companionship, parent, or guardian
More
Each situation is unique. To understand what your damage recovery looks like in your situation, ask your attorney.
Settlements & Earnings in Wrongful Death Claims
As we have mentioned, there are no caps as to what you can earn in settlements for wrongful death claims because each case varies. Whether your earnings can come from mediation or a settlement, the amount that you receive will depend on the situation of the wrongful death and how it has impacted you and your family.
There are certain situations where some wrongful death claims can have higher settlements. For instance, if you are a child under the age of eighteen who lost a legal guardian or your sole legal guardian, you could receive a settlement offer since you have lost your dependent.
Some medical malpractice claims can also see earnings if the doctor is found responsible for providing a level of care that is below the normal standard. Criminal acts are another situation where plaintiffs may experience a different outcome, given the violent nature.
Reach Out to Frankl Kominsky Injury Lawyers
Frankly Kominsky Injury Lawyers understands how painful and difficult a wrongful death situation in the family can be. That's why we want to help you seek compensation with our top-tier services. The best part about working with our firm is that you can trust that your best interest is always at the forefront of our minds.
We have four decades of experience handling injury cases, including wrongful death. Our time in practice has given us the right resources and knowledge for fighting certain entities such as hospitals or businesses that have their own set of legal policies and lawyers in place. If you're looking for the right firm to represent you during this time, we offer to have you meet with one of our attorneys for a free, no-obligation, initial consultation.
During your free consultation, we will pair you with one of our attorneys that will be assigned to your case, and you can ask them more questions in detail about your position.
To schedule, call (561) 800-8000 or leave your information in our online case evaluation form. One of our representatives will reach out to you to set up an appointment that is convenient for you.
When you arrive to our office for your consultation, please bring the following information and documents so our attorney can best assess your situation and how they can help:
Medical bills and records
Police statement (if you have a copy)
Insurance information
Any other information pertaining to the accident
Don't let any more time pass you by. Call Frankl Kominsky Injury Lawyers today to get assistance for your wrongful death claim.