Serious / Catastrophic Injuries
West Palm Beach Attorneys Skilled in Negligence Lawsuits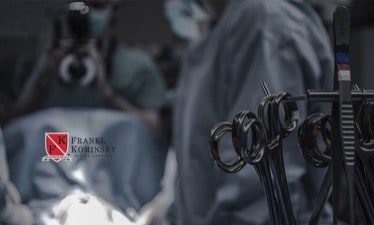 When a person suffers a catastrophic injury, he or she may face months or years of medical care. In many cases, the accident also has a detrimental effect on the victim's ability to work. At Frankl & Kominsky, we understand that recovering physically and financially from a serious injury can be daunting. Our accident lawyers serve clients throughout Palm Beach County, and are prepared to help you try to fight for compensation if you have been hurt by someone else's carelessness. We are effective litigators who are ready to try to aggressively pursue your injury claim against whoever was responsible.
Types of Catastrophic Injuries
Serious harm is a common result of devastating accidents or medical mistakes. Car collisions and truck crashes, for example, often lead to head trauma, fractures, and internal organ damage. Even an ordinary slip and fall can cause a traumatic and life-threatening injury, examples of which may include:
Trauma to the head and brain, which can cause significant brain damage and permanent disability in some cases.
Back and spinal cord injuries, which often result in nerve damage and paralysis.
Fractures, where a victim may need special screws and metal plates to restore broken bones, as well as extensive rehabilitative care to strengthen weakened muscles.
Severe injuries to the extremities, which can result in the loss of a limb.
A catastrophic injury can also derail a victim's ability to financially support his or her family. As an injured person embarks on the road to recovery, he or she may find it difficult to perform the same type of work he or she did before the accident.
Seeking Compensation From Those Responsible
Serious injuries are often the result of negligence. Someone may be considered negligent for failing to act with the care that a reasonable person would exercise under the same or similar circumstances. You can hold a person or entity liable for your catastrophic injury if you can demonstrate that it was caused by the careless actions of that person or entity.
You must establish duty of care, breach of the duty, causation of injuries, and damages to hold a party liable in a typical negligence claim. For example, here is what might happen if a car strikes you, and you are severely injured in the crash. If you file a lawsuit against the driver, you must prove that his or her behavior amounted to a breach of the duty to exercise reasonable care when operating a vehicle. If you can also show a causal connection between the breach and your injuries, you may be able to hold the motorist liable.
If a doctor caused your injury, you would have to satisfy the same elements of negligence, but a different standard of care would apply. In ordinary negligence, the standard of care is that of a reasonable person. Medical malpractice, however, has a standard of care that is based on the level of care, skill, and treatment that a reasonable health care provider would deem appropriate in the same situation.
Serious injuries are sometimes caused by the negligence of more than one party. In Florida, a court will look at everyone's actions, including those of the victim, and determine each party's degree of fault. You can recover damages in proportion to your degree of fault. In other words, if you were partly responsible for your injuries, you can still get a reduced amount of reimbursement from any other party who was also negligent.
Your compensation after a catastrophic accident might include medical expenses, lost wages or any reduction in your earning capacity, property damage, and pain and suffering. Punitive damages may be available in some especially egregious cases.
Legal Advice for West Palm Beach Accident Victims
Based in West Palm Beach, the injury attorneys at Frankl & Kominsky are seasoned litigators. We will tenaciously try to pursue your claim for compensation if you have been harmed in a serious accident. Our attorneys have handled a broad spectrum of negligence claims. We can assess your case and provide the advocacy you need to try and seek a satisfactory result. We serve clients throughout Palm Beach Gardens, Boca Raton, and the surrounding communities. For a free consultation, call us (561) 354-6184, or Contact us online today. We speak Spanish and Creole.