Car Accident Lawyer Serving Jensen Beach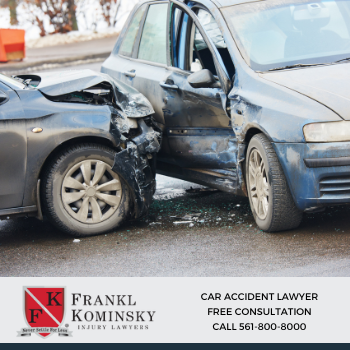 Located in Martin County, Florida, Jensen Beach was once known as the Pineapple Capital of the World. The city is known for its luxury shopping, fine dining, and many water activities like scuba diving and surfing. As of 2020, the city has a population of nearly 13,500 people and is steadily on the rise.
With a growing population comes growing road traffic, which is known to increase the chances of car accidents. In 2016, there were nearly 7.3 million reported car accidents ranging from minor to fatal ones. Being the victim of a car accident can lead to physical and/or property damage for you or your loved one. In some severe cases, it can also lead to a loss of life.
If you were injured in a car accident caused by the carelessness and recklessness of another, call the attorneys at Frankl Kominsky Injury Lawyers. We offer a free initial consultation. Let us help you pursue the compensation you deserve.
Read on as we look at the different causes for car accidents, common injuries and what damages you may be eligible to pursue.
Car Accidents in Jensen Beach: Common Injuries
Car accidents cause a number of injuries ranging from minor scrapes to serious physical and mental damage. Some of the common injuries that land victims of car accidents in the emergency room include:
1. Internal Injuries and Internal Bleeding
One of the leading causes of fatalities in car accidents is internal injuries. Many victims of car accidents, especially pedestrians, may not show too many signs of physical damage, but their internal injuries may surface after some time, and by that point, the injuries may be severe. Internal bleeding may end up being the cause of lifetime damage.
2. Spinal Cord Injuries
Another common injury in car accidents is damage to the spinal cord. The spinal cord is not only one of the most fragile but also one of the most important parts of the human body. Damage to the spine may lead to temporary or permanent paralysis, sporadic limb movement, and a range of other issues that require time and expensive treatment for partial or complete recovery.
3. Broken & Fractured Bones
Broken bones in the legs, shoulders, arms, and hips can occur. They are usually caused in rear or side-end accidents and may range from minor fractures to broken bones that require extensive bone grafting for recovery. In some cases, the damage in the bone structure may be irreparable and may lead to movement difficulties or alterations.
4. Hand and wrist injuries
Hand and wrist injuries are an unfortunate outcome of car accidents, regardless of whether the accident is a serious or a minor one. The impact of the accident can cause strain on the driver's hands, and wrists, and the damage may range from a minor sprain to joint dislocation.
Hand Other Common Injuries Include:
Whiplash
Burns, cuts and lacerations
Neck Injuries
Back Injuries
Most Common Causes of Car Accidents in Jensen Beach
Car accidents occur due to a number of reasons, but the most common ones involve:
1. Accidents Involving Drunk or DUI Drivers
Driving under the influence is the cause of many road accidents. According to the NHTSA, drunk driving was the cause of over 10,500 fatalities. Due to their groggy cognitive function, drunk drivers may be slower at identifying hurdles, other vehicles, and pedestrians, and their response rate to such instances is also very low. Such drivers may end up becoming responsible for many roadside accidents, including those that lead to a loss of life.
2. Distracted Drivers
Distracted driving is one of the top causes, if not the top cause of car accidents. Thousands of deaths occur every year due to distracted driving, which includes any action that steers a driver's attention off the road. This includes texting, talking on the phone, talking to other people in the vehicle, eating, or drinking something, etc. Distracted drivers may fail to notice obstructions or turnings before it is too late.
3. Teen, Young, and Inexperienced Drivers
Underage driving, driving without a license, and teen driving are all responsible for road accidents. In 2017, around 300,000 teens ended up in the emergency room due to road accident injuries, and over 2,000 deaths occurred. The problem with teen drivers is usually not complying with road safety regulations such as not wearing a seatbelt, driving recklessly, driving at night, speeding or driving under the influence.
4. Speeding & Reckless Driving
Driving above the speed limit makes it difficult for drivers to slow down in emergency situations, which ends up becoming a cause for car accidents. In addition to driving at high speed, some drivers tend to display reckless and careless behavior on the road, such as frequent lane changing, changing lanes or turning without giving any indication to the drivers behind them, and more. These situations become even more dangerous for nighttime drivers.
5. Accidents from Road Hazards
In some cases, car accidents may not be the fault of the vehicle drivers, but due to damaged roads, sites that are undergoing construction and have not been properly labeled, lack of road signage, and so on. Accidents caused due to the road hazard means that the party at fault is the local government itself. Such accidents may lead to mass-scale fatalities, especially if the issue is not addressed and more vehicles get involved.
What Damages Can I Claim For After a Car Accident?
The damages due to car accidents range from physical injuries to property damage and more. Damages you can pursue include but are not limited to the following:
1. Lost wages and/or benefits and Reduced earning potential
The injuries sustained in a car accident require a lengthy recovery time, ranging from a few days to even a few months, or in some cases, they may leave you impaired for life. During your recovery period, you can pursue a claim for lost wages. This also includes any permanent loss or reduction in wages due to lasting damage. Your current and past earning potential will be compared to determine the amount of your rightful compensation.
2. Past and future medical bills
Injuries caused by car accidents range from burns, scrapes, and other surface injuries to spine damage, nerve damage, brain injuries, broken bones, and more. Treatment may consist of doctor visits, diagnostic testing, x-rays, MRIs, emergency treatment, physical therapy, prescription medication and surgery. Some of these injuries may require long term care. You can file a claim for damages against the party at fault, covering all medical expenses caused by accident.
3. Pain and Suffering and the Diminished Quality of Life
Even after medical treatment, your car accident injuries may leave you permanently disfigured or even paralyzed. For instance, if you end up in a wheelchair, your entire life will be negatively impacted. The poor quality of life not only has physical drawbacks but may also lead to mental disturbance such as PTSD, depression, and anxiety. If you are professional help for your mental health, you can include that in the list of claims.
Diminished quality of life includes everything from being unable to enjoy your daily activities (as you could before) to being unable to enjoy your spouse's company, etc.
4. Vehicle or property damage
Apart from personal injuries, car accidents are notorious for causing property damage. In most serious accidents, vehicles such as cars and bikes get completely totaled, and in others, they are heavily damaged but can still be repaired. Filing a claim may help you recover the expenses you need to repair the property damage. In this case, you will need proper market statistics comparing the cost of repairs versus the value of your vehicle at the time of the accident.
Apart from vehicle damage, any items that may have been in your vehicle or on you, such as a watch or other items of significant monetary value, come under property damage and may be included in your claim for damages.
Suggested Steps To Take After a Jensen Beach Car Accident
If you have been in a car accident in Jensen Beach, Florida, there are a few steps you may choose to take:
At the Scene of the Crash
If you've been in a car accident, it's important not to immediately leave the scene of the accident. Reach out to the local police in Martin County and call 911. Remain at the scene of the accident until the authorities arrive.
If you have sustained any injuries due to the accident, have emergency paramedics examine your injuries. For serious injuries, you may need to be driven to the hospital. Saint Lucie Medical Center is one of the closest options to Jensen Beach with 24-hour emergency services to help you out in case you've been in an unfortunate car accident. You should have a complete medical examination by a qualified medical professional. You can go to your own personal doctor or to a local emergency room.
Before leaving the scene of the accident, make sure to take plenty of photos and make videos of the property damage, of the vehicle involved, the presence (or lack) of road signs, the condition of the road, etc. If there were any witnesses around, collect important witness information such as a contact number, email address, and witness statements. It is important to obtain witness statements on the spot since they may not remember any details clearly at a later date or may be out of your reach.
After the Crash
Once you've been treated for your injuries, ensure that you have all your medical documents, including the medical bills, emergency room papers, surgery reports, tests, prescriptions papers, etc. Don't forget to get a copy of the driver's exchange and the crash report.
Contact an experienced personal injury lawyer. At Frankl Kominsky Injury Lawyers, our attorneys are available to assist you with your claims for property damage and personal injuries. Let us help you fight for the compensation you deserve.
If you are contacted by an insurance agent on behalf of the party at-fault, avoid giving a recorded statement or signing anything without speaking to your personal injury lawyer.
How Long Do You Have To File a Car Accident Claim?
The Florida Statute of Limitations determines the amount of time you have to file a lawsuit against those responsible for your personal injuries and property damage in a car accident. In Florida, this duration varies depending on your situation:
For any injuries and/or property damage caused in the accident, you have 2 years after the date of the accident to file a lawsuit for damages.
If someone loses their life as a result of the accident, then their family may file a wrongful death suit within 2 years of the victim's passing – this may be on the day of the accident or some time after.
How Frankl Kominsky Can Help Your Car Accident Claim
Establishing a claim for damages after a car accident involves undergoing a number of processes. Our legal team can help you by:
Establishing a Claim
During this stage, your attorney will gather information including the personal and contact details of the parties involved in the accident, photo and video evidence, witness statements, medical documents, property damage papers, etc.
The aim is to gather the necessary data to establish your claim against the party/s at fault.
The Investigation Process
During this stage, your attorney will help you by:
Communicating with the at-fault party's insurance company
Collecting medical records including medical bills, reports, statements from medical professionals, estimates of future medical expenses, etc.
Examining photo and video evidence from the accident scene and obtaining surveillance footage from any cameras that were nearby.
Collecting evidence of lost wages
Speaking to witnesses, including medical experts and accident reconstructionists if necessary
Pre-Settlement & Demand Process
We will handle all communication and negotiations with the at-fault party's insurance company. We will aggressively represent your interests and try to negotiate a fair and just settlement on your behalf.
Mediation
A mediator may help bring your case to resolution. They may try to reach a settlement between you and the at-fault party without involving the court. Our experienced personal injury attorneys will represent you and your interests at mediation.
Litigation
If necessary, we will proceed with litigation. Realistically though, few car accident claims make their way to a trial and are usually resolved out of court.
Free Consultation with Our Injury Lawyers
Our team of personal injury lawyers in Florida has over 40 years of combined legal experience in getting favorable settlements for our clients and we have collectively obtained over $100 million in compensation through settlements and verdicts for our valued clients.
If you have suffered an injury in a car accident, Frankl Kominsky Injury Lawyers can offer you a free consultation to discuss your options. If you decide to work with us, we will also offer you our services on a contingency fee basis. If you can't come to us, we can reach you through hospital or home visits seven days a week.
Start your journey to file a claim for damages by reaching out to us at 772 – 800 – 8000 or contact us through our website.
For any additional free legal guidance, you can also check out our legal videos through our YouTube channel.
Car accidents are the cause of death and injuries among hundreds of thousands of people all across the United States every year. If you or someone you love has been negatively impacted in a car accident, you can stand for what's right, file a claim for damages and begin the recovery process by obtaining the compensation that will help you deal with the mountain of growing medical bills, lost wages and other issues caused due to the unfortunate crash.