Motorcycle Accident Injury in Wellington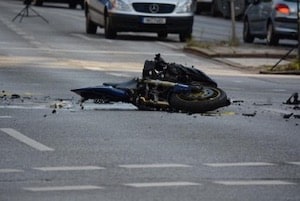 Those who have become involved in Wellington motorcycle accidents that result in a motorcycle accident injuries are far more common than most people know. That's because motorcycle injuries and even fatalities are quite numerous in the state of Florida, due to its sunny weather and good motorcycle riding conditions. This has led to the statistic that the state actually led the U.S. in 2015 when it came to motorcycle accident deaths. Looking at all of the fatal vehicle accident deaths in the state will show that motorcycle crashes figure in about 19% of these incidents. This shows just how prevalent motorcycle accidents are and those who live in Wellington need to be aware of these statistics.
In deference to these numbers, motorcycle statutes have been enacted in Florida. Some of the unique statutes that apply are:
It's considered a moving violation to create a situation in which a motorcyclist forces their wheel to lift off the ground in an effort of "showmanship". In other words, "wheelies" are not allowed per Florida Statute 316.2085 (2). Of course, this doesn't apply to a situation in which the wheels lose ground contact, for a moment, due to road conditions.

If someone in Wellington would like to have a motorcycle endorsement on their driver's license or a motorcycle-only license, then they would have to meet state requirements: they must be at least 16 years of age and if under 18, they cannot have any traffic violations for a period of one year prior to the endorsement application. The applicant must also possess a class E driver's license and, no matter their age, they must attend and complete a Basic Rider Course.

A motorcycle only license or a motorcycle endorsement on a standard driver's license is required to operate motorcycles which have larger than 50 cc engines.

Those motorcyclists who are 21 or older, are required to have a minimum of $10,000 of medical insurance coverage, should they decide to operate a motorcycle without using a helmet. This statute is in place in order to mitigate any expenses involved with suffering head injuries as a result of motorcycle accidents.

Those riders who are under 21 years of age are required to wear a helmet when operating a motorcycle.

All motorcycle operators are required to wear eye protection.
Unfortunately, it is estimated that 1 in 7 motorcycle operators don't possess $10,000 in medical insurance.
Who is Responsible for a Motorcycle Accident?
There are a number of misconceptions regarding motorcycle accidents that are held by the general public in Wellington. Be that as it may, like the average car accident, the most common cause of a motorcycle accident is negligence. The term "negligence" refers to a situation in which a party breaches their duty of responsibility to another and this breach has led to the creation of damages to another.
When it comes to a duty of care or a duty of responsibility, we're referring to adhering to the law and driving in a safe manner for the benefit of all those who are on the road. Therefore, when it comes to a breach of this responsibility, we're referring to; driving too slowly, driving too fast, neglecting to use proper turning indicators and driving under the influence of alcohol/drugs.
If a motorist's negligence is the cause of a motorcycle accident and the victim suffers from injuries, they may be entitled to compensation for their damages. These damages may include both economic and non-economic losses.
Is More Common for a Motorcyclist to Have Caused an Accident?
As mentioned before, there are a number of misconceptions regarding motorcycles and vehicle accidents. One of these misconceptions involves the belief that in a motorcycle accident, it is the motorcyclist who is usually responsible for the crash. However, this is not the case. According to statistics, it's the auto and truck motorists who are more likely to be responsible for an accident involving motorcycles. There was a study conducted by the University of South Florida's Center for Urban Transportation Research, In that study, it was discovered that approximately 60% of motorcycle accidents were the result of negligence from the other vehicles as opposed to the motorcycles. This report was published in the (South Florida) Sun Sentinel.
The primary reason for these statistics has to do with situations in which vehicles, other than motorcycles, did not yield the right of way when they should have. One example of this can be seen in a scenario in which a car driver decides to pull out from a curb and ends up landing straight in the path of an oncoming motorcycle that they didn't watch out for. In this case, the car driver either didn't "register" the observation of the motorcycle or they somehow thought that the motorcycle, because of its smaller size, would somehow magically change lanes upon anticipating what the car driver was going to do.
Another possibility is more of a psychological one that applies to other situations as well. This has to do with the fact that some drivers of cars and trucks feel that a motorcyclist should automatically yield to a vehicle that is much larger than theirs. Another psychological reason can be found when the driver of a car or truck doesn't subconsciously acknowledge the smaller motorcycle on their mental "radar" and automatically react to it, as they would a larger vehicle. While these are valid occurrences, driving a vehicle requires paying attention to one's surroundings and that, in and of itself, would offset any vehicle size discrepancies. Not paying attention can equal "negligence".
What are Some Other Causes of Motorcycle Accidents?
When it comes to motorcycle accidents, cell phones can play an important part, just as they do with other types of vehicles. This is the reason why a new statute was put into place that affects Wellington motorists by making certain operations of a cell phone a primary violation as opposed to the secondary violation that it previously was. This information can be found in Statute 316.305.
If a motorcyclist is positive that the driver who caused the accident was being distracted by their cell phone use, an experienced motorcycle accident injury attorney may assist you by trying to secure the necessary records and by interviewing witnesses.
Motorcycle Safety Statutes
There are a number of current motorcycle statutes that are related to safety issues. These are designed to deter motorcycle accident injuries and fatalities in Wellington and in other Florida locations. These include:
No individual shall operate a motorcycle with a helmet that is equipped with a headphone, headset or other form of listening device other than a hearing aid. section 316.304(1)
According to section 316.304(2), this does not apply to:
Any person operating a motorcycle who is using a headset that is installed in a helmet and worn so as to prevent the speakers from making direct contact with the user's ears so that the user can hear surrounding sounds.
Any person using a headset in conjunction with a cellular telephone that only provides sound through one ear and allows surrounding sounds to be heard with the other ear.
Any person using a headset in conjunction with communicating with the central base operation that only provides sound through one ear and allows surrounding sounds to be heard with the other ear.

Every vehicle shall be equipped with a mirror so located as to reflect to the driver a view of the highway for a distance of at least 200 feet to the rear of the motor vehicle. section 316.294
Every motorcycle shall be equipped with at least one stop lamp. section 316.420
Every motorcycle shall be equipped with multiple-beam road lighting equipment. section 316.430(1)
Such equipment shall:
Reveal persons and vehicles at a distance of at least 300 feet ahead when the uppermost distribution of light is selected; section 316.430(2)(a)
Reveal persons and vehicles at a distance of at least 150 feet ahead when the lowermost distribution of light is selected. section 316.430(2)(b)
All motorcycles are entitled to full use of a lane and no motor vehicle shall be driven in such manner as to deprive any motorcycle of the full use of a lane. This subsection shall not apply to motorcycles operated two abreast in a single lane. section 316.209(1)
A person may not operate or ride upon a motorcycle unless the person is properly wearing protective headgear securely fastened upon his or her head which complies with Federal Motorcycle Vehicle Safety Standard 218 promulgated by the United States Department of Transportation. The Department of Highway Safety and Motor Vehicles shall adopt this standard by agency rule. section 316.211(1)
What Should I do if I Become Involved in a Motorcycle Accident?
Should you become involved in a Wellington motorcycle accident, the steps that you should take are relatively similar to the steps that are suggested in any vehicle accident. After the accident has just occurred, you will want to check for any injuries. You will also want to ensure that everyone is safely out of the path of any oncoming traffic. Contact 911 and emergency medical services, if needed, and any other care that is requested by the injured in accordance with state laws.
The next thing that you will want to do is to contact the police and wait for their arrival. You should give them your full cooperation and answer any questions that they may have.
If you are injured or suspect that you may be, go directly to a hospital emergency room in order to get checked for an obvious or hidden motorcycle accident injury. Even if you feel alright, remember that there are many types of injuries that are difficult to detect and some that may not manifest until later on. Get copies of all bills and medical records. If any injuries are detected and treated, be sure to make a follow up appointment.
It is strongly advised that you seek the advice of a dedicated motorcycle accident injury attorney for comprehensive legal guidance.
Contact your insurance company and do not discuss the accident with the other driver's insurance company. Also, do not accept any settlements offered by another insurance company until you have first spoken with an experienced motorcycle accident attorney, who will provide you with a free initial consultation.
Enlist an Experienced Personal Injury Lawyer to Protect Your Rights
Deaths and injuries from a Florida motorcycle accident can be the result of reckless behavior, which may occur in Wellington at any given time. In addition, it's important to understand that while high speeds are often a factor, there are also many times when this isn't the situation. There have been a number of cases in which a very low speed motorcycle crash has resulted in an injury that eventually led to a person's death. The injuries involved may include brain damage and various internal organ injuries. Therefore, even if you are involved in a Florida motorcycle accident that occurred at a low speed, it is advised that you seek medical care and the advice of a motorcycle accident personal injury attorney.
Therefore, if you or a loved one are involved in a Wellington motorcycle accident, contact an experienced personal injury attorney who will try to get you the care and compensation you deserve. Discuss your case with a Motorcycle Accident Personal Injury Attorney Serving Wellington Today! Turn to Frankl & Kominsky for comprehensive legal guidance. Call (561) 800-8000 or use our Contact Form to set up a free consultation.