Cell Phone Use Accidents While Driving Lawyer Serving Palm Beach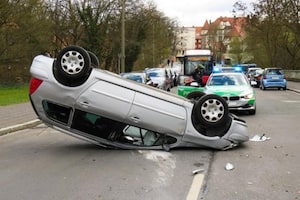 The majority of people who happen to be driving on the road are completely aware that operating a motor vehicle is a serious business. However, driving is also something that we tend to take for granted, since it's such a common task. As such, we can sometimes overlook the importance of what it means to be piloting a large machine, fuelled by a highly flammable substance and/or high voltage batteries. This is where we can see cell phone use while driving motor vehicle accidents that can lead to devastating injuries and even fatalities.
But one fact remains. Driving a vehicle demands one's utmost attention. Even so, we see that, according to nationwide public records, cell phone use while driving is responsible for approximately 1.6 million car accidents annually. The National Safety Council has also issued a report that approximately 390,000 injuries are directly related to texting while driving. Amazingly enough, this boils down to 1 out of 4 U.S. vehicle accidents can be attributed to driving and texting. Some other statistics include:
Out of the number of teenagers who were involved in fatal car crashes, 21% of them were distracted due to cell phone use.
There was a poll conducted by AAA that illustrated about 94% of teenage drivers understood just how dangerous it is to driving and texting at the same time. But 35% of them reported that they do it anyway.
When answering a text message, you are removing your attention from the road for a period of about 5 seconds. At 55 mph, this equates to driving the entire length of a football field.
While drunk driving is also very dangerous, texting and driving has been shown to be 6 times more likely to cause a car crash!
How can texting while driving in Palm Beach cause car accidents?
It's no secret that the rise in cell phone popularity is directly related to the increase in cell phone-related car accidents. Cell phone use is so prevalent these days that many homes opt to do away with traditional landline phones and rely solely on cell phones. That's all and very well, but it can become a problem when those cell phones are taken out of the home and carried along with a motorist.
Another issue that can claim responsibility is the fact that people, these days, feel the psychological need to "stay connected" with family, friends and work colleagues. Not only that, but we are now living in what's known as the "information age". Nowadays, it's quite common to transact business online through the use of one's cell phone or other electronic communication device. This may involve everything from connecting with an office to purchasing products from an Internet store. This virtually endless list of cell phone connection reasons and opportunities has made cell phone use, while driving, a major concern on today's roadways.
What are the Palm Beach statutes regarding driving and cell phone use?
Even though there is a tremendous amount of danger associated with driving and cell phone use, it's interesting to note that it was only considered a secondary offense, until recently. Until 2019, cell phone use while driving wasn't listed as a primary offense. That meant a police officer didn't have the authority to pull over a driver that they saw texting and driving, unless the driver had committed some primary offense (such as running a stop sign).
However, in 2019, Senator Wilton Simpson, R-Trilby filed a measure known as the "Florida Ban on Wireless Communications Devices While Driving Law" (SB 76). This statute makes it illegal to drive while texting. But even though the original proposed ban was rejected, a revision was submitted and approved. This made it a primary offense to text and drive and forced the application of hands-free wireless communication devices for normal communication (with certain restrictions). There are also provisions in place for cell phone use during emergency situations. The final bill was approved on 5/17/2009 by Governor Ron DeSantis.
As such, the Florida statutes concerning driving while using wireless devices include statute 316.305, which is designed to eliminate cell phone use while driving car crash incidents. Specific statute provisions include:
A person may not operate a motor vehicle while manually entering or typing multiple; symbols, numbers, letters or other characters into a wireless communications device. This also includes reading and sending data on a wireless device for the purposes of (non-voice) interpersonal communication. This includes but is not limited to; instant messaging, e-mailing and texting. (3) (a).
The term "wireless communications device" applies to any handheld device that is intended or designed to be held in a handheld manner. The device is also designed or intended to transmit or receive character-based or text messages, store or access data or connect to the Internet or any other communication service that is defined in s. 812.15 and that allows text communication.
Vehicles that are not being operated and are stationary are not included in this statute and therefore are not subject to this prohibition.
In addition, this prohibition does not apply to motor vehicle operators who; performing official duties as an operator of an authorized emergency vehicle, as defined in s. 322.01, a fire service or law enforcement professional or an emergency medical professional.
In addition, this prohibition does not apply to those who are reporting a suspicious or criminal activity to law enforcement authorities.
This prohibition does not apply to those who are receiving messages that are; related to the navigation or operation of the motor vehicle, safety-related information which includes weather, traffic or emergency alerts data used primarily by the motor vehicle, radio broadcasts, using a system or device for navigation purposes, conducting wireless interpersonal communication that doesn't require manual entry of multiple numbers, letters or symbols except for the purposes of deactivation, activation or for the initiation of a function or feature.
In the event of a crash that involves personal injury or death, the operation of an autonomous vehicle in autonomous mode, as defined in s. 316.003, the driver's wireless communication device's billing records or the testimony/written statements from the appropriate authorities receiving such messages may be admissible as evidence in proceedings that are designed to determine if a statute has been violated.
Why is it important to consult with an attorney in a texting while driving accident?
Once you have become involved in a texting and driving accident, one of the things that is suggested is that you seek the advice of an experienced texting and driving accident attorney, who serves Palm Beach. There are a few reasons for this. First of all, the initial consultation is free of charge, so you have nothing to lose. This will give you the opportunity to discuss what your options are, when it comes to possibly obtaining any damages for any losses that you may have incurred. This is especially true for your medical expenses and compensation for any income that may have been lost while recovering from your injuries.
Also, you might want to consider that there are certain types of injuries that can be sustained in a car crash, which may not be initially apparent. For example, what appears to be a minor case of whiplash may end up hiding a small fracture that might eventually evolve into a seriously debilitating injury. This is just one reason why you would want to focus strictly on your healing, as opposed to running around while attempting to handle various legal requirements.
How can you prove distracted driving under Palm Beach statutes?
When a driver has been guilty of using their cell phone while they are driving, under the law, they could be considered negligent. In a case such as this, the negligent motorist may be found to be responsible for the resulting injuries and other associated damages. One of the keys, when it comes to proving this situation is obtaining evidence that may be gathered from witnesses who are able to report what they had seen in regards to the accident. This is the reason why it is considered vitally important that, immediately after the accident, you try your best to get contact information from any witnesses present.
In any case, such as a cell phone use while driving accident, the injured party will be required to prove 4 standard elements that pertain to negligence on the part of the driver who was using a cell phone. These consist of:
Duty – It should be shown that the motorist owed a care of duty to the other motorists on the road. In this case, it means driving in a safe and acceptable way in order to avoid accidents.
Breach of duty – It needs to be shown that the motorist breached their duty of care by becoming involved in a task that caused them to become distracted from their driving. In this case, using their cell phone.
Causation – It should be shown that through the motorist's breach of duty, an accident occurred which has caused injury to the other driver.
Damages – It should also be demonstrated that the accident, which was caused, has led to the specific damages suffered by the victim.
What damages is a Palm Beach texting while driving accident victim entitled to?
When one has been involved in a cell phone distracted motorist accident, they may be entitled to restitution for the injuries and other losses that have occurred. This includes both economic and non-economic damages. When it comes to economic damages, this is usually calculated in a dollar amount to be awarded. Non-economic damages can be considered to be more "intangible" and could entail losses associated with emotional stress and other forms of injury.
In any case, these damages may include:
Medically-related expenses such as hospital stays, doctor visits and physical therapy
Loss of earnings due to time missed from work
Compensation for past, present and future pain/suffering
Mental anguish/emotional stress
Loss of consortium and support from a spouse
Enlist an Experienced Personal Injury Lawyer to Protect Your Rights
Deaths and injuries from a motor vehicle accident can be the result of distracted behavior, which may occur in Palm Beach at any given time. In addition, it's important to understand that while high speeds are often a factor, there are also many times when this isn't the situation. There have been a number of cases in which a very low speed car crash has resulted in an injury that eventually led to a person's death. If you or a loved one are involved in a car accident due to distracted driving from cell phone use, it is advised that you seek medical care and the advice of a car accident personal injury attorney.
Discuss your case with a Cell Phone Use Car Accident Personal Injury Attorney Serving Palm Beach Today! Turn to Frankl Kominsky for comprehensive legal guidance. Call 561-800-8000 or use our Contact Form to set up a free consultation.