Car Accident Lawyers Serving Palm Beach Gardens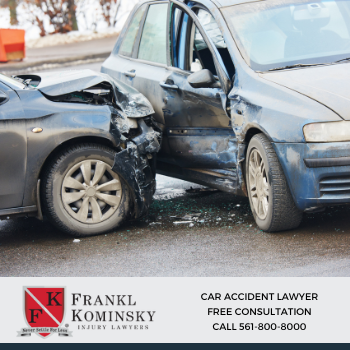 Car accidents happen every day. Whether minor or major, they can leave behind stress and frustration of medical bills, car damage, and wondering what you're going to do next.
There can be many headaches that come with car accidents, especially if you don't know what to do. Luckily, you can find an experienced Palm Beach Gardens Car Accident Lawyer to help during any part of the process.
Frankl Kominsky Injury Lawyers is a highly acclaimed firm with plenty of experience to help you seek extra compensation for your car accident claim (by appointment).
Types of Car Accidents
There are several incidents that count as a car accident that will leave you filing a claim with your insurance company. Depending on the type of accident and the cause, you could file several claims against different entities.
Here are the basic types of car accidents broken down:
Negligence
Defective Parts
Road Design
Wrongful Death
Negligence fits the common types of car accidents that involve another party that can consist of the following and more:
Distracted driving
Driving under the influence
Hit and run
Speeding
Texting and driving
If the cause of your accident is from a defective part of your car or poor road design, your attorney could help you file a claim against the responsible party, but these cases are more complex. They require a lot of evidence that your attorney will know how to collect.
Florida's Statute of Limitations
Looking to possibly file a claim? In Florida, there is a strict two-year deadline that allows civilians to file a claim starting from the date of the crash.
Your best chance of winning a claim starts with the sooner you file. If you miss the two-year window, there is a very strong chance your case will be dismissed if you do not meet certain exceptions. There is also the possibility that your case will not be taken seriously the longer you wait.
There is a grace period if you are severely hurt in your accident and cannot advocate for yourself right away. However, as soon as you are able to start searching for an attorney and filing a claim with your insurance, it is well-advised to do so.
What to Do After a Car Accident
If you have never been involved in a car accident, it can be a whirlwind of shock and emotions that causes you not to know what to do in the moment. While that's understandable, you should do the best you can to do the following steps.
Stay On the Scene
Even if the accident is not your fault, do not flee the scene. Stay where you are to not put yourself in a position where the at-fault driver spins the story back on you. If you are able to get out and look for damages, do so until the police arrive.
Get The Other Driver's Information
Florida has specific car accident laws in place that puts a limit on most civilians' ability to file claims against other drivers unless they meet certain requirements. However, that doesn't mean you shouldn't get their information, such as their name and how to contact them. This could be beneficial for later use.
Call the Police
Additionally, you should call the police out to the scene so they can file an official report. A police report can be used as evidence if you meet the eligibility to file a third-party claim. Police reports are unbiased and can give detailed information as to how the accident happened and who is at fault.
Seek Medical Attention
Just as the police report, medical records can help your case. If your car accident was minor, you might feel the need to refuse medical treatment. This is highly advised against for several reasons. Firstly, you might have more of a health issue that needs to be looked at than you think. Secondly, it's still best to have medical records that show proof of your injuries from the accident that can also be used as evidence if you file a claim later on.
Understanding Your Rights after an Accident
Florida operates differently than most states when it comes to car accidents. According to their no-fault rule, which we discuss in the next section, civilians still have the right to file claims to seek financial help, but they must first start off with their insurance.
If you were the one who is at fault for the wreck, the modified comparative fault could assist you by still allowing you to seek financial help for your needs other than car damage. The modified comparative law does not neglect your right to file a third-party claim if your case meets certain requirements.
Florida's No-Fault Insurance Laws
Let's introduce the no-fault law. The no-fault law in Florida means that instead of filing a lawsuit against the other driver, civilians need to seek financial assistance from their insurance.
It is a requirement in Florida for every individual to carry a minimum of $10,000 in personal injury protection, which helps financial recovery for medical bills and lost wages, and at least $10,000 in property damage liability.
The personal injury protection is not in place to help with damages to your car, so if you would like to have that option, you should add collision coverage.
Can You File a Third-Party Claim?
While the no-fault rule is in place to try and limit the amount of car accident lawsuits being filed, there are regulations for allowing civilians to step out of the no-fault system if they meet one or two requirements.
Medical bills exceeding a certain limit
Suffering from a severe injury
The severe injury must be at least one of the following:
Death
Permanent scarring
Amputation
Life-altering complications
On-going medical care
Unsure if you meet the requirements to step out of the no-fault system? Set up a free consultation today with Frankl Kominsky Injury Lawyers to find out.
When and Why to Hire a Car Accident Lawyer
It is highly recommended that you hire a car accident lawyer before you file a claim with your insurance. Lawyers aren't just handy tools for third-party claims, they can be great assistance for combating insurance settlements, too.
While you have a minimum of $10,000 in assistance, it is likely you won't get all of it or even half of it. Insurance companies are trying to save their business money, which hurts you. A lawyer can give you advice in either accepting or rejecting an insurance offer to negotiate with them to raise the amount when necessary.
Filing a Personal Injury Lawsuit
Your attorney will be responsible for conducting most of the work in your case if you are able to file a third-party claim. It is possible that your attorney will recommend you file a personal injury lawsuit.
Personal injury is a term used to refer to the suffering and harm a person encounters as a result of someone else's negligence. When you decide to file a personal injury lawsuit, you will file a complaint with your attorney, who then will draft up the papers to serve the defendant. The defendant will have the opportunity to pay a settlement, but if they refuse, the case will go to court.
How Long Will a Personal Injury Case Take?
The complexity of your case will determine how long your case will take. Some cases are very quick while others can take a few months or several years.
You can take a pause if the defendant is hard to locate or if there is minimal cooperation in the process. Depending on how backed up the court system is can also put a temporary hold on the progression. Your attorney will work hard in moving your case close to the finish line with the success you want.
To really know how long your case will take, ask your attorney.
How Much Can You Expect to Receive Out of a Personal Injury Settlement?
There is no cap on how much you can come out of your lawsuit with, but there are factors the jury considers when determining how much to award. Those factors can include:
Age
Pre-existing conditions before the wreck
Who's at-fault
How the wreck occurred
When the jury decides a settlement, they factor in these conditions for the plaintiff:
Economic damages (added total of losses and wages)
Non-economic damages (mental and physical suffering)
The final amount may be multiplied by any number between 1 and 5 in the multiplier method for extra compensation.
Start With Frankl Kominsky Injury Lawyers
Make headway with your case by contacting Frankl Kominsky Injury Lawyers today. Our firm has been around for more than 40 years fighting for the people of Palm Beach Gardens, Florida (by appointment only). We've handled countless car accident claims in our day and know how to help you seek extra compensation.
When you're ready, call our firm at (561) 800-8000 or place your information in our free case evaluation form you can find online.