Slip and Fall Lawyer Serving Palm Beach Gardens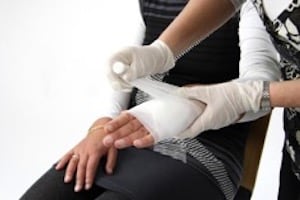 Palm Beach Gardens is located within Palm Beach County and is home to over 56,000 residents. The city offers many local attractions and hosts some of the nation's largest Golf Tournaments such as the Honda Classic and PGA National Golf Tour. The city also offers residents and tourists many attractions and shopping centers including The Gardens Mall, Downtown At The Gardens, and the John D. MacAuthur Beach State Park.
As the population increases, emergency rooms and urgent care centers in Palm Beach County have seen a rise in injuries as a result of slip and fall accidents. When we were much younger, having a slip and fall accident was a pretty common thing. It mostly had to do with our age and the fact that we had not yet learned to keep our balance as well as an adult. Fortunately, we were lower to the ground back then and our bones were more flexible. This means that, aside from the rare serious injury, we usually ended up with just a few cuts and bruises which could be treated at home. But, as an adult, slipping and falling can be another story altogether.
Palm Beach County: Common Slip and Fall Injuries
When an individual slips and falls on an oily or slippery substance, they can sustain serious injuries that require immediate medical treatment followed by extended care and rehabilitation. Here are the most common injuries following a slip, trip or fall accident:
Broken or Fractured Bones
Traumatic Brain Damage or Concussion
Knee Damage
Muscle Sprains
Dislocated Shoulders
Nerve Damage
Injuries to the Spine
Cuts and Bruises
If this situation was the result of negligence on the part of a property owner or manager, then it may be a good idea to speak with a slip and fall lawyer serving Palm Beach Gardens. This is especially true when your slip fall accident has led to time off from your job, costly medical treatment and on-going care. A lawsuit may possibly be your best option when it comes to receiving compensation for the damages you have incurred.
Of course, there are often times in which a slip and fall accident comes about due to no one's fault. But there are also times in which the accident could have been avoided if someone had done their job properly. When someone's negligence has resulted in another person's expensive hospital stay or lost income, then it can be important to know just how to recover from those financial losses.
Palm Beach County: Statute of Limitations for Slip and Fall Accidents
When someone decides to file a lawsuit for their slip and fall injury in Palm Beach Gardens, then they should know what is involved regarding this legal process. One important thing to know is that there is a statute of limitations that applies to this type of lawsuit. Let's look at an example of a possible slip and fall incident from a legal point of view.
Suppose you have been given an appointment to speak to someone who is located in an office building. Shortly after arriving at the building for your appointment, you happen to slip and fall on a puddle of liquid that was located in the middle of a hallway floor. This took you completely by surprise since there were no warning signs posted that indicated that there might be a hazard in the area.
One you've fallen, you quickly determine that you have injured your hand. After making a report with the building manager, you decide to have your hand checked out at a local medical emergency center. There, it is determined that you have broken a bone in your hand and that treatment will be necessary. Since your job requires the use of both your hands, you'll need to take some time off (without pay) in order to heal. There are also expensive medical treatments involved. At this time, you have decided to file a lawsuit against the owner of the building in order to recover those expenses.
In a situation such as this, the state law requires that you must file your lawsuit within 2 years, from the time of the accident. Failure to file within this time limit will result in your claim being dismissed. Although, there have been exceptions to this rule, these are very rare. In addition, if a slip and fall injury has resulted in a fatality; the person's estate only has 2 years, from the time of death, to file a lawsuit. You can find the specific information here: Florida Statute section 95.11(3)(a). Speak to an experienced slip and fall lawyer for legal guidance in your Palm Beach Gardens slip and fall claim.
Who is Responsible for a Slip and Fall Accident?
Property owners in Florida are required to keep their premises safe and secure. They have a legal obligation to fix any hazards on their property and make sure that guests are adequately warned of any dangers. When a property owner is negligent in maintaining their premises, and someone is injured as a result, our dedicated attorneys may be able to help the injured party recover compensation for their losses.
In Florida, a property owner can be considered negligent if they knew or should have known of a hazard and failed to repair it, or failed to provide warning about a known hazard. Slip and fall accidents can occur at private residences, retail stores or shopping malls, grocery stores, restaurants, hotels, nightclubs, schools, parks, sports stadiums, parking garage or parking lots or amusement parks. Our attorneys are available to assist you in determining who is liable for your claim and pursuing compensation for your damages.
Invitees vs Licensees vs Trespassers
Invitees are the people who are present at the property for a reason. They can be a business or a public invitee. For example, a person who is present at a park or a public library is a public invitee. On the other hand, an individual in a retail store is a business invitee. The invitation to the property is implicit for invitees.
Licensees are present at the property for amusement at the invitation of the property or the business owner. Relatives who visit a family member are licensees. Similarly, guests at a party are also licensees.
Anyone present on a property without being invited or for a business benefit is known as a Trespasser. Property owners are required to keep the property safe for trespassers as well. Examples of trespassers include robbers and vandals
What Damages can You try to Recover in a Florida Slip and Fall Claim?
Medical Bills
Future Medical Expenses
Lost wages and future lost wages
Pain and Suffering
Full of Partial Disability
Cost of Home Accommodations
What are Some Types of Slip and Fall Cases That We are Available to Handle?
Slip and Falls at Private Residences
Retail Stores or Shopping Malls
Grocery Stores
Restaurants, Hotels, Nightclubs
Schools, Parks, Sports Stadiums
Parking Garage or Parking Lots
Amusement Parks
What to Do After a Slip and Fall Accident?
If you or someone you know has sustained injuries due to a slip and fall on someone else's property, speak to a Florida personal injury lawyer, who serves Palm Beach Gardens for guidance on what steps you should take. Some suggestions that you may wish to consider include:
You should call for assistance. You will probably want someone there with you if you should suddenly need help while you're trying to get up. That's because it's possible that you may be hurt more than you realized. In a case in which there is a serious injury, you'll need to contact 911 or emergency medical services.
Be sure to get the contact information and statements from any witnesses to the accident. This may be of great assistance to your attorney later.
The accident should be reported right away to either the building owner or the building manager. An accident report should be created and you should not leave the premises without a copy of that written report.
If you are able to do so, take photos of the area where you slipped and fell. Include photos of the hazardous condition, including any liquids on the floor or uneven surfaces.
Seek medical treatment for your injuries. If you're able to travel yourself, head directly over to a local hospital emergency room or your own doctor for a full checkup. You will also want to set up a follow-up appointment, as well. All copies of your medical bills and doctor reports should be kept in a single location in your home for easy access.
Strange as it may seem, you also want to keep the clothes and shoes that you were wearing at the time of the accident in a separate location in your home.
What not to Do After a Slip and Fall Injury
Avoid posting any information about the accident on social media.
Never discuss the accident in detail with anyone (building owner, manager, property owner's lawyer or the property's insurance company). Do not provide a recorded statement without first speaking to a slip and fall accident lawyer.
You should not accept any money or sign any checks or accept a settlement without speaking to a dedicated personal injury accident lawyer serving Palm Beach Gardens
Above all, if you sustained injuries in a slip and fall accident, you should immediately contact an experienced slip and fall lawyer for advice on how to proceed with your claim. The initial consultation is completely free – so you will have nothing to lose.
Ask Our Slip and Fall Lawyers: I was injured on someone else's property. What should I do?"
What are Some of the Laws that Pertain to a Palm Beach Gardens Slip and Fall Claim?
There are several statutes that cover slip and fall cases. Florida slip and fall lawyers may often cite:
Statute 768.0755 (1) Which applies to premises responsibility for items that are not properly cleaned up in a business building.—

If a person slips and falls on a transitory foreign substance in a business establishment, the injured person must prove that the business establishment had actual or constructive knowledge of the dangerous condition and should have taken action to remedy it.
Slip and Fall Accidents in the Workplace
Employees and workers are often injured when a property owner, management company, or employer fails to maintain their property. These can be caused by failing to repair faulty steps, stairways, railings, potholes or uneven surfaces.
If you or a loved one are injured in a slip and fall accident that occurred on a private or commercial property, it is advised that you seek medical care and the advice of a slip and fall personal injury attorney.
Contact an experienced personal injury attorney, who can assist you in pursuing the care and compensation that you rightfully deserve. Therefore, if you or a loved one are involved in a Palm Beach Gardens slip and fall accident, contact a Florida personal injury attorney.
Discuss your case with a Slip and Fall Injury Attorney Serving Palm Beach Gardens Today! Our attorneys have over 40 years of combined legal experience. Turn to Frankl Kominsky for comprehensive legal guidance. Call 561-800-8000 or use our Contact Form to set up a free consultation.