Slip and Fall Lawyer Serving Riviera Beach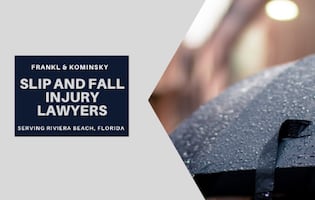 The city of Riviera Beach is home to over 32,000 residents, a large food distributor, Cheney Brothers, and Lockheed Martin, a weapons and submarine manufacturer for the US Military. Slip and fall accidents are common in Florida. The latest statistics from the US Bureau of Labor Statistics show that slips, trips, and falls are the second most fatal workplace events in the state.
Falls are the leading cause of death in the state among senior individuals.
If you or your loved one have been injured in a slip and fall accident, our slip and fall accident lawyers can try to help you get compensation from the liable party. Our knowledgeable attorneys are well versed in Florida laws relating to slip and fall injury cases.
Types of Slip and Fall Cases We Handle in Florida
We handle all types of slip and fall cases. You can contact us for slip and fall injuries that occur at:
Amusement Parks
Grocery Stores
Private residences
Retail Stores or Shopping Malls
Restaurants, Hotels, Nightclubs
Schools, Parks, Sports Stadiums
Parking Garage or Parking Lots
Know that the Florida Statute of Limitations specifies the time limit for filing a slip and fall injury lawsuit. You need to file your lawsuit within two years after the slip and fall accident. If you fail to file within this deadline your case will likely be dismissed and you will be barred from pursuing compensation from the liable party. If a loved one has died from a slip and fall, then you would only have two years from the date of death to pursue a wrongful death lawsuit. It is important that you contact an experienced attorney soon after sustaining an injury in a slip and fall accident.
What to Do After a Slip and Fall Accident?
Seek Medical Treatment
Make sure that you seek medical treatment for your injuries. You should have a thorough examination at your own doctor or visit a hospital in Riviera Beach such as Kindred Hospital The Palm Beaches and Riviera Beach Urgent Care after a slip and fall injury.
You should get a medical examination even if you don't experience any pain. The reason is that some injuries, particularly neck and back injuries, may not become apparent until the next day or a few days later. Be sure to keep copies of your medical records and bills.
Take Photos and Videos of the Accident Scene
If you have a smartphone, you should take photos and videos of the accident scene. You should take pictures of any uneven surfaces, liquid on the floor, faulty lighting or any other hazard that may have contributed to the fall.
Collect Contact Information and Statements from Witnesses
Collecting contact information is also important after a slip and fall accident. You should collect the names and phone numbers of any witnesses at the scene of the accident. Your slip and fall accident attorney will try to contact the witness to get statements that may be used in your claim.
File an Accident Report with the Business
Lastly, you should request the premises owner or manager to file an accident report. Make sure that you ask for a copy of the accident report.
What not to Do After a Slip and Fall Injury?
Do not provide a recorded statement to the insurance company
You should not give a recorded statement or speak to a representative of the insurance company or any other party without first consulting with your slip and fall injury attorney.
Do not sign any documents from the insurance company
You should also not sign any documents presented to you from the insurance company. Do not accept a settlement offer without speaking with a qualified slip and fall lawyer.
Common Types of Injuries You can Sustain in a Slip and Fall Accident
Broken or Fractured Bones
Knee Damage
Traumatic Brain Damage or Concussion
Cuts and Bruises
Muscle Sprains
Nerve Damage
Dislocated Shoulders
Injuries to the Spine
Who is Responsible for a Slip and Fall Accident?
Slip and fall accidents often lead to serious injuries. For many families, paying for medical bills creates a lot of financial stress. The party responsible for the trip and fall accident may be responsible to pay for your medical expenses.
But who pays for medical bills after a slip and fall Injury?
The party liable for a slip and fall accident differs in each situation. Owners of the property where the slip and fall injury occurs may be responsible for the injury. But in some situations the party responsible for maintaining the property may be held liable. Our attorneys will review your claim and try to determine who is responsible for causing the accident.
Slip and Fall Accident Liabilities: Invitees vs. Licensees vs. Trespassers
As per Florida law, the owner of a property must take ordinary care to keep the premises safe. In that regard, you need to understand the difference between invitees, licensees, and trespassers.
Invitees are individuals who are present on the property legally. An invitation can be explicit, such as in the form of an invitation card. It can also be implied depending on the nature of the premises. For instance, the invitation is implied for customers in a retail store.
A licensee is a person who does not have any contractual relation with the property owner but is permitted to be on the premises. Examples of a licensee include guests who are invited to a social gathering.
Trespassers are individuals who are not allowed to be on the premises. A trespasser refers to a person who should not be on the property. Surprisingly, a homeowner has to care for the trespassers. This means that a homeowner may be held liable not taking ordinary care if a trespasser gets injured while on-premises.
Workplace Injuries and Causes of Slip and Fall Accidents
Slip and fall accidents can also occur in the workplace, and they are the leading cause of occupational injury in the US. The injury can occur due to many causes. A common cause of workplace slip and fall accidents is a slippery surface.
Another common cause of workplace slip and fall accidents include obstacles such as loose wiring or carpeting. Workers may trip and fall due to the dangerous floor conditions.
There are many other causes of trip and fall accidents in the workplace. These include:
Inadequate lighting
Improperly maintained walkways or sidewalks
Cluttered walkways
No winter weather maintenance
The worker compensation act in Florida is a no-fault system. This means you do not have to prove that the employer is liable for the accident. Worker compensation benefits that you can receive from the employer include medical bills, additional expenses for crutches and other items, and two-thirds of the lost wages during the recovery period.
There are also times when the slip and fall injury is caused by the negligent actions of a third party. Should this happen to occur, it might be the best time to seek the help of an experienced injury attorney.
Related Video
I was injured on someone else's property. What should I do?
What Damages can You Recover in a Slip and Fall Claim?
Victims of slip and fall accidents can try to recover compensation for economic and non-economic damages. Some of the damages that you may be able to pursue include:
Medical Bills

Victims of a trip and fall accident can pursue compensation for the cost of medical treatment. You can claim both past and future medical bills from the at-fault party.

Full or Partial Disability

Slip and fall accident victims can also seek compensation for a disability. They can seek compensation for full or partial disability.

Full disability refers to a disability that prevents a person from performing any work. Examples include loss of arms, hands, or eyes.

In contrast, partial disability is one where a person is unable to perform certain tasks. Examples of partial disability include reduced eyesight. A person may be able to perform less work due to a partial disability.

Cost of Home Accommodations

Modifications in home accommodations may be necessary in case of a disability. The aim of the modification can be to make the bedroom, bathroom, or kitchen accessible for the victim. This may include adding ramps to allow the disabled victim to move around the house. A special bed or bathroom fixtures may have to be purchased. Florida allows victims to seek compensation for all these in-home modifications.

Lost Wages

Slip and fall injury victims may seek compensation for lost wages. An injured person can claim both past and future lost wages.

Pain and Suffering

Victims can pursue compensation for pain and suffering due to their slip and fall injuries. There are many different factors that can go into calculating pain and suffering. These may include the extent of the injury, the type of medical treatment, the length of treatment, length of recovery, and the impact it has on the victim's life.

Our attorneys will offer guidance in calculating adequate compensation for pain and suffering.

Wrongful Death

In the case where your close family member passes away due to a slip and fall injury, you can file a wrongful death claim. A wrongful death claim will allow you to seek compensation for the following.

Funeral and Burial costs of the deceased person
Medical expenses incurred before the death of a victim
Pain and suffering due to the death of a close family member
Loss of income due to the death of the family member
Loss of consortium or companionship due to the death of the family member

Our attorneys can assess your case to try and determine your right to compensation. We can review the evidence and assist you with your claim.
How Frankl Kominsky can Help Your Slip and Fall Accident Claim?
You should speak to a slip and fall accident lawyer for guidance and support in pursuing compensation from the liable party.
Injuries from a slip and fall accident often involve costly medical treatment. Physical therapy and rehabilitation may also be necessary and that can increase your medical bills. Our slip and fall injury attorneys are dedicated to recovering your damages.
Investigation Process

Our slip and fall injury lawyers will assist with investigating your claim and collecting any evidence that may be necessary.

Once they know the cause of the accident, they will try to establish liability for your slip and fall. Determining liability may be difficult but our attorneys will try to find out who is liable for keeping the premises safe.

With the help of a Florida personal injury lawyer, you can try to gain access to evidence which may include video security footage, witness or employee statements and company maintenance records. This evidence may be difficult to obtain without the help of an attorney.

Establishing a Claim

Our slip and fall injury lawyer can also assist you in establishing a claim. We will contact the at-fault party and their insurance company on your behalf.

Negotiating with the Insurance Company

You should know exactly what you are up against when you file a slip and fall accident claim. Insurance companies may have a strong legal team and will likely go to great lengths to defend their case.

At Frankl Kominsky, our slip and fall injury lawyers have experience in dealing with insurance companies. Our attorneys will try to negotiate to get the best outcome for you.

Litigation

In some situations you may decide to pursue a lawsuit against the responsible party. Defending a case without a legal representative can be overwhelming. The attorneys at Frankl Kominsky are available to file a lawsuit on your behalf and represent you in your claim.
Contact Us Today for a Free Initial Consultation!
Slip and fall accidents can result in catastrophic injuries. Contact Frankl Kominsky by dialing 954-800-8000 to get a free evaluation of your case. Our slip and fall accident lawyers can try to help you get the compensation you deserve.
Our attorneys have over 40 years of combined experience in fighting personal injury cases. We have helped many clients obtain successful settlements and verdicts for their personal injuries. Our attorneys are available to provide legal service to residents of South Florida communities such as Riviera Beach, Lake Worth, Delray Beach, Pompano Beach, Boynton Beach, Boca Raton, and Palm Beach Gardens.
We focus on providing an exceptional client experience. Our customer-friendly legal team strives to keep clients updated about the case through effective communication. We clarify the legal proceedings, fees, and other matters related to the client's case. Open and honest communication allows us to build trust and loyalty with our clients.
At Frankl Kominsky, we don't charge upfront fees for slip and fall injury cases. We understand the pain and financial distress an injured person suffers after a trip and fall accident. Our experienced slip and fall attorneys handle cases on a contingency fee basis. This means that you only have to pay a fee in the event of a successful outcome of a case.
Dial 954-627-1661 today to get in touch with our slip and fall accident lawyers for a free initial consultation.
Supporting FAQs
Can a Property Owner Be Held Liable for a Slip and Fall Injury Due to Non-Compliance with Internal Safety Procedure?