Truck Accident Brake Failure Lawyer Serving Palm Beach Gardens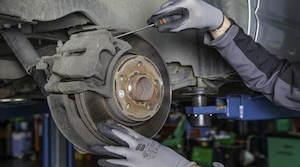 When dealing with large tractor-trailer vehicles, one needs to consider the fact that they possess 18 wheels. Of course, that means that they require 18 sets of brakes in order to stop or slow down properly. Because of the larger number of brakes, there is an increased possibility for a problem that could potentially result in a truck accident. Should a truck accident due to brake failure occur in Palm Beach Gardens, the results could be devastating.
If you or a loved one has become involved in a truck accident that was caused by a brake failure, you should know that the cause may have been due to either improper driver braking or a mechanical failure with the brakes. Since this may be the case, it's also important to understand that negligence may have been involved. However, making this determination can be a complex process and require the assistance of experts. This is why you should contact a personal injury attorney as soon as you can.
With the help of an experienced personal injury attorney, who serves Palm Beach Gardens, you may be able to receive the compensation that you deserve in order to pay for any medical bills, property damage, lost wages and other expenses that can be incurred due to a truck braking accident. Since your initial consulting appointment is free, you have nothing to lose by meeting with an attorney in order to see if you have a valid case that you could pursue.
Why You Would Possibly Need a Truck Accident Attorney in Palm Beach Gardens
Many individuals will assume that there is no real need to enlist the services for a truck accident brake failure attorney. However, in nearly every instance of resulting injury and/or property damage, an attorney is definitely suggested. You may believe that your injuries are not sufficient enough to warrant legal representation. You may also believe that your insurance will take care of any subsequent injuries or property damage. Unfortunately, there are way too many cases in which this belief is sadly erroneous. So, how does one proceed?
Please be aware that even a seemingly minor injury, the medical expenses and lost wages can easily amount to thousands of dollars. You could find yourself paying this out of your own pocket.
Additionally, you may end up discovering that the injuries you received were more serious than you imagined, at first. For example, what appeared to be a mild case of whiplash can be a neck fracture that was originally undetected. If this injury is left untreated, it can eventually become far more serious with the possibility of paralysis or it can even become life threatening. The same holds true for a back injury that turns out to be the result of a spinal fracture. These are outcomes that might take weeks to discover.
Contact an experienced personal injury attorney, they can try to assist you in presenting all of your available options.
What Are the Causes of Truck Brake Failure Accidents?
Serious injuries and the loss of property are not the only potential results of large vehicle accidents. In addition, fatalities can also occur. For example, in 2012, the National Highway Traffic and Safety Administration reported that 3,802 large trucks were involved in crashes with fatalities. This was a 5% increase from the year 2011.
It was also reported that a majority of semi-trailer accidents were the result of negligence on the part of the driver. This is a major reason why it's imperative that truck accident victims understand what their rights are. An experienced personal injury attorney can try to help you to understand those rights.
The U.S. Department of Transportation reported that almost 30% of accidents that were caused by large trucks were the result of brake failure and other issues that involve truck brake problems. Although the federal and state governments have established strict regulations regarding the safety associated with truck brake, braking accidents still persist. In addition, due to the size of tractor trailer trucks, the damages and injuries that are caused can be far more serious than regular car accidents. This boils down to more substantial legal issues.
Some of the more common issues that can cause a truck brake failure include:
Brakes that have become saturated with grease and oil
Tires that have become worn and won't brake properly
Brakes that have become overheated
One would also need to look towards the responsibilities of the individual(s), when it comes to truck accident brake failures in Palm Beach Gardens. These can include:
The truck brake manufacturer
The owner and/or operator of the truck
The company that loaded the truck
The truck mechanic
The driver of the truck
While regulations are in place in order to keep the roads safe from truck brake accidents, there can potentially in which regulations can be ignored for the sake of profit or convenience. This can place other motorists, as well as the truck drivers, in jeopardy.
While it may seem that the causes of truck braking accidents are pretty simple, there are usually more elements to the story. An example of this can be seen when the operator of a truck can depend on downshifting in order to slow the vehicle. This is done in order to save wear and tear on the brakes/tires. However, this type of braking can be less accurate than using the brakes, themselves. Therefore, in an attempt to save money, lives can be lost.
Statutes That Involve Truck Safety
There are a number of both federal and state laws that address the safety measures that are assigned to large trucks. Some of these include:
Large trucks are required to have an approved braking system that has been designed to allow for the stopping and holding of a large vehicle:

Chapter III. FEDERAL MOTOR CARRIER SAFETY ADMINISTRATION, DEPARTMENT OF TRANSPORTATION

Emergency truck brake systems for truck manufactured after July 1, 1973: (1) A bus, truck, truck tractor, or a combination of motor vehicles manufactured on or after July 1, 1973, and not covered under paragraphs (d)(1) or (d)(2) of this section, must have an emergency brake system which consists of emergency features of the service brake system or an emergency system separate from the service brake system. The emergency brake system must meet the applicable requirements of §§ 393.43 and 393.52. A control by which the driver applies the emergency brake system must be located so that the driver can operate it from the normal seating position while restrained by any seat belts with which the vehicle is equipped. The emergency brake control may be combined with either the service brake control or the parking brake control. However, all three controls may not be combined.
Florida brake statutes regarding brakes on trucks – statute 316.261 - Brake equipment required.—Every motor vehicle, trailer, semitrailer, and pole trailer, and any combination of such vehicles, operating upon a highway within this state shall be equipped with brakes in compliance with the requirements of this chapter.
Obtaining Compensation When It Comes to Accidents Due to Truck Brake Failure
When a truck accident due to brake failure occurs in Palm Beach Gardens, a truck accident personal injury attorney will try to establish the culpability of those who were negligent and therefore responsible for the accident. In order to prove negligence, you may try to show:
The truck operator, truck company, truck maintenance and/or the truck manufacturers had a recognized obligation to perform with reasonable care
In regards to this accident, a violation of duty to use care occurred
The violation resulted in injuries
The victim of these injuries was forced to incur damages that are able to be compensated as a result
When it comes to protecting motorists, pedestrians and property, care must be taken by those who operate trucks and those who are responsible for the design, construction and maintenance of these vehicles. This will, in turn, prevent serious and unnecessary truck accident brake failure crashes in Palm Beach Gardens. When complying with state and federal laws, it is imperative that those who are responsible for trucks provide the required inspection, maintenance and supervision when it comes to every aspect involved with truck safety.
If a truck's braking system has failed to perform and thus causes injuries and/or fatalities, then those responsible for the safety of the truck can be held accountable. This may result in compensation for: current and future medical expenses, damaged property, lost earnings and pain and suffering. If you have sustained injuries in a truck accident,, the Statute of Limitations is four years from the date of the accident. This means that a truck accident victim has four years from the date of the accident to file a personal injury lawsuit. But you shouldn't wait that long in order to file a lawsuit.
Should the truck braking accident in Palm Beach Gardens involve a fatality, then a wrongful death claim may be made by the victim's close relatives. When it comes to filing a wrongful death claim, the statute of limitations requires that the lawsuit be filed within two years from the time of the accident.
Potential Loss of Evidence
A truck brake accident can be more complicated than a standard auto accident. That's because detailed research needs to be made regarding whether or not a negligent braking failure has occurred. When a large potential expense is possible, necessary evidence must be preserved. If evidence becomes"lost" or destroyed under circumstances that are considered "suspicious", a court can potentially sanction those that are responsible for any intentional altered, lost or destroyed evidence. This is one reason why it's important to seek the advice of an attorney as soon as possible after an accident.
When you have been involved in a Palm Beach Gardens truck accident brake failure crash, it's important to consult with a personal injury attorney, in order to try to receive the best care and compensation that you rightfully deserve. Therefore, when you are involved in a Palm Beach Gardens truck accident brake failure crash, seek immediate medical care and contact a Florida personal injury attorney.
Discuss Your Case with a Car Accident Personal Injury Attorney Serving Palm Beach Gardens Today! If you were injured in a car accident in Palm Beach Gardens, turn to Frankl Kominsky for comprehensive legal guidance. Call (561) 800-8000 or use our Contact Form to set up a free consultation.