Motorcycle Accident Lawyer Serving Riviera Beach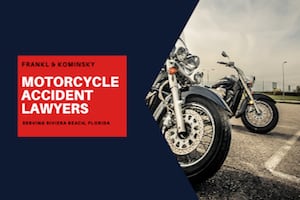 Riviera Beach is one of the few cities in Palm Beach County that offers the best waterfront views. This is just one of the many reasons why more than 32,000 people call the beach city home. The National Highway Traffic Safety Administration (NHTSA) claims that motorcyclists are 28 times more likely to die in an accident. In Florida, the most recent states from Florida Highway Safety and Motor Vehicles (FHSMV) show that there were over 3,500 motorcycle accidents in 2017.
In Palm Beach County, an average of about 519 motorcycle crashes occurred between 2015 and 2017. Most motorcycle accidents happen due to the negligent actions of car drivers. Our Motorcycle accident lawyers are available to help you with your Riviera Beach motorcycle accident.
Many experts point to the lax helmet rules in Florida for serious injuries due to bike accidents. The previous helmet rules in Florida were strict, but the state repealed the rules in 2000.
As per the Florida helmet laws, motorcyclists 21 years and above are not required to wear a helmet. However, you need to have insurance coverage of at least $10,000 to operate without a helmet.
If you are below 21 years, you need to wear a DOT-approved helmet. Remember that athletics like lacrosse and football helmets are not approved. An approved helmet has a DOT sticker. Moreover, it should have the American National Standards Institute (ANSI) or Snell logo. DOT-approved helmets have a minimum of an inch of padding and foam lining.
What to Do After a Motorcycle Accident?
If you become involved in a motorcycle accident and sustained injuries, you should immediately seek medical treatment. You should get a complete medical examination from your own doctor or a reputable hospital in Riviera Beach, FL such as Kindred Hospital The Palm Beaches or Dedicated Senior Medical Center.
Kindred Hospital The Palm Beaches
5555 W. Blue Heron Boulevard
Riviera Beach, FL 33418
561-840-0754
Dedicated Senior Medical Center
3002 Broadway Ave.
Riviera Beach, FL 33404
561-331-4844
Additionally, you should notify the Riviera Beach Police Department immediately about the incident and get a copy of the accident report. You should also get the contact information of any witnesses.
Riviera Beach Police Department
600 W. Blue Heron Blvd., Riviera Beach, FL 33404
Monday-Friday (8:00 am to 6:00 pm) | Phone: (561) 845-4123.
Top Causes For Motorcycle Accident Claims in Palm Beach County
A motorcycle injury claim seeks to pursue compensation for the injuries and damages sustained in a traffic accident. You should contact an experienced motorcycle accident attorney for assistance with your motorcycle accident claim.
Motorcycle Accidents Claims involving a Negligent Driver

Most motorcycle crashes occur due to the negligence of a car or truck driver. The negligence can occur due to many reasons.

Often, motorcycle accidents happen when other drivers fail to follow road rules. A car or truck driver may fail to give 'right of way' to a motorcyclist. Failing to stop at a traffic light is also a common cause of motorcycle accidents. Moreover, the accident can occur due to a distraction while driving. Our experienced motorcycle injury attorneys will try to assist you in determining who is liable for the crash.

Motorcycle Accidents Caused By a Defective Product or Design

Motorcycle accident claims can also be made due to defective parts or design. A defect in the design of the motorcycle can potentially cause an accident. For instance, a defective design can result in the loss of control of the motorcycle at high speed.

The car manufacturer may be held liable for accidents due to a defect in the design. An injured person can bring a claim against the manufacturer for failure to detect the defect that resulted in a crash.

Motorcycle Accidents Caused By Defective Tires

Accidents may occur due to defects in the tires. This can potentially be an even more serious problem than a defective design. Due to a defect, the tread can separate from the tire resulting in a blowout. The tire blowout often leads to serious motorcycle accidents.

Motorcycle Accidents Caused By Defects in the Fuel System

Issues with the fuel system may also result in serious motorcycle accidents. Defective fuel systems can also result in serious injuries. The lower body parts are susceptible to burns due to a defective fuel system.

Motorcycle Accidents Caused By Defective Brakes

Defects in the brakes can be a serious condition that often leads to an accident. The rider will not be able to slow down or stop the vehicle due to defective brakes. This increases the risk of a serious motorcycle accident.

A manufacturer is generally to blame for defective brakes. But in some cases, the defect in the brakes can be the fault of a repairman. Our motorcycle injury attorneys will help you determine fault in such cases.

Motorcycle Accidents Caused By Negligent Repairs

A motorcycle accident can also occur due to faulty repairs. Only a qualified repairman should carry out motorcycle repairs. Unfortunately, there are some inexperienced mechanics with a jack-of-all-trades experience in Riviera Beach. They don't have the skills and knowledge to carry on appropriate repairs.

Remember that a motorcycle mechanic owes a duty of care to the customers. A mechanic must follow standard procedures in the installation and repair of parts. Faulty repairs due to not taking reasonable care can make the mechanic liable. A mechanic who creates a safety hazard due to faulty repairs may be held responsible to pay compensation to the injured motorcyclist.
Florida's Comparative Negligence Laws and Shared Responsibility Explained
Florida has modified comparative negligence laws. In states with comparative negligence, each party will have shared responsibility depending on the percentage of contribution to the accident.
For instance, suppose that a driver was 80 percent liable for the accident. The motorcyclist was 20 percent at-fault. In this case, the injured motorcyclist can still make a claim. But the court will award a lower compensation amount based on the contribution to the accident.
Florida's modified compensation law allows a motorcyclist to receive compensation even if partly responsible for an accident.
Most Common Causes for Motorcycle Accidents in Riviera Beach
Motorcycle accidents can occur due to many reasons. Most of the accidents occur due to negligence of drivers. The guilty driver has to compensate the motorcyclists for the negligence. Based on decades of experience, our motorcycle injury attorney has found the following causes of bike accidents.
Driving under the influence
Swerving in front of a cyclist
Failing to follow posted speed limits
Cutting off motorcyclists at intersections
Failing to leave sufficient room between vehicles
Failing to yield when appropriate
Neglecting to pay appropriate attention to other drivers
Failure to see a motorcyclist changing or entering lanes
Misjudging the motorcyclist's speed or distance
Failing to see the motorcyclist
Panicking and stopping in the motorcyclist's path
Rely on the judgment of another driver, who also fails to see the motorcyclist
Blind spots

Blind spots comprise about 40 percent of the perimeter of the car. Many drivers hit a motorcyclist due to not seeing them because of a blind spot. The driver is accountable for the accident if the blind spot was due to poor adjustment of the mirror. Not showing turn signals when changing lanes can also make the car drivers liable for the injuries.

Intersections

Motorcycle accidents at the intersections are very common. The accident occurs due to the drivers not yielding to the right-of-way. Drivers turning left at the intersection sometimes don't look or ignore a speeding motorcyclist. The motorcyclist doesn't have time to stop resulting in a collision.

Drunk Driving

Florida has a legal limit of 0.08 percent blood alcohol concentration (BAC). Drinking while driving results in slow reaction times.

Drunk drivers also feel overconfident about their driving abilities. They take on greater risks and make poor choices. Impaired cognitive abilities make the drivers more likely to hit a motorcyclist.

Violating Traffic Laws & Signals

Reckless driving and not following traffic rules is another common cause of motorcycle accidents. The negligent actions of the drivers often result in serious motorcycle injuries. Some of the most common examples of driving while not following road rules that result in a motorcycle accident include the following cases.

Swerving in front of a cyclist
Going above the speed limits
Neglecting to pay appropriate attention to other drivers
Failing to leave sufficient room between vehicles
Not yielding when appropriate

Using the Smartphone

Drivers who use the phone while driving are most likely to hit a motorcyclist. A survey carried out by AAA Foundation for Training Safety found that about 78 percent of drivers thought of texting while driving as extremely dangerous. However, nearly half of the drivers surveyed had found people texting or emailing while driving. The same study also found that drivers who use the phone while driving are 4 to 8 times more likely to crash.

Rear-end Collisions

Rear-end collisions are also a common cause of motorcycle accidents. The driver may slow down without giving time for the motorcycle to stop. The motorcyclists may get ejected resulting in serious injuries.

Road Hazards

Road hazards are also a common reason for motorcycle accidents. The danger of an accident due to road hazards is more so for motorcycle drivers as compared to car drivers.

Potholes, uneven heights between lanes and other road hazards can lead to an accident. You may be entitled to bring a claim against a city or the state for accident due to road hazards.

When bringing a claim against a government entity or municipality or county, there are special procedures and time limitations which must be followed. As per Florida Statute 768.28, there are specified procedures for putting the agency on notice, and then you must wait 180 days before you can file your lawsuit. For guidance on bringing a claim against a government entity, contact an experienced motorcycle attorney.
What Type of Injuries can I Claim for After a Motorcycle Accident?
Motorcycle accidents often result in severe injuries. The injuries often result in partial or permanent disability. Small size, poor structural protection, and lower weight of the motorcycle make the riders prone to experiencing devastating injuries.
Motorcycle injuries often result in injuries that take months - or even years - to heal. Our legal team has found the following common injuries due to motorcycle accidents.
Neck injuries
Severe head trauma
Spinal cord injuries
Bone fractures
Disfigurement
Brain damage
Paralysis
Loss of limbs
Our experienced motorcycle accident lawyers serving Riviera Beach are available to help motorcycle accident victims pursue compensation for damages sustained due to a motorcycle accident.
Medical Bills (Past and Future treatment),
Lost Wages
Disability
Pain and Suffering
Wrongful Death Claims after a Motorcycle Accident
If a motorcyclist dies in an accident, the family members can bring a wrongful death claim against the at-fault driver. As per the Florida Statute section 768.19, wrongful death occurs due to the negligence or wrongful act of the at-fault party.
According to Florida's Statute of Limitations, you have two years from the date of death to file a wrongful death lawsuit. Filing a wrongful death claim will allow the family members to seek compensation. The surviving family members can seek compensation for losses including funeral expenses, loss of consortium, loss of income and other damages.
What's the Difference Between a Wrongful Death and a Personal Injury Claim?
A wrongful death claim is similar to a personal injury claim in that the focus is on negligence. The driver violated the duty to care for the motorcyclist. But a wrongful death case is different in many other respects from a personal injury claim.
An injured person brings forward a personal injury claim. In case the injured person is a minor or mentally impaired, the legal guardian makes the claim. In addition, the spouses can also make a separate claim for loss of consortium. They can seek the following damages in a personal injury case.
Past and future medical bills
Permanent or temporary disability
Past and future lost wages
Physical Pain
Emotional suffering
In contrast, a representative of a deceased victim can file a wrongful death claim. The deceased person's will or the estate plan mentions the personal representative. In case there is no estate plan and will, the court appoints the representative. The following damages can be pursued in a wrongful death claim:
Burial fees
Funeral expenses
Medical costs
Loss of companionship (also known as loss of consortium)
Loss of income due to the death of the family member
Let Frankl Kominsky Handle the Insurance Companies While You Recover
Our legal team at Frankl Kominsky has vast experience in motorcycle accident cases. We understand the financial distress that results due to a serious motorcycle accident injury. We offer a contingency based fee. If we are not able to secure a recovery for your claim, there is no fee or costs. You can call us for a no-obligation, free initial consultation.
We can handle the insurance company while you recover from your injuries. Our legal team strives to get a favorable settlement. We focus on protecting the rights of the clients during all stages of the claim process. You can expect the dedicated legal representation from our motorcycle accident attorneys. With the help of our legal team, you can pursue a personal injury or wrongful death case against the at-fault party.
Start Your Free Consultation with Palm Beach Injury Lawyers
At Frankl Kominsky, we have a team of highly experienced motorcycle injury attorneys. Our motorcycle crash lawyers have over four decades of combined experience in handling personal injury cases. Contact us by dialing 561-701-9992 today for a free consultation regarding your case.
Related Video
How is it determined who is responsible for causing a Florida motorcycle accident?
Supporting FAQs