Truck Accident Lawyer Serving Stuart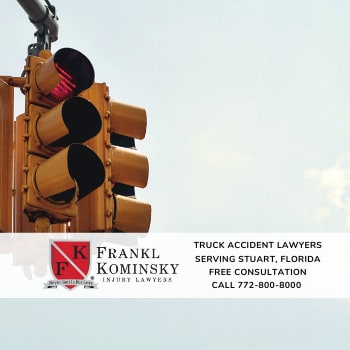 Stuart, Florida is one of the nicest destinations for a weekend vacation. The small town lies on Florida's Treasure Coast, with rivers and lagoons in close proximity. The town is peaceful, and not densely populated, with a current estimate of only 15000 people living there.
However, the town is quickly developing because of the arrival of tourists. It is also one of the more less expensive places to live in, motivating many people to move and settle here. With the population estimated to increase in the coming years, many businesses have started operations here, too.
Stuart's streets are now dotted with fancy cars and heavy-duty trucks as well. With distribution centers like Walmart, Amazon, and other delivery services opening up across the city and county, heavy-duty trucks now dot the streets of Stuart. To fulfill their employer's promise of 'fast delivery,' they sometimes drive fast and recklessly. As a result, the rate of accidents in Stuart is bound to increase.
Jensen Beach Blvd is named as one of the most dangerous intersections in Martin County, with large, heavy-duty trucks passing routinely on it. It is the epicenter of about 62 auto accidents per year, and some of the gravest accidents are those involving trucks.
Different Types of Truck Accidents in Stuart, Florida
Commercial Trucks
Any large truck that's owned by a company or business and is involved in facilitating commercial activities is known as a commercial truck. Commercial trucks are normally huge, so they can hold large amounts of cargo, be it raw materials, finished products, or fuel. These trucks move from factories to warehouses to shops.
Semi-Trucks
Semi-trucks are just that; semi-trucks. The other half is like a trailer. The trailer is attached at the back and used to transport freight. They are also called semi-trailer trucks, tractor-trailer trucks, rigs, or 18 wheelers. Because of their large size (generally 53 feet long), semi-trucks cause devastating consequences for the other party if they're involved in a collision.
Company or Rented Trucks
If the company does not have trucks of their own, they might hire trucks from transport companies and agencies. These trucks and drivers are hired contractually and work for the company for the agreed period of time, transporting goods, or providing services. If a rented truck is involved in an accident, the transportation company can potentially be held responsible for damages sustained in the accident.
Moving Trucks
Moving trucks are often as large as 14-17 feet in length and are utilized by people who are moving places. The truck is large enough to hold people's belongings but small enough to navigate the streets and neighborhoods. Colliding with a moving truck can wreak havoc on a car and its passengers.
Work and Company Trucks
A work truck has the heaviest engine attached that is available for trucks. Though work trucks differ from pick-ups, they are no less heavy-duty. They are pretty basic and are meant to get the work done.
Leading Causes of Truck Accidents in Stuart, Florida
Some of the more common causes of truck accidents include:
While there can be multiple reasons for a truck accident, driver error is one of the most common ones. Truck drivers often drive recklessly, or under the influence, and cause severe truck accidents as a result. Many of the common errors on the part of the driver include:
Driving a truck without having the required experience to do so
Overloading their trucks
Driving trucks on narrow roads that they aren't familiar with
Failure to see other vehicles due to the truck's large blind spot
Failing to obey the traffic laws
Driving for too long without taking a break
Failure to monitor their driving hours
Not ensuring that the truck or the trailer are in proper working condition
Not being qualified to drive a truck in the first place
Failure to properly supervise the truck driver
Driving a truck despite having insufficient training
Selecting an unqualified or unfit truck company
An accident might be the individual driver's fault, but according to the law of Florida, the employer can be held liable for the damages to the other party.
Poor Truck Maintenance
Trucks are meant to be used for rough and tough situations, and therefore, are made to be sturdy and durable. However, like with any other vehicle, proper, regular maintenance is mandatory to keep the truck in proper working condition. No issue is too small; worn brake pads and cracked windshields must be repaired and replaced as soon as possible to avoid these problems becoming the cause of major truck accidents.
Faulty Parts and Equipment Failure
Sometimes, despite the driver taking every possible security measure, truck accidents occur. These might be because of a defect or fault in the truck's mechanical make or setting, which is completely out of the driver's hands. Your truck accident attorney will try to determine if the manufacturer is liable can be based on the following:
The defective truck or the faulty part was "unreasonably dangerous"
The truck was being operated as the manufacturer intended
The truck's performance had not changed since its initial purchase
Truckers are taught the correct ways to load cargo as well as the weight limits for their vehicles. This is so the truck does not tip over with improper weight distribution. If these instructions and safety precautions are not followed, the heavy cargo that the truck is carrying will be enough to make the truck turn over and cause devastation for nearby vehicles too.
Truck Accidents in Florida: Proving Fault
Under Florida law, the employer of the trucking company can be held responsible for its employees' actions as long as the employee was driving in the scope of their employment. This means that the employer may be held responsible for compensation for your injuries in a collision with a heavy-duty truck.
Sometimes, though, the driver and the trucking company are not at fault. Instead, it is the truck maintenance company, truck manufacturer, parts manufacturer, or even the tire company whose negligence and incompetence resulted in the truck accident that you were involved in. The experienced attorneys at Frankl Kominsky, can try to help you determine who was at fault, and pursue a compensation claim.
Oftentimes, automobile accidents can result from a variety of factors and at times multiple parties can possibly be held liable for the accident. If you share the responsibility for the accident, you will not be prevented from pursuing compensation. Your compensation for damages will be reduced by your percentage of fault for the collision based on the theory of comparative negligence.
Types of Injuries Sustained in a Truck Crash
Traumatic Brain Injuries: In the case of severe accidents, trauma to the head can cause internal brain damage. Brain damage can have grave consequences and can affect every part of your body. Immediate surgeries might be required to reverse the damage.
Broken or Fractured Bones: Collision with a big vehicle like a truck can leave you with some broken or fractured bones. Ribcage splinters, crushed limbs, and dislocated joints are all common in a truck accident.
Nerve Damage: If nerves are damaged during the crash, it might cause numbing, and other symptoms. Nerve damage can cause you to lose control of your muscles gradually and limit your mobility. Nerve damage can be caused by a nerve being crushed as a result of the truck accident.
Injuries to the Spine: Spinal cord injuries, if severe, can even leave one debilitated and disabled. Spinal cord injuries also affect the mobility and sensory functions of the body. Spinal cord injuries might also require corrective surgeries to let the victim be able to walk again.
Back and Neck Injuries: The 'whiplash' from the impact might damage your neck and back. This kind of injury is painful and takes time to treat. With vehicles as heavy-duty as trucks, the whiplash will also be of a higher magnitude.
Cuts and Bruises: If you are lucky, you might just escape a truck crash with just a few cuts and bruises on your body. However, the chances are that these cuts might be deep and might cause you to lose a lot of blood.
Florida Truck Accidents: Damages You Can Pursue
Medical expenses
The cost of medical care may be too much for you to afford, depending on your injuries from the truck accident. In the case of severe accidents and grave injuries, the victim may be fighting for life and death at a hospital. Several surgeries and operations might also be required to save the victim from potential disability or death. You can pursue damages for your medical expenses and future medical expenses.
Therapy and Rehabilitation
Recovering from a truck accident can be time-consuming and emotionally draining.You may have to undergo months of physical therapy and rehabilitation to come to terms with the injuries and its consequences and to learn to live with it.
Vehicle or home modifications to accommodate a disability
Truck accidents are generally very serious. Due to the size of these giant vehicles, people rarely ever escape with minor injuries. Some accidents cause permanent disabilities that alter the life of the victim forever. To accommodate the disability, home and vehicle renovations might be required, such as wheelchair ramps in homes and cars.
Current and Future Lost Wages
All lost and potential future lost wages that you are unable to earn as a direct consequence of your injury can be pursued.
Loss of Earning Capacity
The truck accident might leave you paralyzed, disabled, or with injuries that might leave you unable to perform within the same capacity ever again, or within the same pay range. The compensatory damages you pursue should make up for the loss of earning capacity and capability.
Mental anguish, pain, and suffering
Being involved in an accident takes a toll on a person's mental health. Regardless of the physical injuries you sustain, the pain, fear, and trauma that accompanies the accident might stay with you for a long time and affect your mental health considerably.
Wrongful Death
Oftentimes, in truck accidents, the victim does not survive the terrible event. The person might succumb to the injuries at a hospital later on or even die right on the spot. This becomes a case of wrongful death where the victim lost their life because of the recklessness of another party. In such cases, close family members of the deceased can pursue a wrongful death lawsuit against the responsible party, and get compensated for their loss of companionship and guardianship of a spouse, parent or child.
Repair or Replacement of your vehicle
Even if you escaped with minor injuries, chances are your vehicle didn't. The impact of a collision with a huge truck may have left your vehicle completely totaled, and you might have to spend thousands of dollars to get it repaired, or if the car is completely beyond salvage, you might need to replace it altogether. The responsible party should be held liable to bear the cost of your repairs or replacement.
Other accident-related expenses
There might be other accompanying expenses that you might have to incur as a result of your truck accident, and you can demand monetary compensation for them.
Florida Truck Accidents: Collecting Evidence, Steps To Take After a Truck Accident
Seek Immediate Medical Care and gather your medical records
Before anything else, you need to visit a hospital or your own doctor and let a professional examine your injuries. Even if you think you escaped unscathed, there might be internal damage that you are not aware of, so a thorough check-up is a priority. Besides ensuring that you get the medical attention that you deserve, the official medical report by a hospital such as Martin Medical Centre will be used to detail the extent of your injuries.
Accident reports from police
As soon as the accident occurs, report it to the police. The police will do the preliminary investigation and draft official reports of the accident that took place. Report the accident to the local police department of Stuart, and ask for a copy of the report.
Eyewitness statements
If there were other people around, be sure to take their contact information.
Pictures from the scene of the accident
If possible, take pictures of the scene from your mobile phone. Take photos of the damaged vehicles, your injuries, the truck's make, the truck's license plate, and the situation on the road post-accident.
Other documentation of your injuries
You are advised that you keep a journal of your injuries where you explain in detail the pain, inconvenience, and trouble that the injuries caused you. Also, mention the time that it took you to heal, and how much you had to pay for your medication and treatment.
Florida Statute of Limitations: Truck Accidents
The Florida Statute of Limitations sets a time limit for the Plaintiff's right to file a lawsuit.This law defines different time limits for different causes of action. The Statute of Limitations also varies from state to state.
You only have 2 years from the time of the accident to bring a negligence lawsuit for your truck accident claim. If a loved one has died in a truck accident, the Statute of Limitations for a wrongful death claim is 2 years from the date of death. If you fail to file your lawsuit within this time frame, your lawsuit will likely be dismissed.
Talk to your lawyer to better understand the Statute of Limitations, or you can refer to this resource to further deepen your understanding of the concept.
What Frankl Kominsky Lawyers Can Do For You
Frankl Kominsky truck accident attorneys have over 40 years of experience, and in that time, they have managed to successfully serve 6000 clients, and have helped them recover monetary compensation for the damage and trauma, financial and otherwise, that they faced when they encountered a personal injury accident.
The legal team at Frankl Kominsky strives to investigate the details of the case, collect evidence from the site of the truck accident and the doctor's reports of your injuries. If you or a loved one has been injured as a result of a truck accident, contact us for a free consultation and let us handle it from there. We will fight for your due rights and compensation for the damage, be it physical or mental.
At Frankl Kominsky, we offer our clients dedicated legal representation along with excellent client support. Our lawyers are committed to getting you the justice that you deserve.
Free Consultation with a Truck Accident Lawyer Serving Stuart
Frankl Kominsky offers a free consultation or free case reviews, so if you are involved in a truck accident in Stuart, reach out to Frankl Kominsky for any questions, appointments, or case evaluations by filling out the free case evaluation form. Or, you can simply call their office at 772-742-1204.