Motorcycle Accident Lawyer Serving Stuart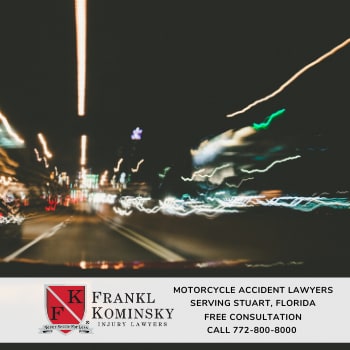 Fast becoming a favorite among local tourists, Stuart is a small city located in Martin County. It is a beautiful place along the Treasure Coast of Florida and hosts only about 15000 people. Its proximity to Indian River Lagoon and St Lucie River makes it a great place to visit for tourists. It has several water activities and sports that you can enjoy and a plethora of premium restaurants along the coastline, where you can eat and relax while gazing out at the picturesque view.
The cost of living in Stuart is comparatively lower than those of other, bigger cities, which is the main reason why people want to move here in droves. As the population and tourist attraction of the area grows, many vehicles pass through the city regularly, especially after the construction of Dixie Highway. Large commercial trucks, cars, and motorcycles are frequently seen traveling through the city. Inevitably, the number of accidents has also risen. Though fatalities are few with motorcycles, they are definitely serious, to the motorcyclist as well as the victim (in the event of an accident that involves a pedestrian).
If you have been involved in an accident with a motorcycle, or if you become injured while riding a motorcycle due to another driver's negligence, you may be eligible to pursue a claim against the responsible person and hold them accountable for the damages you have suffered. With the help of an experienced personal injury lawyer, you can pursue damages for the losses you suffer as a result of the accident.
Most Common Causes of Motorcycle Crashes in Stuart, Florida
Motorcycles accidents can have serious repercussions for both parties involved in the accident. Here are some of the most common causes of motorcycle accidents. If you are a motorcyclist yourself, try your best to avoid doing these to prevent yourself and another party from being injured in an accident.
1. Left Turn Accidents
Left turns on intersections are always tricky. Keep in mind that if you have to turn left, you have to give way to the vehicles that are going straight or are turning right, as it is their right of way. Motorcycle accidents may occur because the motorcyclist thinks that they can quickly make a left turn; instead, they get hit by other vehicles that were going straight.
At highways and intersections, the situation can become fatal very fast, because other vehicles are also going at the maximum speed limit. Keep the road rules in mind the next time you're making a left turn.
2. Head-On Crashes
Head-on crashes often result in the death of the motorcyclist, or grave injuries at the very least. Head-on crashes occur when another vehicle changes lane quickly without indication or stops abruptly. These crashes can also occur when the motorcyclist doesn't respect the speed limit, which leads to high-speed crashes in the event of an accident.
3. Changing Lanes without Signaling
Changing lanes without indicating to the other vehicles on the road is one of the main causes of motorcycle accidents. Always flash your indicator when you want to switch lanes, and don't make any abrupt moves. Motorcycles are harder to spot on the road, becoming difficult to avoid if they turn without indicating first. This is also true for cars. If they switch lanes suddenly, the biker behind them may not be able to avoid crashing into them.
4. Accidents Due to Opening a Door
The lanes reserved for bikes are often very close to parking spaces. Motorcyclists, if they are not careful, can crash into a car door that suddenly opened up. In such cases, both parties can be held accountable, depending on whose fault it was.
5. Dangerous Road Conditions
A motorcycle accident doesn't necessarily need to be always due to the error of the driver. Sometimes, unfavorable road conditions play a huge part in causing accidents. In such accidents, the local state government agencies might be held accountable, as it is their responsibility to keep the roads in good condition.
Other common causes of motorcycle accidents in Stuart include the following.
Swerving in front of a cyclist
Relying on the judgment of another driver, who also fails to see the motorcyclist and stops in the motorcyclist's path
Neglecting to pay appropriate attention to other drivers
Misjudging the motorcyclist's speed or distance
Failure to see the motorcyclist
Failure to see a motorcyclist changing or entering lanes
Failing to yield when appropriate
Failing to leave sufficient room between vehicles
Failing to follow posted speed limits
Driving under the influence
Cutting off motorcyclists at intersections
Establishing Fault in a Motorcycle Accident
Multiple parties may be at fault during a motorcycle accident. Though driver error is the most common cause, it is not the only one. In any accident claim, your attorneys strive to investigate the specifics of your case and ascertain who was truly at fault for the accident.
At Frankl Kominsky, we have a team of highly experienced motorcycle crash lawyers. Our attorneys will try to figure out whose negligence caused the accident and build a case, keeping in mind the unique characteristics of your case. They will strive to get you a handsome compensation to cover your losses.
Hiring an experienced motorcycle accident attorney near you is crucial to the success of your lawsuit. Frankl Kominsky Injury lawyers can help you throughout the process of filing your motorcycle accident lawsuit and counsel you every step of the way.
1. Claims Involving the Negligence of the Driver
Oftentimes, motorcyclists tend to get reckless when driving. A motorcycle is a powerful vehicle, and with an experienced driver, it can make difficult cuts and turns. Drivers often get overconfident when driving and ignore speed limits and traffic rules. This costs them later on when they're involved in an accident due to their own negligent behavior. Motorcyclists themselves are most at risk of injury or death, and yet driver's negligence remains the top cause of motorcycle accidents.
If you have been hit and injured by a motorcyclist because of their recklessness, you should pursue your claim immediately. You may be eligible to file a claim for your damages for the losses or injuries you have incurred, whether economical or non-economical.
2. Claims Involving Motorcycle Defect
During the investigation process of a motorcycle accident, our legal team will try to determine whether a faulty bike part or equipment was responsible for the accident. If it comes out that a fault or defect in the motorcycle was the real reason the crash happened, the manufacturer of the bike and its components could potentially be held responsible and made to compensate you for your losses.
In case a manufacturer or corporation is at fault, you would be facing a powerful and resourceful opponent in court. Experienced attorneys who have experience dealing with motorcycle accident lawsuits in Stuart will be able to give these corporations the competition they need.
3. Wrongful Death Claim
If an individual has made the decision to file a Wrongful Death lawsuit, there must first be a personal representative. In many cases, the person who is to represent the deceased has already been named in the deceased's will. If this is not the case, then the personal representative will be appointed by the court. This person is usually the deceased's spouse, child or parent. The lawsuit is generally filed on behalf of the person's surviving family members and the estate. People who may be eligible to pursue wrongful death lawsuits are
Spouse of the deceased
Parents of the deceased
Children of the deceased
Real and adopted siblings of the deceased
Blood relatives of the deceased
Ask Attorney Ethan Kominsky: How is Fault Determined in a Motorcycle CrashTypes of Injuries Sustained in a Motorcycle Crash
If the motorcyclist gets pinned beneath a heavy vehicle or is thrown off the bike at a great distance, there is a high chance of bones breaking and/or fracturing. While extremely painful, most fractures and breaks do heal with time.
Severe head trauma: If the motorcyclist is not wearing a helmet, the chances of them suffering from extreme head injuries are high. The injuries might be bad enough to cause damage to the brain, which will require surgery to correct. The expense for these surgeries is also very high, and so is the healing time.
Injuries to the spinal cord affect everything from physical movement to sensory abilities. Spinal cord injuries are severe and might even result in permanent disability and multiple extensive surgeries, along with months of physical therapy.
Neck injuries: Neck injuries are common in almost all auto-accidents. The 'whiplash' from the impact of crashing into another vehicle or from braking suddenly can damage muscles in the neck. If the motorcyclist is thrown off the bike, falling at an awkward angle can cause severe neck injuries.
If the head is exposed during an accident, the injuries may go beyond the naked eye. In case of trauma to the head, the brain might also get affected. A thorough medical check-up is crucial as brain damage can cause death or permanent disability if not treated on time.
Disfigurement: Some limbs or facial features may forever be scarred due to the accident. A burn mark across the limbs or a ghastly cut across the face may remain with you, possibly for the rest of your life.
If injuries to the limbs are severe enough, an amputation may be in order. If your limbs were completely crushed beneath a vehicle, you might lose partial or complete use of those limbs.
Paralysis: Paralysis may occur as a result of damage to the nerves in your limbs. Your lower body might be compromised, and you might not be able to perform the daily life activities that you used to before.
If you are lucky, you might escape with just a few cuts, burns, and scars. However, even if you think you are okay, you need to get a thorough medical exam from your personal physician or a local hospital.
What Damages Can I Pursue in my Motorcycle Accident Claim
In case you were involved in a motorcycle accident and decide to file a claim, the damages you may be eligible to pursue include:
Medical expenses
Therapy and rehabilitation
Vehicle or home modifications to accommodate a disability
Current and future lost wages
Loss of earning capacity
Repair or replacement of your vehicle
Other accident-related expenses
Mental anguish
Loss of Consortium
Pain and Suffering
Calculating and demanding compensation is no easy task, but with an experienced personal injury lawyer taking care of the specifics for you, you will hopefully recover the compensation that you deserve.
How Long Do I have to File a Lawsuit For My Motorcycle Accident Claim
Florida Statute of Limitation claims that the victim of a motorcycle accident resulting from negligence has only 2 years from the time of the accident to file a lawsuit against the at-fault party. If this time limit is exceeded, the Statute of Limitations expires, the Court will likely dismiss your lawsuit.
Consult with a dedicated motorcycle accident attorney for guidance on how to proceed with your accident claim.
What to Do After a Motorcycle Accident
Though being involved in an accident is a traumatic incident, you are advised to do the following:
Visit a hospital or your own doctor
Needless to say, visiting a hospital or your own doctor and getting a thorough medical check-up done is a priority in such a case. Even if you don't feel like you have sustained any serious injuries, let a doctor check you for internal bleeding or organ damage. Stuart has many renowned hospitals, such as Cleveland Clinic. Be sure to keep a copy of your medical records.
Report the Accident to the Police
Report the incident at the nearest Stuart Police Department. The police officers will investigate the scene of the accident, collect evidence, and talk to witnesses. Get a copy of the accident report.
Eyewitness statements
The police officers might do this already, but if you feel up to it, you can talk to other people who saw the accident and take down their contact information in case your lawyer needs to contact them for further statements.
Pictures from the scene of the accident
Be sure to take photos of the accident scene, vehicles involved and your injuries.
Other documentation of your injuries
You are advised to maintain a journal of your own, where you document the progression, treatment, and healing of your injuries. The severity of the injuries and the healing time and expenses may be important when it comes to determining damages.
What Frankl Kominsky Injury Lawyers Can Do For You
At Frankl Kominsky Injury lawyers, we have over 40 years of experience, and in that time, they have managed to successfully serve 8,000 clients. They have helped these clients recover monetary benefits to make up for the damage and trauma, financial and otherwise, that they faced when they encountered a grave accident.
Our legal team will investigate the details of the case, collect evidence from the site of the accident, interview witnesses, obtain your doctor's medical reports of your injuries and negotiate with the at-fault party. If you are someone who has been injured as a result of a motorcycle accident, contact us for a free consultation and let us handle it from there.
At Frankl Kominsky, we offer our clients conscientious legal representation along with excellent client support. You can rest assured that the case is in good hands and that our lawyers are dedicated to getting you the justice that you deserve.
Free Consultation with a Motorcycle Accident Lawyer Serving Stuart
Frankl Kominsky offers a free consultation or free case reviews, reach out to Frankl Kominsky for any questions, appointments, or case evaluations by filling out the free case evaluation form. Or, you can simply call their office at 772-742-1204.