Truck Accident Lawyer Serving Riviera Beach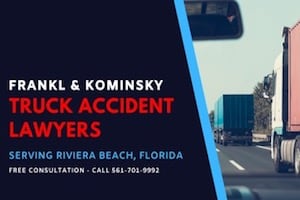 Riviera Beach is a beautiful and populous city in Palm Beach County. True to its Floridian nature, the city boasts beautiful beaches, tropical rainforest climate, and a variety of tourists' hotspots, including the famous Rapids Water Park. Because of the large amount of traffic, however, accidents are common in Palm Beach County.
The state of Florida has the third-most number of traffic fatalities involving trucks in the United States. According to the Florida Highway Safety and Motor Vehicles, nearly 32,000 accidents involving a large truck, including commercial trucks and 18-wheelers, occurred in the state in 2017. These accidents resulted in 27 fatalities, 57 incapacitations, and 1,053 other types of injuries.
The reason why truck accidents are so devastating is because of the huge size of the vehicle. Large commercial trucks can weigh over 80,000 pounds, or 30 times more than a standard passenger vehicle. The size and force of these trucks often mean that smaller vehicles have no chance against them. As a result, truck accidents often result in debilitating injuries and even deaths.
If you have been injured or lost a loved one in such a crash, the Florida truck accident attorneys at Frankl Kominsky can investigate your case and strive to bring a strong claim for damages, including compensation for your injuries, medical expenses, lost time from work and pain and suffering.
Different Types of Trucks Involved in Accidents
Different types of trucks are prone to certain types of accidents. Trucks that are most commonly involved in accidents include:
Commercial Trucks
Commercial trucks are very important for our economy, as we rely on them for the transport of fuel, food, and other commodities. Although these large trucks account for only 4 percent of all vehicles, they are involved in about 10 percent of highway deaths.
If you are involved in an accident with a commercial truck, you may be entitled to compensation from the trucking company's insurance policy.
Semi Trucks
Due to their sheer size and momentum, semi trucks have difficulty slowing down or stopping in case of an impending accident. So it is unlikely that a smaller vehicle can get away without significant damage after a semi truck accident.
A loaded semi truck can weigh over 80,000 pounds, and often carries combustible fuel or chemicals. As such, a semi truck accident can result in explosions, and the damage can be much more catastrophic than a simple car crash.
Tractor-Trailers
Tractor-trailers, also known as 18-wheelers, big rigs, or semi-trailers, are designed to haul heavy cargo. Since the vehicle is so large, it has numerous blind spots and a high center of gravity, which means that these trucks are prone to rolling over. Additionally, they require a longer stopping distance, and if they brake suddenly, it can result in jackknifing.
Company or Rented Trucks
Rented trucks are not considered commercial vehicles, and hence, their drivers are not required to obtain a special license to drive these vehicles. In fact, anyone with a simple driving license can rent out and operate these trucks. However, since they are significantly larger than standard vehicles, it is difficult to maneuver them, and hence, Riviera Beach car accidents involving company trucks are quite common.
Moving Trucks
Moving trucks, like U-Hauls, can be rented out to move large items like furniture from your home and office. Since the majority of U-Haul trucks are quite large and can weigh tens of thousands of pounds, they are difficult to operate. Hence, accidents involving moving trucks can be deadly.
Work Trucks
A work truck is a half-ton or heavy-duty vehicle which is different from your standard pickup truck. Work trucks typically have the largest engine size for the truck's grade and are equipped with either a crew cab or a standard cab.
Typical work trucks include dump trucks or construction trucks that can be very dangerous to drivers, cyclists, and pedestrians. These trucks carry huge amounts of garbage, debris, cement, sand, or other material. Because of their large size, they have huge blind spots and a high center of gravity, which makes them prone to tip-overs and falling debris. Hence, accidents in a work vehicle can be deadly.
Flatbed Trucks
Flatbed trucks are equipped with long open trailers that enable easy loading and unloading of cargo. Despite strict regulations, however, cargo is often improperly secured on these trucks. As a result, it can become dislodged and the heavy items can fly towards oncoming traffic, resulting in disastrous accidents.
Tow Trucks
Tow trucks can weigh over 10,000 pounds. These large trucks are run by inexperienced and improperly trained drivers, and due to this, they account for a large number of truck accidents in Florida.
If you've been in an accident that involved a large vehicle or truck, visit a hospital at your earliest and get a thorough medical checkup performed. Riviera Beach has a number of excellent hospitals that you can consider:
Kindred Hospital, The Palm Beaches
Leading Causes of Truck Accidents
Some truck accidents are out of the driver's or the truck company's control. However, the vast majority of accidents involving moving trucks are avoidable. Although a lot of companies make sure that their drivers practice defensive driving, many companies still remain unconcerned. There are several leading causes of truck accidents in Riviera Beach:
Driver Fatigue
Driver fatigue is one of the leading causes of truck accidents in Riviera Beach. Many truck drivers are under a lot of pressure to deliver their cargo within the deadline. Some are also offered bonuses to deliver the goods in less time.
Even though the United States Department of Transportation restricts how much time a truck driver can operate the vehicle before they need to take a break or rest, the minimum length of the break is also defined. However, despite the regulations, a vast majority of drivers continue to drive way past their exhaustion point.
Unfortunately, there have been many cases in Riviera Beach where drivers have fallen asleep behind the wheel, with devastating results.
Distracted Driving
Another serious concern is distracted driving by truck drivers. Distracted driving occurs when the driver's hands, eyes, or concentration are focused on something other than driving. The most common cause of distracted driving is the use of cell phones. Other things like eating, fiddling with the stereo system, talking with passengers, staring at billboards, or typing in the GPS system can also distract from driving.
Most overworked or fatigued drivers are often distracted drivers as they seek to keep themselves awake through entertainment.
Driving Under the Influence
Over 5 percent of drivers involved in fatal truck crashes in 23017 were under the influence of at least one drug. Unfortunately, though, 60 percent were not tested for substance abuse even though the law states that all commercial drivers need to be tested if they are involved in fatal accidents.
The most common substances found in their systems included marijuana, narcotics, and alcohol. Over-the-counter drugs also accounted for 17 percent of accidents involving trucks.
Blind Spots
Large trucks have several blind spots and no zones behind them and on their sides. In fact, it is common practice to assume the driver cannot see you unless you can see their reflection in their mirror.
The multiple blind spots on large trucks cause several tragedies every year when truckers turned or changed lanes, or backed their trucks and slammed into nearby motorists.
Wide Swings
Large trucks may swing wide to the left when they need to turn to the right. This is particularly true in some areas of Riviera Beach where trucks may not have enough room to maneuver easily.
If a truck driver does not turn on his flashers or signal correctly for a turn, a smaller vehicle may be squeezed in between the curb and the truck. In most cases, the truck driver is unable to see your vehicle before a collision occurs.
Equipment Failure
Some of the most common types of equipment failure include a faulty braking system and tire blowouts.
Trucks, especially commercial trucks, place a lot of stress on their brakes. Even though the truck's equipment is supposed to be maintained according to federal laws, brake failure is unfortunately still very common.
When a truck driver brakes improperly or the brakes fail, it can lead to catastrophic accidents. Every year, Riviera Beach patients are rushed to St. Mary's Medical Center and Kindred Hospital with serious head traumas, spinal cord injuries, burns, and amputations.
Tire blowouts are also very common. If you are traveling on a highway, you may see a long line of burnt rubber on the road, indicating a blowout. When tires blow out, nearby motorists may be hit with pieces of rubber and debris, and the truck may also roll over. This can result in deadly accidents.
Improperly Loaded/ Overloaded Trucks
When cargo is not loaded and secured properly, it may shift and fly out when the truck brakes or makes a turn. This can cause traffic accidents as the cars are hit by heavy items or swerve to avoid them.
A heavy load that has not been evenly distributed properly all over the truck can also result in a rollover or a driver losing control of the vehicle.
Overloaded trucks are also a serious concern in Riviera Beach. Many truck companies place heavier loads that exceed the safe weight limit of the truck in hopes of getting financial gains at the cost of drivers' and pedestrians' safety. The extra load places excessive pressure on the brakes and tires, which often fail because of this.
Lack of Driver Training
Truck drivers in Riviera Beach are required to have a special license and undergo proper extensive training before they are given charge of a vehicle. Unfortunately, many companies hire under-qualified drivers due to hiring pressure, and because inexperienced truckers demand less pay.
These drivers are not experienced in the type of trucks they are assigned to and can cause fatal accidents that could have easily been avoided.
Other Leading Causes of Truck Accidents include:
Lack of truck driving experience
Operating oversized trucks on narrow roads
Failure to see other vehicles due to the truck's large blind spot
Failing to obey traffic laws
Not keep the tractor and/or trailer in a safe, working condition
Hiring an unqualified or unfit truck driver
Failure to properly supervise the truck driver
Selecting an unqualified or unfit truck company
Who is Responsible for my Truck Accident?
Truck drivers and companies have a huge responsibility to the public. There is a reason why they need to strictly follow federal and state rules and regulations that push for truck maintenance and road safety.
A lot of truck companies strive to follow these rules. However, less conscientious ones are often negligent and may become responsible for deadly accidents. In the case of trucking, the law states that the truck companies are responsible for the actions of their employees provided the employee was doing a job delegated by the company.
This means that large trucking companies are responsible for most of the rollovers, equipment failure, improperly loaded trucks, and lack of driver training. This can also mean facing an influential and large opponent and many complications that most people don't know about.
The experienced truck accident lawyers at Frankl Kominsky can try to help determine who is at fault for the accident and can pursue truck accident liability claims to cover your damages.
However, keep in mind that truck accidents can be due to the faults of multiple parties, and even you may share the blame along with the trucking company. If this happens, you may be able to collect your due compensation, though it may be lower since you also contributed to the accident.
What Damages can I Claim for After a Florida Truck Accident?
In the aftermath of a truck accident in Riviera Beach, you may face several damages, like the cost of the repair of your vehicle, hospital bills, medical expenses missed earning opportunities, and pain and suffering.
Although truck accident victims are entitled to full compensation, insurance companies may try to settle claims inexpensively and quickly. If you accept the insurance money and sign away your rights to a lawsuit, you will not be left with any recourse to cover your damages fully.
Truck accident victims in Riviera Beach should consult with truck accident lawyers who can try to determine how much their case is worth and protect the injured party's rights and interests.
Here are some damages that you can claim after a truck accident in Riviera Beach:
● Medical Expenses
These expenses are paid to cover your hospital bills, doctor visits and physical therapy. If you sustain serious injuries, you may claim the cost of ongoing care that can last for years.
You can claim these damages during the emergency treatment and while you are in recovery; however, accepting a settlement from the at-fault party's insurance company may only entitle you to a fraction of the compensation cost.
● Vehicle or Home Modifications to Accommodate a Disability
Serious truck injuries result in expensive, long-lasting medical care. This may require you to have additional equipment like a wheelchair and install ADA (Americans with Disability Act) approved ramps, elevators, different bathrooms, and wider doorways in your building.
If you become paralyzed or have other limitations because of the accident and you cannot drive a normal vehicle, and will require a modified vehicle to operate.
● Therapy and Rehabilitation
Truck accidents, particularly jackknife and rollovers, can result in serious debilitating injuries. These may include:
Neck and Back Injuries
Broken bones
Traumatic Brain Injury
Limb amputation
Head trauma
Spinal cord injury
Internal injuries requiring an organ transplant
Lacerations
Such severe injuries may require therapy and rehabilitation, our truck accident attorneys strive to help you get compensated for these injuries over the long-term.
● Current and Future Lost Wages
If your injuries are too severe for you to go to work after a truck accident, you will miss out on your paychecks. Some truck accident injuries are disabling, and may physically and mentally interfere with your ability to do your work. This means you will have to either take a lower-paying job or retire from work.
You may be eligible to claim your lost wages as part of your truck accident lawsuit and also claim the value of your reduced earning capacity.
● Wrongful death
A wrongful death claim arises when you lose a spouse or another family member as a result of a truck accident. It may also be awarded to people whose close family member suffers from a permanent, incapacitating injury.
The idea behind this is that the person can no longer provide financial security, care, love, sexual relations, and companionship as they did before the accident.
If the accident results in wrongful death, you can claim:
Funeral and burial costs
Loss of financial security or inheritance
Loss of benefits
Loss of goods and services the victim may have provided
Loss of love, care, companionship or guidance
● Pain and Suffering
These damages are paid to compensate you for the physical pain and other effects you feel as a result of injuries and any emotional distress because of the accident. This also includes compensation for things like being unable to enjoy activities that you used to do before the truck accident.
● Repair or Replacement of Your Vehicle
If a truck company is at fault for causing your accident, they should provide you will pay for all damages, including the damage to your vehicle.
If your vehicle is repairable, you need to calculate the cost of damage and have it repaired by the at-fault party insurance company or get the value of repairs.
If your car is totaled, you can recover the fair market value of your car right before the crash.
While your car is being repaired or replaced, you will be deprived of its use and will need to rent out a similar vehicle. This claim is also covered.
Your vehicle may be depreciated in value after it comes back from the repairs. In this case, you are entitled to this as well.
● Other Accident-Related Damages
Other accident-related damages may include property damage inside your car, like loss of prescription glasses, ruined clothes, electronic gadgets, or other things.
What Will Frankl Kominsky Do For Me?
Frankl Kominsky truck accident lawyers offer over 40 years of combined court-related experience and have helped over 6,000 clients to recover their damages as a result of truck accidents.
Our legal team has secured millions of dollars of monetary benefits combined through jury verdicts as well as out-of-court settlements for their clients. We are ready to work with private investigators who can help collect evidence from the site of the accident and reports from witnesses.
We understand that a lowball settlement from an insurance company is unlikely to cover all your costs associated with a Riviera Beach truck accident. At the same time, we also understand that years of fighting a court-room battle can result in added financial strain. Our lawyers are experienced at working with insurance companies and are dedicated in pursuing fair compensation that is acceptable to you.
We understand the depth of tragedy that a truck accident can cause and will stand by you to help you have a voice, whether you decide to settle out of court or proceed with a lawsuit. While you are recovering from the accident, we are dedicated to fighting on your behalf so that you can focus on your healing.
If you are not sure whether you have a case after a truck accident, Frankl Kominsky can offer you a free consultation. If your loved one has been injured, you may have many questions for us. Our truck accident attorneys serving Riviera Beach can help you understand your options and rights. They can help you determine the cause of the accident and assist you with getting the compensation you deserve.
Our legal team can be reached easily by phone at 561-701-9992. You can also fill out our free case evaluation form if you want to book an appointment with us.