Personal Injury Lawyer Serving Sunrise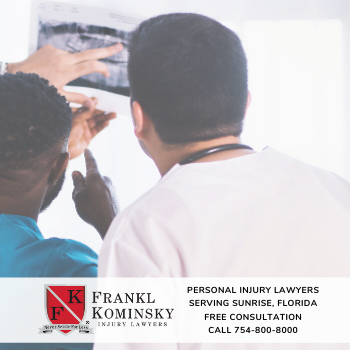 Sunrise is a city of about 85,000 residents in Broward County, Florida. In addition to people who live there, many visitors enjoy the city's award-winning recreational facilities, including the Sawgrass Sanctuary, the Sunrise Tennis Club , and the Seven Bridges at Springtree Golf Club . Sunrise is also home to Sawgrass Mills, a shopping, dining, and entertainment destination that welcomes 25 million patrons each year. As in other communities of its size, residents and visitors in this city can fall victim to unforeseen accidents. If you've been hurt in Sunrise due to the recklessness of another person or entity, you may be able to recover compensation. At Frankl Kominsky, our knowledgeable injury attorneys are available to represent you for your claim. We handle all personal injury matters, including slip and falls, medical malpractice, defective products, wrongful death, and highway collisions involving cars, trucks, and motorcycles.
Florida Statute of Limitations
The statute of limitations for personal injury and wrongful death lawsuits differ. In Florida, you must file a personal injury claim within two years from the date of the accident. In wrongful death cases, the time frame to file is two years from the date of the death. If you fail to file your lawsuit within the applicable statute of limitations, your lawsuit will likely be dismissed. Of course, there are exceptions to these limitations, however, they are quite rare and should be discussed with a personal injury lawyer serving Sunrise.
Florida Vehicle Accident Statistics
It should be noted that Florida is a primary vacation spot in the United States due to its pleasant weather conditions. Because of this, tourists are attracted to its various cities throughout the year. When this occurs, there are a large number of motorists who are unfamiliar with the various locations that they are visiting. This may lead to serious vehicular accidents. In addition, a large number of commercial trucks also travel through Florida and many have become involved in catastrophic accidents.
For 2018, Florida has reported the following vehicle accident statistics:
For all crashes: 402,592
Injuries for all crashes: 254,873
Fatalities for all crashes: 3,174
Total hit-and-run accidents: 102,756
Total pedestrian fatalities: 702
Total bicycle crashes: 6,575
Total hit-and-run fatalities: 215
What Should You Do After an Injury?
If you've been injured, these are some things that you should remember:
Report the accident and injury to the authorities and property owner
Sunrise Police Department | (954) 764-4357

Obtain a copy of the accident report or the incident report
Speak to any witnesses and get their contact information
Document the scene of the accident with videos and photos

Seek Immediate Medical Care from a qualified medical professional
You can go to your own personal doctor, medical facility or the nearest hospital

Example: Urgent Care Baptist Health | 954-837-1240
Keep a journal or record of your injuries, medical treatment, and how the injury has impacted your life. Also, make sure to keep a copy of all medical expenses. All of your medical information should be kept in a separate location in your home in order to have easy access when needed.

Speak to an experienced personal injury lawyer for a Free Consultation
What You Should Never Do After an Accident
Neglect your health. If the emergency medical services were not called to the scene of the accident, you should visit a nearby hospital, emergency room, or urgent care so they can assess your injuries. Neglecting your injuries can cause further damage to your body.
Never share the details of your accident and injury on Social Media.
Never give statements to the insurance company. Contact an experienced injury attorney first.
Never try to negotiate your claim or settlement without speaking to an injury attorney.
Types of Personal Injury Claims That We are Available to Handle in Sunrise
Motorcycle and Scooter Injury Claims: Motorcyclists who are injured by operators or drivers of larger vehicles who speed, drive drunk, or are distracted by texting
Bus Injury Claims: passengers who are injured because the owner or operator fails to maintain the bus, is distracted, is driving while tired or driving while under the influence of drugs or alcohol
Slip, Trip and Fall and Premises Liability Claims: If you were injured in a slip and fall at a grocery or department store, private property or home, a parking lot, you may have a claim for your injuries
Bicycle and Pedestrian Accident Claims: Victims who have been seriously injured by reckless or distracted drivers
Boat, Cruise, or Jet Ski Injury Claims: When passengers are injured due to lack of medical supplies, excessive speed, boat or watercraft malfunctions, striking another boat or watercraft
Car and Auto Accidents Claims: Accidents involving a negligent or reckless driver, or while you are a passenger in a vehicle
Filing a Personal Injury Claim in Florida
Many victims choose to pursue compensation through a negligence lawsuit. Under Florida law, this type of claim requires a victim to show the following elements:
The defendant owed the victim a duty of reasonable care;
The defendant breached this obligation;
The breach directly resulted in the accident and the victim's injuries; and
Actual damages were incurred as a consequence.
Reasonable care is usually defined as behaving in the way that a reasonably prudent person would behave in a similar situation. In some specialized areas like medical malpractice, however, the standard may be more specific. No matter the context, however, the duty is an implicit obligation owed to others in society to act in a way that would protect them from unnecessary risks of harm. The following examples illustrate how a breach of the duty of care can happen in a variety of everyday situations:
A driver texting while driving
A restaurant owner failing to clean up a spill on the floor
A truck driver failing to observe federal rules about hours behind the wheel
An apartment building owner failing to provide adequate locks on an apartment
A nightclub owner failing to provide sufficient security
If you were partially liable for the accident and your injuries, your total compensation award may be reduced by your percentage of fault. This is known as the Comparative Negligence Rule under Florida law. For example, if someone is deemed to be 25 percent at fault for a particular accident, that person will be able to recover 75 percent of the total damages.
If you suffered the tragic loss of a loved one in an accident, you may be able to pursue a wrongful death claim against whoever was responsible. Under the Florida Wrongful Death Act, certain surviving family members, such as a spouse, child, or parent, can seek compensation for burial expenses, funeral expenses, loss of income and lost support or companionship after the death of a beloved family member.
Damages You Can Claim After an Accident
Past and Future Medical Care and Treatment
Including: Home health care, wheelchairs, walkers, lifts, and long-term care facilities
Lost Wages and Loss of Future Income
Pain and Suffering
Property Damage
Home Renovation for Accessibility
Common Injuries Following an Accident in Broward County
Concussions, Head and Brain Injuries
Cuts, Bruises and Burns
Broken and Fractured Bones
Dislocated Shoulders, Knees and Hip
Internal Bleeding
Back and Neck Injuries
Herniated Discs
Soft tissue damage and whiplash
Why Should I Hire a Broward County Personal Injury Attorney?
At Frankl Kominsky, we pride ourselves on providing our clients with superior customer service. We take a one-on-one approach to the way we deal with our clients. If you have been injured due to someone else's negligence, you should have a dedicated legal team on your side. Our Florida accident lawyers are committed to helping injured victims. We have over 40 years of combined legal experience handling accident and injury cases, and we are available to assist you in your negligence claim.
Start Your Free Personal Injury Consultation with Our Accident Lawyers
If you have been harmed by someone else's carelessness, having a skilled legal team on your side can make a significant difference. Serving clients throughout the Sunrise area, at Frankl Kominsky our accident lawyers will work diligently to try to help you obtain the financial compensation you deserve for your injuries. We understand how difficult the recovery process can be when you are hurt in an accident. Our team is committed to using our knowledge, experience, and resources to protect your rights. We are proud to represent clients across South Florida. For a free case evaluation, you can contact us online or call us toll-free at (561) 567-0214. We speak Spanish and Creole.