Car Accident Lawyer Serving Palm Springs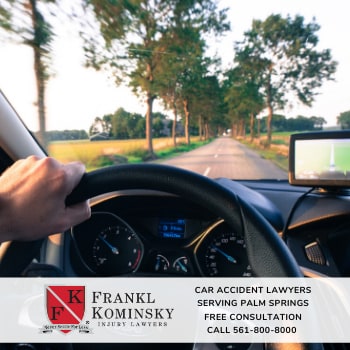 A 2010 Census reported the charming village of Palm Springs is home to just under 19,000 residents, most of whom enjoy many of the local events and attractions. Palm Springs is located southwest of West Palm Beach and is a convenient location for students of Palm Beach State College. Palm Springs is a wonderful place when it comes to taking a vacation or if you're just planning on visiting for a day.
Who is Most at Risk for Car Accidents in Palm Springs, Florida
Like many neighboring cities and towns in Palm Beach County, the village of Palm Springs continues to experience an increase in tourists and college students. In 2018, Palm Beach County law enforcement officials reported an increase in car accidents involving pedestrians, motorcyclists, and victims of hit and run crashes.
Palm Beach County Crash Statistics
Car Crashes involving Pedestrians 595 with 42 resulting in fatalities
Motorcycle Accidents involving Reckless Drivers 450 with 28 resulting in fatalities
Hit and Run Crashes were reported at 7,449 with 1,992 resulting in injuries, and 13 ending in fatalities
The Florida Highway Patrol confirmed to have invesigated 16% of all car accidents in Palm Beach County in 2018, and reported a spike in accidents during Spring Break and Christmas Break.
Types of Accidents Occur in Palm Springs, Florida
Rear-end Collisions
T-Bone or Side Impact Accident
Accidents involving Distracted Drivers
Crashes Caused by Young or Inexperienced Drivers
Drivers under the Influence of Drugs or Alcohol
Car Accidents Involving Company Vehicles and Semi or Commercial Trucks
If you or a loved one have been injured in a Palm Springs car accident, contact an experienced car accident lawyer for assistance with your car accident claim. Of course, some people might feel that they should let their insurance company handle everything. But, there are many reasons why someone would want the help of a car accident attorney, serving Palm Springs.
Palm Springs: Safe Driving Laws
Driving safely is something that every driver should be interested in. Palm Springs follows driving laws that have been put into place for all of Florida. These laws are there for everyone to follow and not following them can have serious effects.
It is the job of Palm Springs Law Enforcement Officials to make sure that safety is something that every driver pays attention to. Examples of these laws that make up save driving habits can be seen in the Florida State rules when it comes to driving too close to another car:
Florida Statute 316.0895 (1) states that "The driver of a motor vehicle shall not follow another vehicle more closely than is reasonable and prudent, having due regard for the speed of such vehicles and the traffic upon, and the condition of, the highway."
Florida Statute 316.0895 (2) states that "It is unlawful for the driver of any motor truck, motor truck drawing another vehicle, or vehicle towing another vehicle or trailer, when traveling upon a roadway outside of a business or residence district, to follow within 300 feet of another motor truck, motor truck drawing another vehicle, or vehicle towing another vehicle or trailer."
There are many other laws that apply to cars in order to help stop reckless driving and keep drivers who are drunk or using drugs off the road.
Palm Springs Crashes & No Fault Laws
Like the rest of Florida, Palm Springs drivers are subject to the No Fault Statute. (SB 896: Motor Vehicle Insurance) Because of this, drivers must have a PIP policy ("Personal Injury Protection"). As such, motorists are required to carry a PIP policy (which stands for "Personal Injury Protection"). This required policy needs to have a minimum of $10,000 coverage and will cover a percent of the insured's medical bills and lost wages.
Does Comparative Negligence Apply to Car Accidents in Palm Springs
In a Palm Springs car accident case, one may run into something called Florida's Comparative Negligence statute. ( Florida Statutes 768.81 ). What this means is that it's possible for both drivers to share the blame for a car accident. In most Palm Springs car accidents, there is usually an at fault party who was negligent. It could be one of the drivers or a car mechanic or even a company who sold a bad car part.
But sometimes, the blame can be shared by more than one party. For instance, an accident might have happened because one of the cars did not give the other car the proper right-of-way. But there was also the problem of the other car driving too far under the speed limit and creating a hazard. Because of these two issues, the court will have to decide just how much each driver was to blame for the accident. This will affect the amount of money that a driver could receive in their lawsuit.
In any case, in a Palm Springs car accident claim, there are four questions that are asked:
Did one driver owe the injured driver a "duty of care"
Was the duty of care not followed?
Did this result in the accident?
Were there damages that are being sued for, from the accident?
When this situation happens, it's possible that you may find that you are only allowed to get a certain amount of the money that has been asked for. This is a law that affects only 12 states in the U.S., but Florida is one of them. This is another reason why it is a good idea to speak with a car accident lawyer, serving Palm Springs. They may be able to help you get the most that you can from your car accident case.
Injuries Following a Car Accident in Palm Springs
While a number of deaths have been the result of Palm Springs car accidents, it is far more common for a serious injury to happen. These injuries can take a very long while in order to heal, while some will never heal fully. There can also be a large amount of pain making it hard to get around inside or outside one's home. Here are some of the most common injuries that can come from a Palm Springs car accident:
Neck Injuries
Back Injuries
Injury to the spine
Whiplash
Traumatic Brain Injuries
Cuts and bruises
Soft Tissue Injuries
Spinal Cord Injuries
What Damages Could You Qualify for After a Car Accident
Injured victims may claim the following damages following an auto accident -
Past and future medical bills including emergency transport from the scene of the crash, an examination at a local hospital or urgent care, cost of treatment by a chiropractor, and prescription medication.
Lost wages and/or benefits, reduced earning potential include diminished quality of life, loss of consortium, temporary or permanent disability, disfigurement.
Pain and suffering
Wrongful Death claim
Property Damage
Ask Attorney Ethan F. Kominsky: Do You Need An Attorney For A Florida Car Accident? Accidents in Palm Springs: What To Do After Personal Injury Protection is Exhausted
There are many times when a car accident can create different costs that far exceed the full amount of a PIP coverage. If this is the case, then a car accident victim should consider filing a car accident negligence claim against the at fault driver who caused the accident.
This is seen in cases where an accident victim sustained injuries which require medical care, doctor visits, physical therapy, has a severe or permanent injury or can't go back to work.
You will also want to remember that the at fault driver will probably also have their own lawyer and/or is being helped by their own insurance company. Trying to handle your own claim, while you are healing from an injury is something that most people are not ready to do. This is why talking with a car accident lawyer, serving Palm Beach can be a good idea. Also, your initial consultation is free of charge – so you have nothing to lose!
Should You Hire A Personal Injury Claim After A Car Accident
When you add up all the expenses that may arise from a serious injury, it's a simple matter to see how they can far exceed the coverage that the average motorist may possess. In addition, while the motorist is trying to deal with serious injuries and their subsequent recovery time, the insurance company may present them with an offer to settle their claim.
This is designed to let the injured person know what the insurance company is willing to pay. When you compare those numbers to the actual damages and costs that are incurred, then you may see that the injured person will need to pay most of the expenses out-of-pocket! Now imagine considering that while being unable to work.
At this point, an injured motorist may be able to see just how helpful an experienced car accident lawyer, who serves Palm Springs might be. The first consideration is that the majority of us don't have any legal experience when it comes to filing a claim.
Protect Yourself After A Car Accident in Palm Springs
What to do at the Scene of the Crash
When you have been in a crash, you should never leave the scene of the accident.
If you were involved in a car accident, call 911 or the local police immediately. Wait until they arrive at the scene of the accident.
If you were injured, have emergency services or the medics examine you for injuries and if necessary, be transported to a local hospital.
Take both photos and videos of the property damage to all vehicles involved and the scene of the crash including traffic signals and signs.
Collect witness information such as a phone number, address and email before taking witness statements.
What to do after a Car Crash
Gather your medical bills and records including your discharge papers from the emergency room, hospital or urgent care.
Get a copy of the drivers exchange and crash report.
Find a local personal injury lawyer is experienced in handling car and auto accident claims. If you hire our personal injury lawyers, we can open a claim for property damage and personal injury.
After the crash, an insurance agent may contact you on behalf of the at-fault party. This representative may ask for a recorded statement. We do not recommend giving a recorded statement without consulting a local injury lawyer.
Start Your Free Consultation After Your Palm Beach County Car Accident
Injuries and fatalities as a result of catastrophic rear end collision, drunk-driving collisions, distracted drivers, inexperienced drivers and collisions with other types of vehicles, both commercial and non-commercial. These may occur in Palm Springs at any given time. In addition, it's important to understand that while high speeds are often a factor, there are also many times when this isn't the situation.
Frankl Kominsky Injury Lawyers
Our attorneys have over 40 years of combined legal experience and have assisted more than 8.000 clients throughout the State of Florida. In that time, we have recovered over $100 million in verdicts and settlements.
Our local accident lawyers are available 24/7-365 and we offer free in-home and hospital consultations to those injured in car and auto-related accidents in Palm Springs and neighboring cities in Palm Beach County. Call 561-701-9992 to speak with our legal team today!