Car Accident Lawyer Serving Wellington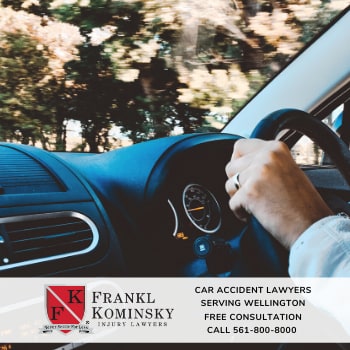 The village of Wellington is located west of West Palm Beach in central Palm Beach County. According to a 2017 Census, the village had a population of 64,848 making it the most populous village in the state.
In 2010, Wellington was named one of Money Magazine's "Top 100" Best Places. While Wellington is not a village under the standard definition of the term, it is referred to officially as the "Village of Wellington".
Wellington is home to residents who are generally interested in Equestrian events, such as the Winter Equestrian Festival. The event takes place from January to April and is the longest-running horse show in the World. The Village of Wellington has been home to many athletes, entertainers, musicians, and celebrities such as Jon Bostic, Bill Gates, Bruce Springsteen, and Vanilla Ice. Source: Wikipedia
In a report by the Florida Highway Safety and Motor Vehicles, there were over 11,070 individuals injured in Palm Beach County in 2019. The report breaks down the data to include 427 bicyclists injured, 36 accidents involving pedestrians resulted in fatalities, and 2,150 were injured in hit and run accidents.
There are many different types of car accidents that occur in Wellington that can result in a wide range of injuries, property damage and even fatalities. Unfortunately, there can be many misconceptions that are attached to car accidents and what to do, should you become involved in one. Indeed, questions may arise as to things such as; should you seek the services of a car accident lawyer near Wellington or handle things yourself? Should just let the insurance company handle the situation. Here are some things to consider.
How Does Car Insurance Policies Apply In Wellington, Florida
As in the rest of Florida, all Wellington drivers are covered under a no-fault law. This means that a driver's own no-fault insurance policy is required to cover the medical bills and lost wages of an injured policyholder. ( SB 896: Motor Vehicle Insurance ) Therefore, drivers are required to carry a Personal Injury Protection (PIP) policy with a minimum coverage of $10,000.00. Of course, a driver may also elect to carry additional insurance. This can come in handy when accident-related medical expenses exceed $10,000.00. There may also be additional expenses that arise, as well.
Wellington Car Accidents: What To Do When Personal Injury Protection Runs Out
Needless to say, there are many situations in which car accident injuries will be far too serious to be covered by a standard personal injury protection plan. In a case such as this, the injured driver may opt to file a claim or a lawsuit against the driver who is deemed "at fault". This is something that you may commonly see as occurring in situations that involve serious injuries, lengthy hospital stays or scenarios that involve a loss of income.
An example of this may be seen in the case of a car accident that has caused the driver to suffer a case of whiplash. While whiplash is one of the most common injuries suffered in an auto accident, its seriousness can rank from simple muscle soreness to a broken neck fatality.
However, there are also cases in which a tiny neck fracture from whiplash may go unnoticed in an initial examination. As time goes on, that tiny fracture may evolve in a far more debilitating situation that can even become life-threatening.
Most Common Injuries Following a Car Accident in Wellington, Florida
Even if one is the victim of an injury that isn't seen as life-threatening or permanently disabling, it can still take a long time in order to heal. The recovery process may also entail a significant amount of pain and suffering and the difficulties associated with limited mobility.
And, as mentioned before, what initially appeared as a smaller injury may evolve into something much worse. A worsening skull or neck fracture can lead to eventual paralysis or a bruise might be an indication of developing organ damage. There are many other types of injuries associated with car accident that can include:
Minor Injuries
Serious Injuries

Lacerations
Burns
Bruising
Soft Tissue Injuries

*No matter the extent of your injuries, we recommend
that you seek medical care.
Otherwise, you risk aggravating an underlying injury without knowing.

Traumatic Brain Injuries
Fractured or Broken Bones
Injuries the Neck and Back
Internal Bleeding
Spinal Cord Injuries
Dislocated Shoulders
Concussions
Whiplash
Another issue that you may need to be aware of has to do with dealing with another attorney that is representing the other driver. Whether one is recovering from a debilitating injury or not, it can be quite difficult to deal with an attorney whose job it is to see that you receive as little compensation as possible for your accident. Should this happen, you will probably want your own experienced car accident lawyer representing your interests. This can also free you from extra stress and thus assist in your own medical recovery. In addition, your initial appointment with the attorney is free of charge – so you have nothing to lose.
Florida Statute of Limitations & Car Accident Claims
Traffic safety is in the best interests of all motor vehicle operators. In Wellington (and all throughout the state), statutes have been created in order to ensure that the roads are kept safe. Examples of these can be seen in the statutes that pertain to driving too close to another vehicle:
Statute 316.0895 (1) states that "The driver of a motor vehicle shall not follow another vehicle more closely than is reasonable and prudent, having due regard for the speed of such vehicles and the traffic upon, and the condition of, the highway."
Statute 316.0895 (2) states that " It is unlawful for the driver of any motor truck, motor truck drawing another vehicle, or vehicle towing another vehicle or trailer, when traveling upon a roadway outside of a business or residence district, to follow within 300 feet of another motor truck, motor truck drawing another vehicle, or vehicle towing another vehicle or trailer."
Determining Fault in a Palm Beach County Car Accident
There are times in which mitigating circumstances are considered in Wellington car accidents. For example, in a situation in which a rear end collision has occurred, it is commonly assumed that the driver in the rear is at fault. In fact, in Florida there is a rebuttable presumption that the rear driver is at fault. However, this is not always true. Questions may arise that can shine a different light on the circumstances. A person injury attorney may question whether or not the front vehicle's tail lights were working properly.
If not, then the front car may have had a mechanical problem. If it can be determined that there was a problem with the front car's tail lights, then a mitigating circumstance may be argued. This is something that a lawyer can possibly determine in an investigation. This can be of extreme importance for the driver who was in the rear vehicle and was injured in the crash.
Another situation can exist in the case of an unexpected turn made by a driver. One notable advantage that can be obtained through the services of a qualified car accident attorney is their ability to demonstrate how an accident occurred. By setting up the details of the accident, they may be able to prove who was at fault, when it comes to paying restitution for medical and other financial expenses. The introduction of detailed mitigating circumstances is a valuable ability in cases in which the injured driver would have no way of effectively presenting this situation to a court.
Top 5 Types of Car Accidents in Palm Beach County
Car Accidents Caused by Distracted Drivers - this occurs when a driver is focused on another task and not on the road such as sending a text message, recording on SnapChat, adjusting the navigation or radio station.
Head-on Collisions - this happens when two vehicles collide head-on like when an at-fault driver is in the wrong lane.
Speeding and Reckless Driving - this occurs when the at-fault party exceeds the speed limit or fails to obey traffic signals and yield signs.
T-Bone or Side Impact Accidents - this could happen when a negligent driver fails to stop at a red light or a stop sign and t-bones a driver who has the right of way.
Rear-end Collisions - this can occur when a driver is at a full stop at a red light and the negligent driver fails to stop in time and strikes them from behind.
What Laws Apply to Auto Accidents in Palm Beach County
There are also situations in which Florida's Comparative Negligence statutes come into effect ( Florida Statutes 768.81). In a typical Wellington car accident lawsuit, the first question that can come up is; "Was there a negligent action performed?" At this time, there can be a question that involves the degree of negligence performed by a defendant. The four standard questions that will arise in a typical auto accident lawsuit are:
Did the defendant owe the injured driver a "duty of care"
Was the duty of the car actually breached?
Did that breach of the duty of care result in the accident?
Were there damages that resulted from that particular accident?
Since Florida operates under "Comparative Negligence", you might discover that you are eligible to receive only a percentage of the requested damages. This can happen when the defendant has been deemed to only be liable for a percentage of the accident. This is another reason why you would want to have a car accident lawyer, who serves Wellington, assist you with your claim. You would want to make sure that the person who caused your injury is made responsible for the maximum percentage in order for you to receive the maximum damages that you are owed. It's interesting to note that only 12 other states in the U.S. operate under a comparative negligence law.
What Can You Claim For After A Wellington Car Crash
Medical Expenses: this could include everything from emergency transport to a local hospital, the cost of a visit to the emergency room, urgent care, or a chiropractor along with the cost of MRIs and X-Rays.
Lost Wages: when you are injured by no fault of your own, you many need time off from work to get the medical treatment required to make a full recovery. This could include time off for follow-up appointments, testing, chiropractic treatments, and physical therapy.
Pain and Suffering
Who Pays For My Medical Bills After A Florida Car Accident?How to Protect Yourself After a Car Accident
Call 911 and Notify the Local Authorities: No matter the extent of the damages to your vehicle, we encourage those involved in an auto accident to notify the local police or sheriff's department. Be sure to get a copy of a driver's exchange card.
Find Local Police and Sheriff's Departments in Wellington, Florida
Seek Immediate Medical Care: When an accident occurs, we encourage those involved to seek immediate medical care whether it be by Emergency Services, or by visiting the Emergency Room or Urgent Care. Be sure to save a copy of your discharge papers, medical bills, and medical records.
Find a Hospital and Emergency Room in Wellington, Florida
Document the scene of the Crash with Video and Photos: While you are waiting on emergency services to arrive, we recommend recording your surroundings such as the intersection, time of day/night, and property damage.
Photo & Video Checklist:
Scene of the Crash from Every Angle
Property Damage: Vehicles Involved
Traffic Signals & Time of Day
Driver's License, Insurance Cards
Any Citations Given
Witness Statements
Call our Local Injury Attorneys for a Free Consultation
What NOT To Do After A Car Accident
Never flee the scene of the accident
Never neglect your injuries by failing to treat within 14-days of the crash
Never agree to a be paid in cash without notifying the police or insurance company
Never give a recorded statement
Never accept a settlement check without consulting a knowledgeable car accident attorney
Never try to negotiate a settlement without the guidance of a local injury attorney
Why You Should Hire Our Car Accident Lawyers in Wellington
As you can see, there are several reasons why you would want to enlist the services of our car accident lawyers. One of the primary reasons has to do with the fact that you could be dealing with professionals who are experienced in trying to obtain the compensation that you deserve. After your car accident, you may initially run into an insurance adjuster or attorney who is representing the other driver.
Here, they may offer you what seems to be a large amount of money in order to cover your damages. At this point, you should never accept this type of payment without first speaking with your own attorney. In most cases, the amount that you will be offered will not be sufficient to cover all of your expenses – especially future expenses. Suppose, for example, you're unable to work in the future?
After speaking with an experienced car accident lawyer, serving Wellington, you may be surprised at just how little you are actually being offered!
Start Your Free Car Accident Consultation Today
Deaths and injuries from driving can be the result of catastrophic rear end collision accidents, drunk-driving collisions, distracted drivers, inexperienced drivers and collisions with other types of vehicles, both commercial and non-commercial.
These may occur in Wellington at any given time. In addition, it's important to understand that while high speeds are often a factor, there are also many times when this isn't the situation. There have been a number of cases in which a very low speed car crash has resulted in an injury that eventually led to a person's death. If you are involved in an automobile accident, it is advised that you seek medical care and the advice of a car accident personal injury attorney.
Seek the advice of an experienced personal injury attorney, who can try to assist in obtaining the best care and compensation that you rightfully deserve. Therefore, when you or a loved one are involved in a Wellington car accident, contact a Florida personal injury attorney.
Discuss your case with a Car Accident Personal Injury Attorney Serving Wellington, today! Turn to Frankl Kominsky for comprehensive legal guidance. Call 561-800-8000 or use our Contact Form to set up a free consultation.